Dog Racing Betting Guide – How to bet on dog races [2021]
---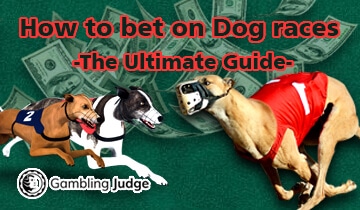 Dog betting can be just as fun and profitable as other races. Six dogs start to run on grass racetracks ranging in length from 230 to 1200 yards, and there can only be one winner: How are your prediction abilities?
This is one of the easiest sports to bet on and there are dozens of Asian bookies and European betting sites that are ready to accept your dog bets.
If you are new to greyhound betting, don't worry: We prepared this betting guide especially for you. Below, we explain dog racing betting in detail and talk about how to bet on dog races.
Moreover, we talk about how to win at dog racing too. This is an online dog betting for dummies guide and it contains everything you need to know, including a list of the best greyhound racing betting sites you can join right now. Let's start!
Top 10 bookmakers where you can bet on dog racing [2021] - Updated list
Rank
Bookmaker
Bonus
Greyhound Betting
Rating
Get Started
Dog racing betting types: How does dog racing betting work?
In order to learn how to bet on dogs, we need to talk about dog race betting terms first. We already have several guides for betting terms (such as horse betting terms) and most of the bet types apply to dog betting too.
So terms of horse racing and greyhound betting are quite similar. We are listing the most common terms for dog racing betting below.
Win Bets
EXPLANATION
If you are looking for the simplest type of online dog betting, you have found it. This means placing a dog bet about which greyhound will win the race. Simple and straight forward: It is the answer to
what is a single bet
question.
Place Bets
EXPLANATION
Another simple type of greyhound betting. Place betting on dogs is quite popular and this time, you are placing a bet about your chosen dog will finish the race in the first or second place. Note that it does not have to win the race: As long as the dog is in the top two, you will win this bet.
Show Bets
EXPLANATION
Very similar to place bets. Once again, your greyhound does not have to win the race. As long as it finishes the race in the first, second, or third place, you will win this bet.
Win-Place Bets
EXPLANATION
This is a
double bet
because basically, you are placing a win and a place bet at the same time. If your dog loses the race but comes in second, you can still win this bet. These are individual bets, so your total wager will be higher too.
Across The Board Bets
EXPLANATION
This dog bet is also known as "win-place-show". In other words, you are placing a win, a place, and a show bet at the same time. Note that these are three individual bets, so your total wager will be three times higher too.
Exacta
EXPLANATION
Exacta is one of the most popular
types of sports betting
. You are trying to predict the top two dogs in exact order. For example, you can bet on "dog 2 will finish the race first and dog 8 will be the second". If these greyhounds really finish the race in this order, you win this dog bet. Most of the time, there is a minimum 2 EUR/USD/GBP stake limit for exacta bets.
Quinella
EXPLANATION
Once again, you are betting on the top two dogs but this time you are not guessing the exact order. Basically, you are saying that "dog 2 and dog 6 will finish the race in the top two". As long as both greyhounds finish the race in the first and second place, you win this bet. Just like an exacta, there is a 2 EUR/USD/GBP stake limit for this dog bet too.
Perfecta
EXPLANATION
This is another name for exacta bets. In
UK betting
, it is also called as "straight forecast".
Trifecta
EXPLANATION
Similar to Quinella, but this time you are betting on the top three dogs. As long as your greyhounds finish the race in the top three positions, you win this bet. It also has a 2 EUR/USD/GBP minimum stake limit.
Key Trifecta
EXPLANATION
This is still trifecta betting but you are selecting a "key" dog to finish the race in the first place. The other dogs still need to be in the second and third positions but their position is not important. Your key dog must be first, other dogs can be second or third.
Trifecta Box
EXPLANATION
Trifecta box
is a variant of trifecta betting. However, you pick four dogs this time, instead of three. As long as some combination of those greyhounds finishes in the first, second, and third place, you win this bet.
$2 Superfecta
EXPLANATION
This is a quite hard one. You are trying to guess the first four positions in the correct order. You pick four dogs and predict which one will be the first, second, third, and fourth. The dogs must finish the race in the exact same order. As the name implies, the minimum stake for this bet is 2 EUR/USD/GBP.
$1 Superfecta
EXPLANATION
Another superfecta bet but this time the minimum stake is 1 EUR/USD/GBP. The odds are very high for superfecta bets, so if you win it the payout will be quite good even if you bet only 1 EUR/USD/GBP.
Pick Six
EXPLANATION
If you think superfecta bets are hard, wait until you hear about pick six bets. You are trying to guess the top 6 dogs in the exact winning order. Pick Six bets are very hard to win but they pay quite big amounts.
Note that most of these greyhound betting options are available as ante-post betting, which means you need to place your bets before the race starts.
However, lots of them are available for live dog betting too. In any case, remember that greyhound races do not last very long: If you will place a bet, do it fast.
How to bet on dogs: A simple guide for betting on dog races
Let's talk about how to place a bet online too. Dog track betting is quite simple and if you placed a bet for any sports before, you already know what to do. If not, we are here to help you: You can find information about how to bet on greyhound dogs below.
Before we start, let's answer how old to bet on dogs question too. While the legal betting age is different in each country, we can say that you need to be at least 18 years old in general. Note that this age limit may be 21 in some countries: Check your local laws.
Step 1
Start by picking one of the dog betting sites listed above.
Step 2
Visit the website of that bookie and complete the registration.
Step 3
Log in with your credentials and make your first deposit. To place a dog bet, you need an active balance. (Unless you are using a free bet bonus.)
Step 4
After creating a balance, take a look at the menu on the left side of the main page: You will see different sports categories on it. Find the "dog betting" or "greyhound betting" option and click on it.
Step 5
You will see a list of all available dog races you can place a bet on. Pick one.
Step 6
Details about that race will be displayed in the middle. You will see the dog numbers, available betting options, and offered odds. Once again, pick one: If you are new to this, win-place bets will be a good option. (Check the list of dog racing betting types listed above.)
Step 7
You will see that your selection is added to the bet slip automatically. When you click the "submit" button on this slip, you will place your bet. Good luck!
Live dog betting vs simulcast greyhound betting
Dog betting online vs greyhound betting track
So, what is the best way to bet on dog races? Should you go to the track or prefer greyhound racing online betting? Honestly, this is not even a real comparison: Online greyhound betting will always win. There are several reasons for this:
There are only 17 dog racing tracks in the USA today. This number is way lower in other countries. This means unless you live next to the racetrack, going to it will be quite the adventure and require additional expenses.
Online greyhound racing betting, on the other hand, allows you to place a dog bet for any race in any country. If you live in the USA, you can still place a dog bet for a race held in the UK.
The odds of online greyhound racing betting will be much competitive and dynamic. Overall, you will almost always get better odds.
In short, nobody goes to the race tracks to place a bet nowadays: Stick with online dog betting.
Dog track betting tips: How to win at dog racing?
Let's give a couple of
greyhound betting tips
and talk about
how to win at greyhound racing
too, shall we? Here are our
dog racing tips for beginners
:
Start by learning about dog racing betting odds. Most of the time, they will be fractional, like 4/1. The number on the right shows your wager (i.e. 1 EUR). The number on the left shows your payout (i.e. 4 EUR). The odds can be decimal too, like 5.00. You can multiply this number with your wager to find out what the payout will be.
Use a dog racing betting strategy and don't rely only on your luck. A simple greyhound racing strategy will be selecting fixed price odds. This way, you can guarantee the payout when you make your bet.
Just like horses, make your research about dogs/greyhounds too. Some of them are fast finishers and some of them run faster when put on the track with a particular dog. Learn everything you can about the dogs and make sure that you know as much as their trainers: This is the answer to how to win at dog racing.
Best payment methods to use in greyhound betting sites
Pros and cons of dog betting
PROS
Very similar to horse betting
Lots of different dog betting options
High odds & good payouts are available
You can always find a dog race to bet on
CONS
Dogs are not as predictable as horses
The number of greyhound races keeps decreasing
Frequently Asked Questions about dog racing betting:
This depends on your experience. If you are a beginner, stick with win-place bets for a while: They offer nice odds and winning chances. Professionals can try exacta or key trifecta betting to get higher odds and increased payouts.
UK gambling sites and law state that dog betting is completely legal in this country. At the moment, greyhound betting is legal in eight countries and these are UK, Ireland, New Zealand, Australia, USA, Vietnam, China, and Mexico.
Sure you can. As long as you prefer licensed and well-known bookmakers, there won't be a problem. In fact, most of the time, offshore bookmakers will offer much better odds for greyhound racing betting.
Almost all of the bookmakers offer some kind of bonus for greyhound betting. You can find regular welcome, reload, and free bet promotions at dog betting bookies too. You can even find live betting bonuses for all kinds of dog races.
If the website of the dog betting bookmaker is compatible with mobile devices, yes. You don't even need to use a native app: Simply visit the website with your mobile phone and use it like any other mobile website.
No. There are no lucky numbers or anything like that. Gamblers tend to be superstitious people so you will always hear "legends" like this. They are never true.
Learn how to win at dog racing & place your bets today!
You have learned everything you need to know about dog betting: You even know how to win at dog racing. Now it is time to start your greyhound betting career – pick one of our recommended bookies and join today.
As always, don't forget to grab your bonus too, it can help you to make a good start. Dog racing betting is fun and as profitable as any other sports. We are sure that you will start winning in no time. Good luck out there!
Other related articles you might like: