Best Accumulator Bonuses – Betting Accumulators Explained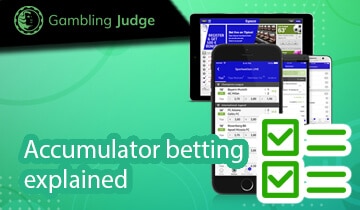 Sports gamblers love to chase down big payouts. The idea of hitting a wager that pays out 10-1, 50-1, or even greater gets the gambling juices flowing. Of course, it's hard to find a single long-shot bet that pays out so handsomely. That is why many punters like to play accumulators, such as 7 fold bets and 8 fold bets. Once they figure out what are accumulators and how to they work, players can take advantage of the daily price boosts and enhanced odds that they produce. Accumulators, also known as parlays, multipliers, and accas are a way for punters to go after those high odds payouts.
A small wager can end up turning into a massive payout. Due to the nature of accumulators, they are much harder to cash in on than your average single wager. Having the accumulators explained by an expert will encourage players to use them more often, as there's tremendous potential behind these bets. Don't let that scare you. People are cashing in big on parlays every day or get refunded by acca insurance. They are easy to play and every sportsbook offers them. How to win football accumulators? By taking advantage of the bonuses below:
Best Bookmakers with Accumulator Bonuses
in 01 November 2023 – Updated List
What are Betting Accumulators?
Betting accumulators are simply wagers that involve predicting the correct outcomes of two or more events on the same ticket. Punters can put together an accumulator using selections from different types of events. Depending on their appetite for risk they can choose long shot accumulators, or add several low-risk selections on the same betting slip. Related events can't be placed on the same ticket with accumulators. With other types of bets though, this is allowed. For example with a scorecast bet, where you have to predict correctly the first or last goalscorer and the correct score of the match. You can't place these two bets in a double bet, though. It works the same with a wincast bet, where you have to predict both the winner and a goalscorer (first, last, anytime).
For example, you could bet on Germany to beat France in a soccer match, the Miami Dolphins to be the New York Jets in American football, and the Vancouver Canucks to beat the Chicago Blackhawks in an NHL game all on one ticket.
In order to win, you would need to be correct on all outcomes. Every added leg of an accumulator makes it tougher to win but it also increases the amount of money that can be won. The challenge is to find the best betting accumulator, so that the combined odds to make the risk worth taking. You'll also have to check the bookmaker withdrawal limits before placing such a bet. You could also go with a banker bet, where not all your selections need to win, in order to win the bet.
How Do Betting Accumulators Work?
As described in the example above, betting accumulators work by betting on multiple outcomes on the same ticket. There are different variations of these. Sports bettors can choose to play a straight accumulator, in which they need to be correct on all results, or go with draw no bet accumulators. These are available at all bookmakers, so the only real challenge is finding the best betting sites for accumulators. We suggest taking a look at our list of Germany betting sites where you can place Germany bets – no commission charged.
Round robin accumulators are another way to bet multiple games on the same ticket. An example of this would be taking the games mentioned in the above example and placing them in a round robin bet. In essence, instead of needing to get all three correct, the punter could miss one of those predictions and still win. The best bookies for accumulators allow for such combinations of bets and the odds are tempting.
With a round robin, the three predictions would become three separate two-team up and down bets, a double bet and a treble bet. This same idea applies to multipliers with more legs. The punter that is betting on each combination in a round robin so the ticket price will obviously be higher. With a $1 per leg in an Alphabet bet the cost per ticket will be $26, as it contains 6 selections combined into 26 different bets.
How to Calculate Accumulator Odds
Calculating the odds on an accumulator is quite straightforward. The odds applied to each individual event are multiplied together along with the amount of the bet. So let's take the example above with each selection on the accumulator having even odds. We can also call it EVS betting applied to accumulator bets and the total odds are calculated by multiplying 2.00 x 2.00 x 2.00 which winds up being 8.00.
This should answer the timeless question of how is the accumulator a settled bet, but there are plenty of other details to figure out when using these bets.
The accumulator odds are then multiplied by the amount of the bet to calculate that payout. Let's say the punter bets $10.00. This would result in a payout 0f $80. If only winning a parlay was as easy as calculating the odds. Knowing how do accumulators work is important but not sufficient to master the art. Our guide on "how to win sports betting parlays" will definitely help you.
If you're going to bet on live accumulators, we highly recommend using the "accept all odds movement" feature, especially when encountering dropping odds. The sudden odds movement is less likely to happen when coming across the closing odds, though.
We also suggest taking a look at our "low odds vs high odds" guide that will help you to better understand this concept.
What are the Best Value Accumulator Bets?
The word "value" is a bit of a relative term. What one person might find value in will have little to no value to another person. When it comes to accumulators, we might see implied value. Some feel that the value of any bet can really only be determined after the bet is settled. A bet that wins has value while a losing bet has no value. This simplistic approach won't help you find the best betting accumulator.
Punters can get "value" from accumulators. For example, maybe you really like the Toronto Blue Jays to beat the Detroit Tigers at 1.60. As great as you feel about the wager, you want to place a bet with at least even odds. This is particularly important when using long shot accumulators and you take higher risks. You scour the betting menu and then you see what you would consider as a "lock" going off at 1.25.
Now, if you parlay the Blue Jays at 1.60 with your newly found 1.25 "lock" you now have a ticket at even odds. You have a bet you feel good about at the odds you want. That 1.25 addition has given you added value. Now, keep in mind that there is no such thing as a "lock".
Many punters have been in this exact same situation only to have that "added value" play go up in flames. Such is the nature of gambling. Having the accumulator odds explained for you will help, but it won't act as a silver bullet to massive winnings.
Types of Accumulator Bets
There are some basic terms to describe accumulators of different sizes. The sooner you have these accumulator bets explained, the sooner you'll be able to harness their power and bet efficiently. The double bet is a parlay in which two single bets are on the same ticket. Both need to be correct. With an if bet with two selections if the first pick wins but the second one loses you will still win. But if the first pick loses your bet will be voided, regardless if the second pick wins. The treble bet is a three- legged parlay where all three need to hit. Then there are four-fold, five-fold, and on and on. These accumulators all require that each leg of the ticket must win.
Then there are round robin accumulators. We touched on this in a previous example. These vary in size and they allow the punter to miss one or two legs depending on the size. The best betting sites for accumulators allow players to make the most of these bets. An example is picking Team A, Team B, and Team C, and Team D to win in trebles. This means you have four three-team parlays as follows:
A+B+C
A+B+D
A+C+D
B+C+D
The cost of your ticket depends on how many combinations you end up with and the amount of your wager. If you wanted to, you could pick seven teams and play them in doubles, trebles, four, five or six-fold. There are many different ways to do it. An 8-team round robin accumulator that you want to have divided into trebles has 56 different combinations. That could turn into an expensive ticket.
There are also different types of round robins in which you can mix the combinations of doubles, triples, fourfold bets etc. As confusing as they can be, round robins are a lot of fun and they can payout nice profits. Once you know precisely what are accumulators, you should consider round robin bets of this type.
You could also include accumulator bets in system bets like a Trixie bet, Patent bet, Yankee bet, Canadian bet, Heinz bet, Super Heinz bet, Lucky 63 bet and many more.
Do People Win With Accumulators?
They absolutely do, especially if they had the accumulators explained and were provided with useful examples. In 2015, an Irish punter placed a £50 wager on a 15-team parlay and ended up hitting all 15 legs. He won £64,543. An American bettor placed a $5 parlay wager on a 14-teamer and walked away with $57,935. There are endless stories of huge parlay winners that are found on the internet. We made a list and tell their stories in our biggest winning bets article.
There are also endless numbers of punters who have won smaller, yet still nice sums of money from playing parlays. Punters are winning with accumulators every day and they will continue to win. Just because the odds can be insanely high doesn't mean your parlay won't hit.
By choosing to gamble at the best bookies for accumulators, you will enjoy the biggest odds and more winning combinations. Here's hoping that you are the next big accumulator winner.
Other articles you might like:
Frequently Asked Questions
An accumulator requires you to place multiple bets on the same ticket. To win with an accumulator, you often need to successfully call every single bet on the betting slip. Some bookies may offer you leeway with one or two bets, though.
You must first place your accumulator back bet. Then place a lay bet on the accumulator's first game. Follow this up by placing a lay bet on the second game of the accumulator. Finally, place a lay bet on the accumulator's third game.
To win with an accumulator, you need to try and be as accurate as possible, because the winnings from your first bet are used as the stake for your second, and so on. To win, you must predict all your bets correctly. Some bookies may offer you a margin of 1 or 2 errors, though.