Scorecast Bet | Complete Scorecast Betting Guide: Rules, Tips & Examples (2023)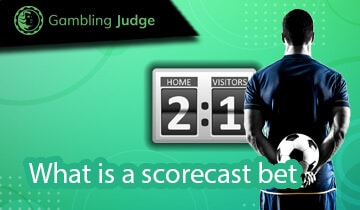 As a general rule, you cannot add multiple related outcomes in the same match to multiple wagers (betting accumulators) such as parlay bets and double bet, but the scorecast bet is an exception.
This particular wager, which falls into the category of "cast betting", almost always allows you to get enhanced odds and can give you surprisingly high wins. Scorecast is the most popular example of cast betting and is divided into many variants within itself. These variants offer different winning chances and therefore different payouts.
So, what does scorecast bet, one of the most interesting betting terms, mean? What are its variants and in what sports can it be used? In this article, we will answer all these questions and list the best odds bookmakers that offer this option. Let's start!
What is a scorecast bet?
You can find scorecast bet opportunities in soccer betting the most, and it is one of the profitable football betting strategies. However, a football scorecast is not your only option: This bet can be used in any sport, as long as you can bet on who will score the first/last point/goal and what the correct score will be. In this regard, it is even possible to find baseball scorecast opportunities. 
Have a look below at our recommended top bookies for scorecast bets.
Best Bookies for Scorecast Betting
in 01 November 2023 – Updated List
Rank
Bookmaker
Bonus
Safe & Trusted
Rating
Get Started
How does a scorecast bet work?
So, what are the scorecast betting rules? This actually changes according to the variant you are using, but we can start with the rules of the most common variant, the "first goal". Scorecast rules for this variant is:
Please note that these rules may slightly differ between bookmakers. The list above shows the William Hill scorecast rules and while there will be no major differences, you should always check the rules of scorecast bets before playing at a new bookmaker.
Scorecast bet explained with an example
In order to explain how scorecast bets work, let's show you how they look. The screenshot below is taken from Unibet and it explains how you can place this bet. You can, of course, choose other bookmakers with statistics and use our compare bookmakers tool to find more alternatives, but the main logic will always be the same and your options will always look like this: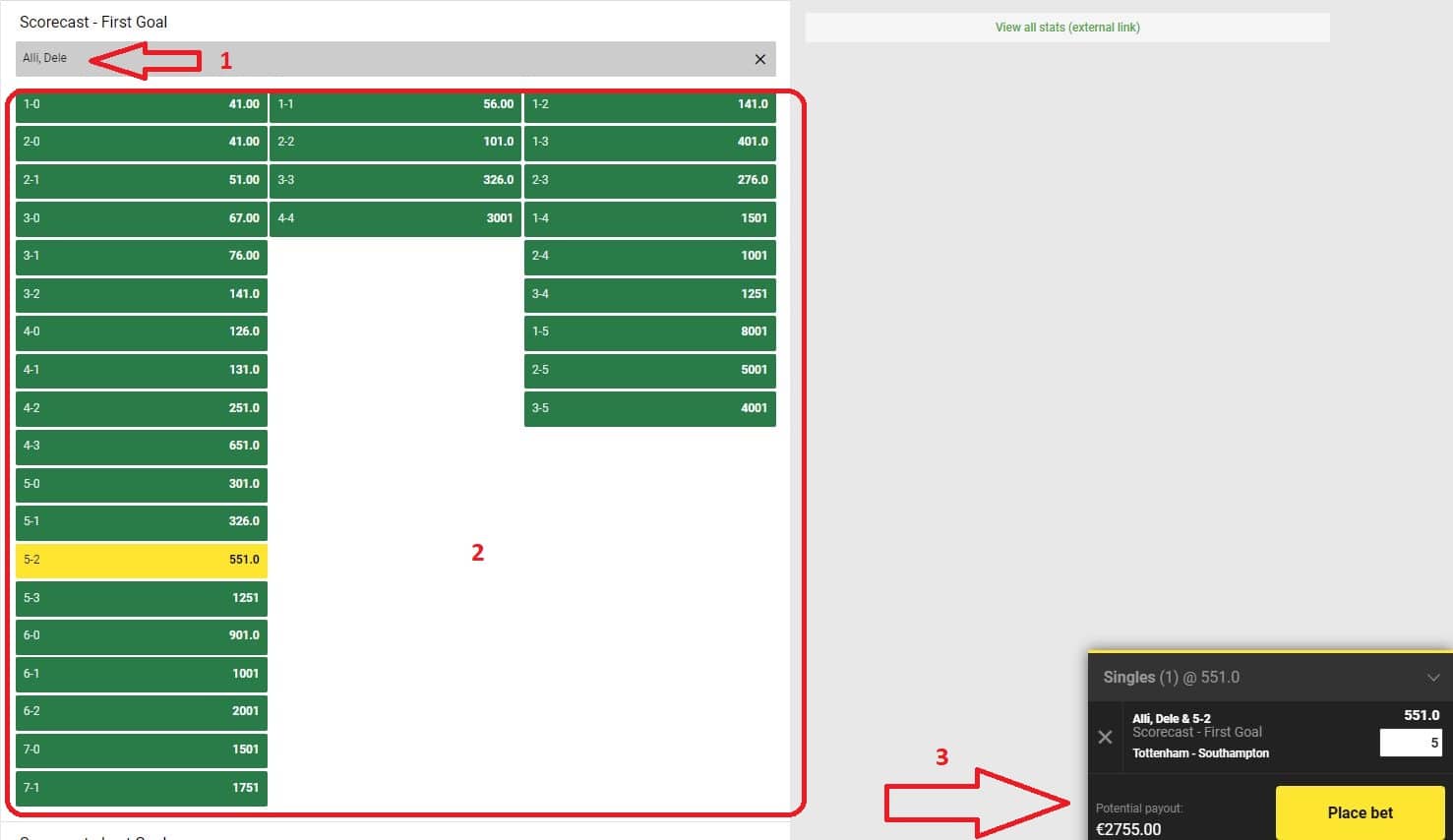 Here is how you can place a scorecast bet online:
Step 1
First, we will choose the first goalscorer from this list. This game is between Tottenham & Southampton and we picked Alli, Dele.
Step 2
Second, we will pick the correct score of the game. All available options are listed here and each score prediction has different odds. We picked the score "5-2", which pays 551:1.
Step 3
And lastly, we will click on the "place bet" button. We wagered 5 EUR on this bet and if we win, the payout will be 2.755 EUR. In order to win, Alli Dele must score the first goal and the match must end with a score of 5-2.
Variations of scorecast bets
As we mentioned above, scorecast bet has different variations. So far, we talked about the "scorecast – first goal" variant but there are two more options. These are:
Scorecast – Last Goal
As can be guessed, a scorecast last goal is bet is about guessing the correct score and who will score the last goal in the game. Instead of the first goalscorer, you try to guess the last goal scorer. Other than that, all rules are the same.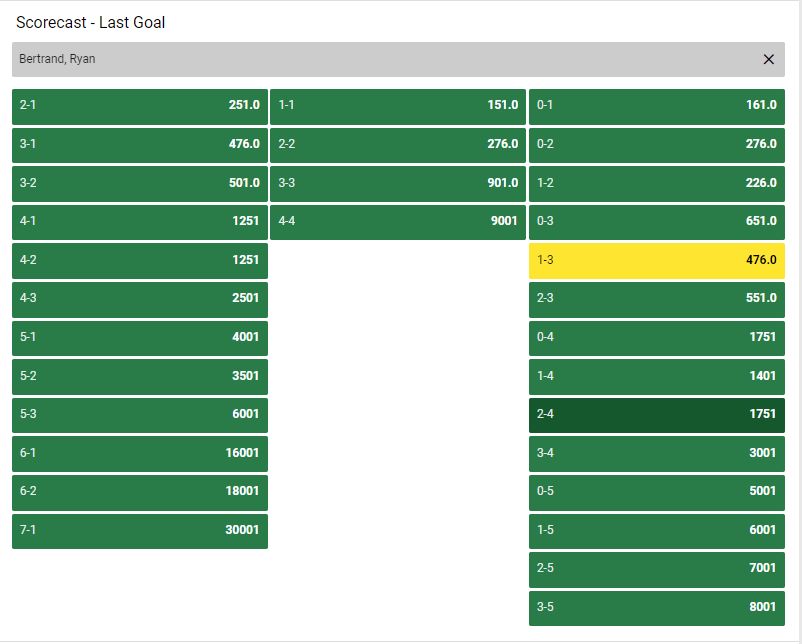 Scorecast – Anytime
This is probably the simplest variant: You try to guess the correct score and bet that a specific player will score a goal at any time during the game. He can score the first, second, third, or the last goal – it does not matter. As long as your selected player scores at least one goal before the match ends, you win this bet (you must also guess the correct score too, of course).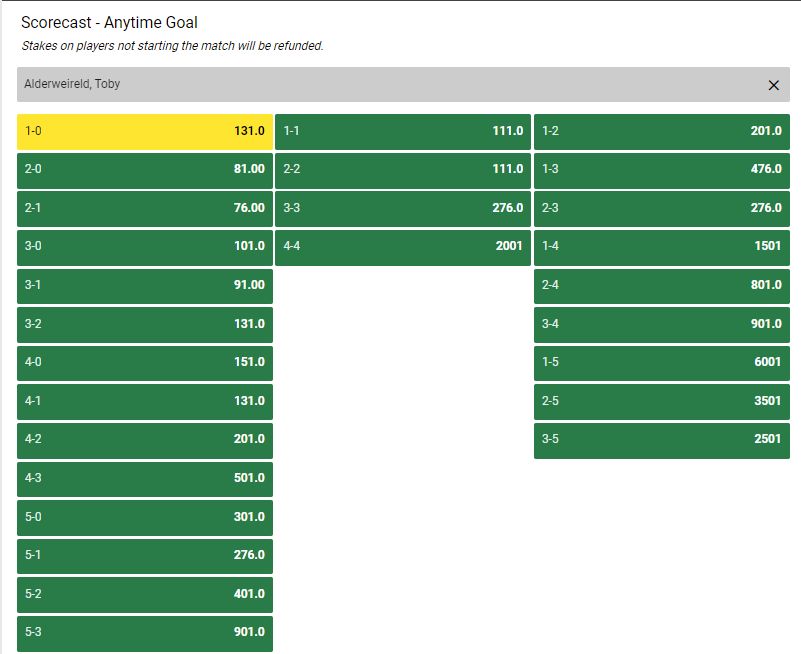 There are also remarkably similar bets and at first glance, you may confuse them with the scorecast bet, so let's explain these types of sport betting too.
Wincast
This is a pretty new option, and it is an exciting one. A wincast bet is about guessing the goal scorer and the match result.
Just like scorecast bets, you can guess the first, last, and the "anytime" goal scorer, it also has three variants.

But no matter which one you prefer, you only have three options when it comes to guessing the match result: Team A wins, Team B wins, and draw.
In other words, you don't need to guess the exact score – you just need to guess who will win the match (with any score) and/or whether it will end with a draw or not.

Timecast
Similar to scorecast and wincast bets, a timecast bet has the following characteristics:
This option completely removes the "match result" outcome.

You bet on who will score a goal and when that goal will be scored and both predictions have to be correct.

The first part of the timecast bet can be the first, last or Anytime Goalscorer.

A Timecast bet can be split into more parts, depending on the bookmaker: for example, in the first 15 minutes, between 20 – 45 minutes, or at the last 10 minutes, etc.

Simple tips & tricks for betting scorecast
👉 Pick bigger bookmakers
. Scorecast bets can pay surprisingly big. The payout can exceed the payment limits of small bookies and independent operators. Like in the example below, this option pays 60.000 EUR for a wager of 5 EUR.
Therefore, you should pick big bookmakers (such as
William Hill scorecast
) so no matter how big the payout is, you will be able to get it without a problem. William Hill has a very high bookmaker withdrawal limits, of £2,000,000.
👉 As always, use bonus offers of bookmakers. Money back betting offers and bore draw promotions can be extremely useful and let you win (or avoid a loss) without spending your money. 
👉 Check the odds. Sometimes, placing two single and separate bets for the correct score and the first goalscorer can offer higher odds. For this reason, always check and compare the odds before placing your scorecast bet. 
👉 Always make your research. As always, making research is the key here: If you know about the statistics, you can make a much more accurate prediction about both outcomes. So do not rely only on your luck: Make your research.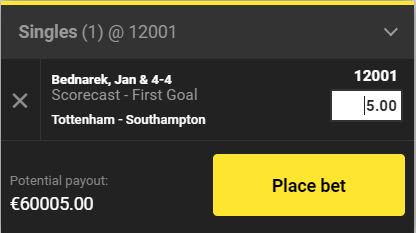 High payouts with scorecast bets
Should you try scorecast betting?
PROS
Can pay extremely high
Some variants offer a higher winning chance
Costs low
CONS
Some variants are awfully hard to win
Wincast bets offer almost the same odds but higher chances
FAQ: Your questions about scorecast market & bets answered
There is no "perfect" time to place a scorecast bet. Each game/sport is different, and you should make your research beforehand. Any time can be a perfect time or not – it all depends on the game and the players in it.
This means you are betting on the correct score of the game and your selected player will score a goal at any time during the match, whether it is the first, second, or last goal.
Simply put, own goals do not count. So, your selected player scores his own goal, your scorecast bet is not affected by it at all. However, if it is the only goal scored in the match, your bet will be settled as a bet on the correct score.
In this scenario, your scorecast bet is still valid. However, it will be settled as a bet for the correct score. In other words, as long as the "correct score" part of your bet wins, you win the bet too.
In both bets, you are trying to guess the first, last, or the "anytime" goal scorer. However, in scorecast bets, you also need to guess the exact score. In wincast bets, you just need to guess who will win the game (or whether it will end with a draw).
Play with the best scorecast odds today
Now you know what is a scorecast bet and how it works: It is time to pick a bookmaker and try it yourself. We can help you in this regard too: Pick one of our recommended bookies and place your first scorecast with a bonus today! We are sure that you will start winning in no time: If you need more help, we will be here, ready to guide you with our content. Good luck out there!