What is a Wincast Bet ? | Wincast Bets Variations, Examples & Tips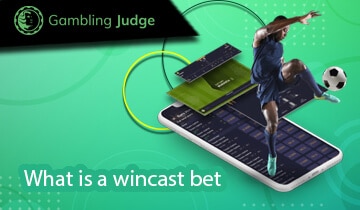 What is a Wincast Bet? If you have played at online bookmakers before, you will have come across all sorts of bets, we are sure. From half-time full-time bets to other betting terms, you have many options open to you.
What is a Wincast Bet, though? These types of wagers frequently appear at the biggest bookmakers in the world, and in this guide, we will give you the Wincast Bet meaning, as well as look at the pros and cons of placing this bet and several variations on it that are worth looking at.
If you are ready to begin with Wincast bets, read on to find out more.
Your guide to Wincast betting
Best Bookies for Wincast Betting
in 07 June 2023 – Updated List
Rank
Bookmaker
Bonus
Safe & Trusted
Rating
Get Started
Understanding Wincast Bet rules
Wincast Bet rules are straightforward to follow. Like placing any type of single bet, there are things you need to consider when wagering. These include:
See a Wincast Bet in action: Wincast bet example
The best way to see a Wincast in action is to use a Wincast Bet example. Let us say that you want to place a William Hill Wincast bet. You will have multiple variations open to you (First Goalscorer, Last Goalscorer, etc), but we are going for a basic Anytime Goalscorer Wincast Bet.
In our example, Manchester United are set to play Everton.
If Everton goes on to beat Manchester United and Calvert-Lewin scores for the Toffees, then you will win your bet.
However, if Manchester United win (even if Calvert-Lewin scores), or Everton win, but Calvert-Lewin does not score, we will lose our bet.
Similarly, we will lose our bet if Calvert-Lewin does not start the match.
Variations on Wincast bets
There are a few Wincast markets and variations you can play with. Let us look at the three most common below. Bear in mind that Anytime Wincast rules are more favourable than First and Last Goalscorer Wincasts; hence their odds are shorter than those of their counterparts.
1. First Goalscorer Wincast
You need to predict the winning team (or a draw) and predict the first player to net a goal in the match with a First Goalscorer Wincast. This is tricky to predict, as your goalscorer may be benched to start off with; thus, he may not be around to score the opening goal.

2. Last Goalscorer Wincast
With a Last Goalscorer Wincast, you are looking at betting on the winning team (or a draw). This time, though, your goalscorer must have the final word and score the last goal in a game. This is trickier to predict because he may be substituted before the final goal is scored.

3. Anytime Goalscorer Wincast
An Anytime Wincast Bet is the default for many punters. This allows you back a winning team (or a draw), and your goalscorer can find the net at any time. This is more advantageous as you get more wiggle room with the goalscorer. However, you will get shorter odds than the other two because of that.
Remember, your goalscorer does not have to be on the same team that you have selected to win the match. As long as they score, you're golden.

What is the difference between Wincast and Scorecast bets?
Top tips for wagering with Wincast bets
You are unlikely to find a definitive Wincast betting strategy online. However, Wincast tips are very much commonplace, and we have got a few to share with you right here. Hopefully, these will help you engage in successful Wincast betting online.
👉 Play at Top Bookies:
Part of the success story behind Wincast bets is knowing your onions. Playing at
bookmakers with statistics
will help you get an idea of what is likely to happen.
👉 Top Scorer Stats: You are more likely to see your bet succeed if you bet on a striker to score. Check the first goalscorer markets at bookies to see their favourites and apply those to your bet.
👉 Odds Vary: Wincast odds tend to rise when the probability of success is low. First and Last Goalscorer Wincasts are less likely to occur, but you can net rich rewards as a result.
👉 Evenly Matched Teams: If two top teams are set to square off, this could be the ideal time to have a crack at betting on a draw via a Wincast bet, especially if there is bound to be goals galore.
The pros and cons of Wincast betting online
There are pros and cons associated with Wincast betting online, and they include:
PROS
There are lucrative odds available, making for profitable football betting options
These bets can often be a part of money back betting offers and bore draw promotions
It is not impossible to find a few enhanced odds with more obscure markets
CONS
There is an unpredictable nature to Wincast bets
Some of the variations can be high-risk gambling options
FAQs: Your question on Wincast bets answered
Still have questions on Wincast bets? Allow us to help with our FAQ guide.
A Wincast Bet involves wagering on the outcome of a match (win or draw) and a goalscorer (either the first, last or any).
No. If an own goal is scored with a First Goalscorer Wincast, the next goal to be scored against the player's opposition will count.
No. While similar, a Scorecast requires you to successfully predict the score, too.
If your Wincast scorer does not start in an Anytime Wincast, you could still win if he makes an appearance as a substitute and scores. However, if he fails to come off the bench at all, you will lose your bet unless your bookmaker has terms that suggest otherwise.
No. Injury time (so-called added time) counts, but not extra time.
Start betting with Wincast bets at leading bookmakers
We have answered, "what is a Wincast Bet?" and have hopefully provided you with a few things to mull over. If you are ready to start using Wincast Bets, then check out our best odds bookmakers and even compare bookmakers on our site to find the ones offering the best Wincast betting options today.