Sports Betting Mistakes that Every Bettor Should Avoid!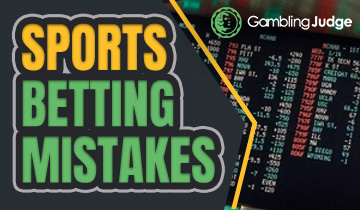 Sports betting is a pleasant pastime for millions of people and a constantly growing industry.
Bookmakers thrive and keep making money by cashing in on the proverbial house edge, but also the sports betting mistakes committed by players.
While it is perfectly true that the house always wins and beating the odds is difficult in the long run, in many cases punters are actually responsible for their poor results.
Being able to avoid the most common mistakes in sports betting can greatly improve the odds of winning and help you learn how to beat the bookies, as well as buying points sports betting, without decreasing the fun factor.  After all, winning is so much fun!
Top 10 Sports Welcome Bonuses in 2021:
Rank
Bookmaker
Bonus
Safe & Trusted
Rating
Get Started
How can you become a better punter?
Veteran punters explain their success through experience and claim that time is the deciding factor in the recipe for success.
While research, practice and countless experiments with new and tested strategies definitely help, in the end, experience is the name we give to our mistakes.
By the time we learn enough to be a successful punter, we have committed most of the sports betting mistakes, so the learning process is pretty expensive.
The good news is that progress can be made much faster these days and one can become a successful punter without having to pay the price for committing the biggest sports blunders.
Top 10 Sports Betting Mistakes You Must Avoid
Not setting up a bankroll for betting
Betting with the heart instead of the mind
Betting beyond your means
Chasing losses and betting under pressure
Failing to understand the value in odds
Not analyzing the outcome of your bets
Failing to comparing odds and lines
Setting unrealistic expectations
Betting too much or too often
Failing to track the odds movement
These 10 common mistakes in sports betting are responsible for most of the avoidable losses that punters suffer daily. By the time people realize the fact that they've been committing such sports betting mistakes, losses have already piled up. The good news is that they are totally preventable and anyone can take immediate action to mitigate the negative impact they have on their bankrolls. In the paragraphs below we'll explain every single one of them and teach you how to avoid these sports betting common mistakes.
1. Not setting up a bankroll for betting
The first and most important thing that any punter should do is to establish a bankroll dedicated exclusively to betting. This amount should be reserved to gambling and based on its value, people should adjust all their other betting strategies. It is strictly prohibited to mix the sports betting bankroll with the money used to cover everyday expenses. In addition to protecting players from the risks of gambling addiction, the bankroll has the merit of determining the right staking.
Risk-averse punters should bet no more than 1% of their bankroll, regardless of how safe a match seems. Those who don't mind taking more chances for the sake of bigger winnings can adjust their sports betting strategy with a 2% value in mind. By exercising perfect bankroll management, players protect themselves from other common sports betting mistakes like chasing losses and betting beyond their means.
2. Betting with the heart instead of the mind
The sooner people realize the fact that there are no safe matches and no invincible teams, the better they will perform. The goal should always be to find the good things to bet on, rather than to blindly throw money at teams that only look good on paper. Betting on the favorites is a common sports mistake that even experienced punters commit every now and then.
What happens is that punters simply bet blindly without analyzing the value behind the odds offered by the bookmakers. They are also tempted to bet larger amounts with complete disregard to odds news scores trackers and any relevant details.
3. Betting beyond your means
This costly sports betting mistake is the direct consequence of people overestimating their skills and financial means. Proper bankroll management can protect players against this threat, but only if they set reasonable expectations. The right course of action is to allocate fewer resources than you can afford to lose and gradually increase your bankroll as you make profit. Make sure you keep gambling fun and safe, while trying to come up with wagers for bets and find the right sports betting strategy before wagering.
4. Chasing losses and betting under pressure
If you wonder how do sportsbooks make money even from experienced punters, you should take a closer look at how people act when betting under pressure. This is when most of the sports betting mistakes are committed, because people no longer think rationally. Chasing losses is a huge problem for everyone because tilt is an insidious threat that can rear its ugly head when least expected.
When people lose a string of bets they are tempted to recuperate their losses quickly and bet larger amounts or increase the betting frequency. These are the last things to do if you lose a bet, because they will only amplify your losses and what begins as a totally affordable defeat can lead to the biggest bet ever lost and bankroll ruin.
5. Failing to understand the value in odds
To avoid most sports betting mistakes safest betting sites provide punters with guides and tutorials to help them early on. What they rarely teach people is how to find value in betting odds, even though this is the most important thing in the long run. There are no safe or risky bets and it all comes down to how much value there is in the odds offered by bookmakers.
The easiest sports bets to win are not necessarily the ones that you should be chasing if they don't add up in the long run. The only thing that matters is to always bet on matches where the odds value exceeds the risk so stay profitable in long-term. Learning how to find its value is the real challenge, as it comes with experience, but a little research and the ability to interpret odds news scores can make the learning curve smoother. Check here our best staking plan for low odds to learn more. We have also prepared a value football betting guide to better clarify this subject.
6. Not analyzing the outcome of your bets
Even if you are on the right track you will end up getting run over if you simply sit there and fail to make any adjustment. One of the common mistakes in sports betting is the failure to take another look at the outcome of each betting session. People tend to get overconfident when they win and depressed when they lose, but in both cases they fail to analyze the outcome of their bets.
Instead of trying to determine how to win a bet every time, the focus should be on avoiding the common sports betting errors. Take the time to analyze your betting patterns and determine if your losses were caused by bad luck or one of the sports betting mistakes we've talked about. This is the time to be critical about your work.
7. Failing to comparing odds and lines
The Golden Age of online gambling is now, as punters have so many alternatives and can choose from plenty of bookmakers. This gives them the opportunity to shop for the best odds and lines, instead of relying blindly on those supplied by a single sports book. When betting on sports, it is recommended to have accounts with several bookmakers, so you can always capitalize on the biggest odds.
Before placing any bet, look around and try to find the best value and even use a bet of calculator if needed. Keep in mind that this is a highly competitive industry and you need every advantage you can get to prosper.
8. Setting unrealistic expectations
Many of the most common mistakes are simply the result of people allowing themselves to get carried away by the adrenaline rush. Whether they play straight bets or accumulators, punters frequently end up setting their expectations too high for all the wrong reasons. People fail to make the distinction between betting for fun vs betting for profit and end up being unhappy with the results, no matter what.
Trying to achieve more than it's possible is one of the frequent sports betting mistakes and also a very costly one. Beating the house edge even by the narrowest of margins is a huge performance and you should be happy with it. When you bet on sports you are always the underdog, so staying profitable is an accomplishment.
9. Betting too much or too often
Sports betting can be an exciting activity and quite often, punters let themselves fully immersed into the adventure. When they think they came up with winning bet ideas that can make them rich, people tend to forget about prudence and responsibility. Sports betting sites provide people with the possibility of betting nonstop and increase the stakes arbitrary.
This is one of the biggest mistakes in sports betting, because when people increase the frequency and the stakes of their bets, losses pile up much sooner. The truth is that only a few of the matches available are worth betting on and most offers should be avoided.
10. Failing to track the odds movement
The top sports betting sites bring together tens of thousands of casual and experienced punters, with all of them betting on dozens of sports. Sports books set the odds depending on how likely the outcomes, but they always adjust them based on how players wager. The betting odd payouts also change quickly when many people bet on the same outcome, which makes it essential to monitor the market trends.
Tracking the odds movement will allow players to extract maximum value from the odds available. In the long run, this is the recipe for success, so use news scores trackers and pay attention to the odds variations. If something goes wrong, then you can opt for hedge betting.
How important is choosing the right betting sites?
The paradox of choice can be a bit frightening for many punters who find themselves surrounded by so many options. This doesn't mean that you should settle for the first bookmaker you stumble upon, instead of undertaking further research. A rather frequent sports betting mistake is to open a betting account with a single sportsbook and placing all the bets there. This will prevent players from cashing in on the best odds available and in the long run it will decrease their profit margin. A solid betting site brings the peace of mind of gambling in a secure environment, while granting access to the best odds and betting features.
Should I open accounts with multiple sports books?
Definitely Yes! The more accounts you have with leading bookmakers, the easier it will be to find and cash in on the best betting odds. You will also be able to take advantage of the most generous sports betting bonuses and take part in all sorts of promotions. These will help you boost your bankroll steadily and in the long run, offset the crushing house edge. The winner of the game is the player who makes the next-to-last mistake and in this competitive industry, you need to keep your options. Whether you are betting on soccer or one of the obscure sports available, it is essential to be able to pick the best odds.
What is a sharp bettor and how can I become one?
A sharp bettor is essentially a professional who makes a steady income by betting on sports. Such experienced punters know how to identify value, take advantage of top odds and bet against the trend when it suits them. They know how to bet on sports, make money betting, on football, and how to wager under difficult circumstances and with little information available. Sharp bettors have a thorough understanding of a few sports and focus on them, while cashing in on the bookmakers' predisposition for adjusting odds based on chance. These professionals don't commit any of the mistakes in betting and always play the long game.
There is no shortcut to becoming a sharp bettor and only time and practice can make perfect in this line of work. The road to success starts with avoiding the most common mistakes in betting, while trying to extract maximum value from any wager. A combination of flawless bankroll management, thorough understanding of odds and trends, as well as a willingness to research the market defines the sharp bettor. In order to have a chance to become one, people should set achievable goals and understand that success in sports betting is a marathon not the sprint.
Understand the indissoluble link between risk and reward
Any sports betting for beginners guides should start with a thorough understanding of the link between risk and reward. Bigger odds lead to larger potential payouts (depending on the bookmaker withdrawal limits), but they also reflect bigger risks, so the stakes should be adjusted accordingly. There is nothing wrong in betting the underdog, as long as you are certain that your betting strategy is based on solid research, rather than greed.
That's why it is important to focus on the sport that you know the best and ideally, on the teams and leagues that you are more familiar with. Football might be the easiest sport to bet on, but if you're more familiar with an obscure sport, there is nothing wrong in focusing on it instead. At the end of the day what matters is making profit, rather than betting on the matches everyone is betting on.
Which are the worst bets offered by bookmakers?
Sometimes we commit sports betting mistakes even when we research the matches and markets, bet within our means, use proper bankroll management & units staking plans (such as our best staking plan for low odds). This happens when the game is rigged by bookies who offer terrible bets wrapped up in tempting odds. One of the biggest mistakes in football is wagering on special markets where we can't properly evaluate the risks. Bookmakers tend to offer bigger odds on goal scorers, and special event such as free kicks, corners, cards and so on. With Asian corners the odds are a little lower than with regular corners, but the advantage is there is a possibility of refund. In case the exact number of corners is used your stake is returned.
These funny bet wagers are tempting because they offer the promise of big payouts, while keeping the games exciting. Unfortunately, this is where bookmakers get the biggest rewards because the odds don't reflect the risks and carry a huge house edge. That's why even though this type of action is exciting, these are ideas for losing a bet and it's not worth the risk, no matter how tempting the odds.
Simple sports betting strategies to boost profits
Avoiding the most common mistakes in sports betting will help you mitigate unnecessary losses. The next step is to maximize the profits and this is where some simple sports betting strategies come in handy. These don't require a lot of experience and can be deployed immediately, so both casual and veteran players can take advantage of them. Most of them can be used in conjunction, so with a little bit of research and the desire to improve punters can make the first steps towards becoming sharp bettors.
10 Subtle sports betting mistakes that hurt performance
Overreacting to changes and market movers
The gambler's fallacy
Trusting handicappers blindly
Failing to understand sharp action
Betting without undertaking enough research
Ignoring injury reports before wagering
Betting on unfamiliar sports and markets
Failing to undertake proper point spreads shopping
Finding excuses and blaming luck
Not using the cash out feature often enough
Avoid the Most Common Betting Mistakes Starting Today!
Sports betting is a fun, but rather difficult enterprise and the fact that the house always wins is a sad reality for most punters. Beating the odds is difficult but not impossible, as long as you know how to avoid the most common sports betting mistakes.
These are responsible for most of the losses suffered by punters and in most cases, they render any profits made by using correct sports betting strategies virtually irrelevant. Start making small, but important changes to your betting patterns today and you will be amazed by how your performance will improve.