What is a Double Bet? | Maximize Winnings with Double Betting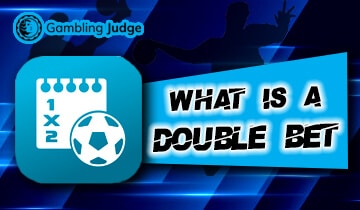 Online sports betting is the most convenient form of gambling, as you can easily combine a broad spectrum of sporting events and markets.
You are just one click away from creating the ultimate betting slip, whether you prefer single bets or accumulators. The latter are more profitable because they help you boost the odds and the most straightforward type of multiple wager is the double bet. 
In this guide you will learn what is a double bet and how it can be used to maximize your winnings when betting on sports.
What is a double bet and how does it work?
Finding a place to use the double bet online is extremely easy and the smallest and biggest betting companies alike accept this type of wagering. As we said it is suitable for all types of sports betting, so you don't have to make compromises and can focus exclusively on finding the best bookmakers.
The decision to choose one sportsbook over the other involves many factors, such as reputation, quality of odds, availability of sports and markets and payment methods among others. We can help you find the most popular online sports books that offer the double bet, as well as other types of betting accumulators.
Best bookmakers for placing double bets
in 01 November 2023 – Updated List
Rank
Bookmaker
Bonus
Safe & Trusted
Rating
Get Started
How to calculate a double bet compared to a single bet?
Once you learn
how to place a bet online
and understand
what is a single bet
, you are qualified to place your first double bet. Upon adding the selections on the betting slip and entering the stake, the bookie will automatically calculate the profits, so you know how much you can win. The math behind this process is surprisingly easy and we can describe it clearly in just a few sentences using this double bet example.
Assuming you have $10 at once to bet on two sports events, one with the odds of 1.40 and the other with 2.00. Placing bets on even odds (2.00) is also called EVS betting. If you split the amount and place two individual $5 single bets and both selections win you will have:
✅ $7 winnings on the first bet: 1.40 x $5 = $7
✅ $10 winnings on the 2nd bet: 2.00 x $5 = $10
✅ Your net profits in this case will be $7: ($10 + $7) – $10 = $7 
If you choose to add both selections on the same betting slip and bet the entire amount of $10 on this accumulator you will have:
✅ the total odds will be multiplied: 1.40 x 2.00 = 2.80
✅ $28 in total winnings: 2.80 x $10 = $28
✅ the net double bet profit will be $18: $28 – $10 = $18
Both selections need to be winners, but the bottom line is that the double bet will result in bigger profits without requiring a bigger stake.
Placing a double bet – Step by step
It's so easy to learn how to place double bets that recreational punters and absolute beginners will have no problem in using them effectively. Follow these 4 easy steps to place the easiest type of multiple betting:
Step 1
Choose two sports betting events you want to bet on from the sportsbooks' selection
Step 2
Click on the odds to have the matches added to your betting slip
Step 3
Enter the stake and the bookmaker's double bet calculator will suggest the potential profit
Step 4
Place your bet and wait for the events to be settled to claim your profits
How to use double bets in horse racing?
Football is the easiest sport to bet on and the perfect choice for players who have just learned what is a double bet. Having said this, there are other qualifying sports and if you know how to bet on horses, you can place double bets. Betting on horse races is different, with each way betting, lucky 15 and other special betting markets providing punters with unique options. There are many possible combinations, but if you are just learning what is a double bet in horse racing, these are the best options for beginners:
Different types of multiple betting
Once you learn what is a double bet and how to use it successfully you can consider other types of accumulators. These are some of the most profitable football betting options, as the higher the number of selections, the higher the odds.
Accumulators can include anything from two selections to 20, 25 or even more and the odds are multiplied to generate ever bigger winnings. Once you understand what is a double betting football, you can place a treble bet, fourfold bet or 7 fold bet and more complex accumulators. You can even include double bets in other complex bets like a Trixie bet,  Patent bet, Yankee bet, Canadian bet or Alphabet bet.
Some bookmakers have risk free bets offers on accumulators that have three or more selections to new and existing punters. If you read a sportsbooks review, you can find such free bets on ACCAs, as these types of bets are sometimes referred to.
Even if the standard double bet isn't eligible for such bonuses, you can expand the double bet strategy to these accumulators. They are perfect when you bet on football events with low odds, such as the BTTS strategy. The BTTS meaning is nothing else than both teams to score in a match. If you enjoy betting on BTTS, we recommend taking a look at Betfred's Goals Galore No Draw offer. We also recommend checking our best staking plan for low odds.
Risks and benefits of double bets
PROS
The odds are multiplied so you can win more
You can add more selections on the same betting slip
Some bookmakers offer free double bets
It is possible to combine bets from different sports
CONS
Both selections need to win to make a profit
Some bookmakers don't offer the cash out feature on double bets
Double bet FAQs answered
You can place a double bet on football, tennis, American sports, horse racing and pretty much any other sport. The same goes for markets accepted, as you can combine main bets with special markets to create accumulators that contain two or more selections.
It is normally prohibited to place a double bet on the same match and some bookmakers don't even allow punters to combine bets on the same team. The best sportsbooks have introduced bet builders, which enable players to place a double bet on the same match and even and three or more selections.
The double bet has the merit of producing bigger winnings than single bets, as the odds are multiplied instead of added up. If you want to maximize your profits, then the double bet is the superior option, but you need to make successful selections to finish in the money.
The easiest way to calculate the profits resulting from a double bet is to multiply the odds on the betting slip. The bookie will do that on your behalf, as the odds for accumulators are automatically calculated.
Use the double bet to boost the odds and maximize profits
You don't need to be an expert punter to understand what is a double bet, as it is the most straightforward type of accumulator. By choosing to add both your selections on the same betting slip you will multiply the odds, hence generate bigger potential winnings.
If you seek to boost your profits and make the most of the odds offered by the bookmaker, use the double bet as an effective instrument regardless of your sport of choice. Find the sportsbooks offering the biggest odds to extract the maximum from double bets.