Edit my Acca – How to use the "Edit my Acca" feature [2023]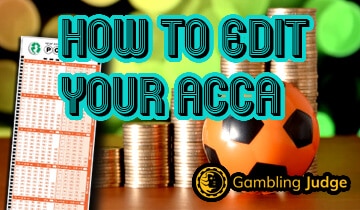 Being about to "edit my acca" is something that many sports betting fans have wanted for a long time.
Now that the feature is finally arriving at online sportsbooks, it is time for many of us to learn how it works.
In this edit my acca review, we will introduce you to the latest feature and hottest craze to hit the sports betting world.
We will show you how to "edit my acca" and explain why it may be beneficial to do so.
If you want to learn how editing accumulators works, why this is advantageous, and discover which bookmakers provide the service, read on to find out more.
Best Sports Welcome Bonuses
in 01 November 2023 – Updated List
Rank
Bookmaker
Bonus
Safe & Trusted
Rating
Get Started
How to edit your acca in 2023 - our guide to the latest craze
We are sure that you will already be familiar with how betting accumulators work. While the perk of accumulators is that you win a lot more with a single ticket acca than you would by placing several individual bets; the downside is that if you get a few wrong (sometimes as few as one), you lose them all.
This has always seemed a touch unfair. Fortunately, you can now edit your accas at some bookmakers.
How does "edit my acca" work now that it has arrived in 2023? We will show you how, but first, let us explain where you can find this feature.
Top online bookies offering edit my acca features
Learn how to edit your acca
If you are wondering how to edit your sports acca bets, you have come to the right place. But what is the feature, and how does it work?
Ordinarily, once an accumulator has been made, it cannot be altered. The fate of your acca is down to the actions and events on-field. However, the Edit My Acca feature now allows you to remove your accumulator selections, even after an event has begun.
For instance, if you were to place a six-fold acca on football, and one of your teams started to lose, you could edit your acca to remove that fixture. Once you remove a selection (even after the event has begun), a new return will be calculated for the remaining selections. It is likely to be smaller than the previous return, but at least that wayward event will not scupper your chance to win.
As you can imagine, this is advantageous. Ordinarily, the amount you have staked cannot be split once wagered. Now, it can. Moreover, acca insurance promos can be run alongside "edit my acca" features, ensuring that even if a selection lets you down, you do not have to worry about your stake not being returned as a free bet.
Why should you edit accumulators after betting?
By now, it should be reasonably obvious why these edit my acca features are ideal for punters. These offer more favourable
betting terms
. You can place advantageous accumulators, and then revise your bet after the game starts. In a manner, you are covering your bases if things go pear-shaped, and in the world of sports betting, that can happen often.
Cashing out winnings after editing accas
If you do not opt to edit your acca, your return amount will remain the same as dictated when you first placed the bet. However, if you tinker with your accumulator, what can you expect to win?
Of course, you are not going to get the same return amount as you would have done had the removed selection remained on the ticket. However, you can always see the potential return before you confirm the removal of a selection. Ultimately, you will win less, but stand a greater chance of winning.
What you cannot do is add matches or selection to your accumulator once they are underway. The feature only works one-way, so you will always end up with less than your original return if you edit your acca.
Ladbrokes - The ultimate "edit my acca" sportsbook
The idea behind editing accumulators first originated at Ladbrokes. The sportsbook has made things easy for you to do this. If you are wondering "how do I edit my acca on Ladbrokes?", allow us to explain.
Step 1
You can head to the "My Acca" tab to find your accumulator
Step 2
Find the selection you wish to edit and click on "Edit My Acca"
Step 3
Remove the desired selection (or selections) according to Ladbrokes edit my acca rules
Step 4
That is all, and a new return figure will be displayed
You can find out more about this process, as well as the accas available in general by reading our Ladbrokes edit my acca review.
Tips and tricks to editing your accumulator
Pros and cons of edit my acca features
Of course, there are both pros and cons to the new edit my acca feature, and they include:
PROS
You can improve your chances of success by removing selections
It can run parallel to conventional accumulators insurance and other promos
The feature can be used after matches and games have begun
CONS
The feature is only available at limited sportsbooks
You cannot add selections to your accumulator
Frequently Asked Questions about the Edit my acca feature:
As "edit my acca" is a relatively new feature, you may have a few questions that you feel need answering. We have done our best to answer those below.
Currently, only a few selected bookmakers offer accumulator editing features, and these are typically found in the UK. However, this will go on to be an immensely popular addition to the sports betting world, so expect to see it branch out elsewhere soon.
Yes. Anything which allows you to access your acca can be used to edit accumulators.
Yes and no. You can remove selections from your accumulator, but you cannot alter the amount bet at this moment in time.
Only two. For now, only a handful of bookmakers offer the service. Secondly, you cannot add selections to an edited accumulator.
Yes, of course. As you remove a selection from the accumulator, the amount you can win will always be smaller than the initially forecast.
Find top bookmakers offering edit my acca features today
As mentioned, only a handful of bookmakers currently offer this service. However, we expect the remaining online bookies to catch on quickly when they see how popular a feature being able to "edit my acca" is. You can find the best bookmakers which permit accumulator editing right here on our page.
Other related articles you might like: