How to Win Big on Football Bets – Tips & Strategies | Best Football Winning Bets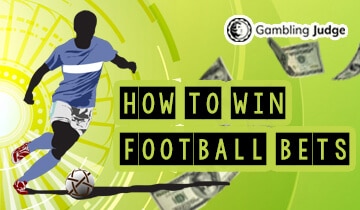 Football is the most popular sport worldwide, so it comes as no surprise that people prefer to bet on it. Widely regarded as the easiest sport to bet on, it has unique challenges and exposes punters to specific sports betting mistakes.
In this guide we'll review the most popular football strategies and systems to teach you how to win big on football bets.
These recommended tips can be the difference between a successful and failed punter so keep reading to find out which is the best way to win football bets.
How to win big on football bets – The definitive guide for 2023
Best Football Betting Sites
in 27 September 2023 – Updated List
Rank
Bookmaker
Bonus
Safe & Trusted
Rating
Get Started
How to win at football betting – Step by Step
The process of learning how to win football bets consistently is a long and tedious one. It is easy to learn how to place a bet online, but it takes time to master this activity. We should take a closer look at the things that can help you achieve your goals, but for the time being, these are the basic steps to complete.
Step 1
Play exclusively at trusted sports betting sites with a license
Step 2
Open multiple accounts to take advantage of the best odds
Step 4
Place your bets early to cash in on top odds
The basics of successful football betting
In your quest of learning how to win football bets, it is vital to master the basics before moving on to the best sports betting strategies. These are some of the essential things to consider as a beginner hoping to find out how to win football bets easily and consistently.
👉 Set up a proper gambling bankroll
Whether you hunt big wins or craft the
best staking plan for low odds
, proper bankroll management is essential. Create a healthy gambling account and never bet more than 5% on a match or accumulators. Don't mix gambling budgets with living expenses
👉 Stick to your own rules
If you want to win football bets, you need to have a coherent strategy and a clear set of rules. Once you establish these terms, stick to them even if things don't go your way right away. This is vital to make money betting on football in the long run.
👉 Review your betting patterns
If you play at bookmakers with statistics, you can easily analyze your online gambling activities. Try to figure out which type of bet was more lucrative for you so far and which wagers are not profitable. Be honest and don't create excuses for your mistakes
👉 Don't bet more than you can afford
Even if you want to learn how to win big on football bets, the main priority is to avoid big losses and therefore you should avoid placing bets that require large amounts of money as required for a dime bet. Set reasonable goals and only bet the money that you can afford to lose without affecting you. Celebrate winnings and don't chase losses or go on tilt.
Top 5 simple football bets for beginners
One of the first things punters realize when learning how to win big on football bets is that there is an indissoluble link between risk and reward. The greater the chances to lose, the bigger the odds, so this is the trade you have to make. The easiest football bets to win are not the ones that produce the biggest winnings, but they can be more profitable in the long term as is the case with lower odds bets, including under 5.5 or under 4.5 goals.
These are the top five bets that beginners should consider when betting on a football match and markets for the first time.
Top 3 challenging football bets for experts
If you fancy big winnings, you need to be willing to take greater chances. When looking at how to win at fixed odds football betting, there are some betting markets that stand out from the crowd. Top bookmakers feature these betting options for major tournaments, as well as obscure events, so you can always take advantage.
10 best tips and strategies to win football bets
Now that you know the basics as well as a few advanced betting systems, it is time for complex strategies. These tips are guaranteed to increase the odds of winning by teaching you how to win football bets mathematically. A vast majority of these tips also apply to virtual football betting, too. Just make sure to read our top virtual football betting strategies and football betting systems before getting started. Our goal is to weed out luck and teach you how to bet on football like a pro.
1. Shop around for better odds
If you want to learn how to always win with football betting, you must wager at higher odds. Having multiple accounts with several bookmakers will offer that and might even provide you with rare matched betting opportunities.
2. Consider betting exchanges
Traditional bookies are fun and easy to use, but betting exchanges have bigger odds. They won't provide you with a silver bullet on how to win football bets every time, but will increase your long-term profits. They are also perfect for later draw strategies
3. Keep your emotions in check
If you want to know what to do to win football bets, know that there's no room for emotions. Don't chase losses, don't diverge from your plans and stick to your bankroll management strategy. It may take a while to prevail, so don't lose patience.
4. Focus on the leagues you know
It's impossible to be proficient in everything, so it's better to be great at something. Focus on a few leagues and teams and channel all your energy in that direction. If college football is your thing, then simply focus on college football betting strategy.
5. The best odds are for draws
If you want to learn how to win big money on football bets, you can't be afraid of risks. In a perfectly balanced football match the draw will always have odds that exceed 3.00. This means that there's value in these betting markets so consider backing the draw.
6. Listen to the experts
You can't expect to know how to win big on football bets right from the start. That's why it is recommended to hear what the veterans have to say. Tipsters are worth following, because you can earn while you learn how to win at sports betting.
7. Settle for smaller winnings
The goal might be to learn how to win big on football, but it can take a while to get there. Meanwhile, be happy with the smaller gains and celebrate victories, even tiny ones. As long as you make a profit at the end of a betting session, everything is great.
8. Underdogs are better than favorites
If you bet on the better team, you will always have to settle for low odds. These might be the easiest football bets to win, but they're not really profitable in the long run. Try to find solid underdogs which are good at defending and trust them to draw.
9. Take advantage of live betting strategies
Some of the best odds are available after the game has started. In your mission of how to win betting on football, live gambling can be a solution. Watch matches as they unfold at betting sites with live streaming and make an educated decision.
10. Harness the power of accumulators
ACCAs are the most popular solution for people who want to learn how to win big money on football bets. Understand how to win football accumulators, even draw no bet accumulators, and you will cash in on odds that are multiplied to create huge potential winnings.
Pros and cons of betting on football
PROS
The easiest sports to bet on
A multitude of betting markets available
Competitive odds at top bookmakers
Pre-game and live betting options
CONS
House edge can be steep on low-profile matches
How to win big on football bets FAQ
If you want to learn how to always win football bets you need a plan that suits your bankroll. Beginners should focus on low risk strategies and settle for lower profits, until they build a solid budget. Veterans can gamble with higher risk tactics that include betting on the correct score and halftime fulltime result.
If you seek the biggest profits, the correct score market is the obvious choice. If you want to learn how to win football bets daily, lower risk alternatives should be considered. Over/under bets are good choices, as well as wagers on the outright winner of a match or double chance bets.
This depends on your appetite for risk and your expectations. If you want to figure out how to win football bets often, you should stick to less riskier wagers. If you seek immediate gains of exceptional magnitude, you can take your chances with riskier bets, but only if your bankroll can afford it.
Proper bankroll management is essential to win football bets in the long run. The size of the budget is less important, what matters is how you distribute the investment. Don't bet more than 5% on any match or combined betting slip and don't overcommit to supposedly safe bets
ACCAs are riskier because you need to correctly predict all the events on the betting slip. If your desire is simply to learn how to win a football bet and mitigate the risks, single bets are advisable. Accumulators pay significantly more, so they are suitable for ambitious punters.
Reach your full potential when betting on football
The success of a punter is quantified over the years, because betting is a marathon rather than a sprint. If you want to learn how to win big on football bets, you need to master the basic strategies and understand complex ones. Some bets carry greater risk than others, but in return, they promise bigger gains. Navigate the treacherous waters of football betting with care and you will reap the generous rewards you seek.
Other Tutorials and Strategies