Over 2.5 goals meaning | 2023 explained guide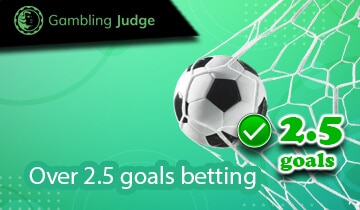 This write-up looks at the over 2.5 goals meaning in detail. This is just one of the popular betting markets available for punters. Sadly, many bettors do not know how this betting market works, and as a result, they avoid or place bets that do not result in decent wins. Along with that, we offer over 2.5 goals betting tips and how you can make the correct prediction. While the over /under bet type is prevalent in any football bet, we will explain other sports where you are likely to get over 2.5 goals in the betting market. After reading this article, you should be able to accurately answer "what does over/under 2.5 goals mean?"
Top 10 Bookmakers to bet on Over 2.5 goals in 18 September 2023
Rank
Bookmaker
Bonus
Safe & Trusted
Rating
Get Started
What Over 2.5 Goals Means?
How Over 2.5 Goals Work?
How to Place an Over 2.5 Goals Bet
Find one of the new bookmakers and create a betting account, verify the account and deposit enough cash to cover the wagers you want to place, and avoid any betting scams.

Navigate to the sports section of the online bookmaker, e.g., football. Select the match or matches you want to

bet on over 2.5

. 

Go to the betting market is and locate over under betting markets. Note that some online bookmakers may use the term Total Goals markets and not over/under. It's the same thing. 

Choose Under/Over 2.5, and click on the Over 2.5 goals. This action causes your wager to be transferred to your bet slip. 

Enter the money you wish to stake for the bet, confirm that everything is as you wish, and place the bet. 
Sports Covered by Over 2.5 Goals Bets
Other Types of Bets Like Over 2.5 Goals
Over 2.5 Goals Accumulators
How to Predict Over 2.5 Goals in Sports
There is a sure way of predicting the match results – that is why it is called betting. However, with some profitable football betting prediction tips, you might predict the outcome of a game. Some betting gurus offer a wide range of betting advice, including tutorials and strategies. Primarily, statistical figures and algorithms can help make good predictions. Fans, match analysts, and bet prediction sites predict football matches. Typically, they give score views about each team on the fixture. This may help you make a good call. However, some tips and tricks about betting are:
Step 1
Study the teams extensively

Step 2
Find valuable markets

Step 3
Know the clubs' motivations

Step 4
Check out match statistics and reviews

Tips and Tricks About Over 2.5 Goals
In-Play vs pre-game over/under market: in-play betting allows you to place bets when a match has already started. In this option, the odds are ever-changing, making it the best choice over pre-game bets. However, a live betting strategy requires live streaming to identify the right time to place bets. Also, you can use the dropping odds tracker tool to check the movement of odds.

Shop for the best odds to increase your potential payout 

Study the participating teams – know their form and motivation 

Avoid using the "accept all odds movement" feature when placing Over 2.5 Goals accumulators 

Check if key players are suspended or injured 

Check out the player line-up before placing bets – it is announced about an hour before matches start.

Break game into sections in sports like basketball 
PROS and CONS about Over 2.5 goals
PROS
There is no worrying about a team that wins a game
Has the best odds than any other over/under betting markets
CONS
Being a middle range and most famous market, chances of choosing the wrong bet are high.
FAQ About Over 2.5 Goals
Yes. It is possible if the online bookies are tailored to work on mobile devices or has a sports betting mobile application. The process is pretty similar to placing a bet on a desktop.
That depends on the bookie. Most bookies have the in-play betting feature that allows players to place bets while the match has begun. So, to put the bets, you must be on a bookie supporting this feature.
Yes. The over 2.5 goals sports betting type is very legit. Many football sports betting sites in the UK offer these betting markets.
Halftime/full-time bets on most sportsbooks commonly allow three options: Home/Away/Draw. So, you will have to pick a straight winner in the first half. However, some bookies are incorporating the idea of over/under in this betting.
An over 2.5 betting market is a set match result for the over 2.5 betting market. Here, you bet on the outcome of a game to be three or more goals.
What Does Total Goals Over 2.5 Mean: Final Thoughts
Beyond the full-time results and over 2.5 goals meaning, punters must have clear tips on how to place bets. That is why this 2023 guide about betting on over 2.5 goals looks at under and over betting tips, how to place the bets and conditions that make such a bet successful.
Remember, the best bookies offer odds for different over/under markets –  from over/under 0.5 goals to over/under 5.5. 2.5 is precisely in the middle of the range. Most punters may overlook its importance, but the truth is, it comes with lucrative odds.