Rugby Betting Sites and Bookmakers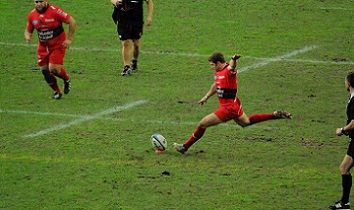 Games resembling rugby have been played since the times of ancient Rome and Greece and it has developed into a modern-day sport that attracts millions of fans around the world.
In 1895, rugby was split into two administrations: Rugby league and rugby union.
However, rugby league began to change some of the rules which led to rugby league and rugby union essentially becoming two different sports.
More recently, league and union teams have competed against each other using either league rules, union rules, or a combination of both.
The popularity, participation rates, and profits of both entities vary from country to country but rugby union generally enjoys a higher profile on a global scale.
The Six Nations Championship is the oldest and most followed rugby union event while rugby league's showcase event is the Four Nations. Rugby league and rugby union also hold their own World Cups.
These events keep international betting sites hopping as do the countless regular season games that are played in leagues all over the world.
Best Rugby Betting Sites
in 01 November 2023 – Updated List
Rank
Bookmaker
Bonus
Safe & Trusted
Rating
Get Started
Rugby Betting Bonuses
It can be safely assumed that a sport like rugby that has such a large following and global appeal would also be much-gambled on. Rugby bookmakers are constantly taking bets due to the fact that rugby is being played somewhere nearly every day of the year.
Most of these sportsbooks offer a lot of bonuses and ongoing promotions such as Betfred's "Double Delight and Hat-Trick Heaven" promotion. Simply place a First Try Scorer bet. If it wins then you can win double if the player scores a second try and the prize is tripled if the player scores a third time.
If you want to bet on Six Nations games then 888 has a great offer for you. If you place a First Try Scorer bet in any Six Nations match and your player fails to score the first but registers a try at any other time during the game, then you will get your money back in the form of a free bet up to £25. This is just one of the money back betting offers you can find at Gamblingjudge.com.
There are a whole lotta free rugby bets to be had. NetBet and 12Bet will give you up to £50 to bet on rugby and you can get €100 worth of free rugby bets at SLbet, and Bet Motion. You don't want to pass up the chance to receive €200 in free rugby bets at 10Bet or Bet at Home and you certainly don't want to miss out on getting your hands on thousands of rugby betting bonuses at BetOnline.
Make sure to check out the promotions section at Gamblingjudge.com to find these and many more awesome bonuses from the best bookie in the world.
Best Live Streaming Rugby Betting Sites
There are so many rugby games going on at almost any given time and it would be unreasonable to expect your network television provider would carry them all. Don't worry!! You won't miss any of the action if you register at betting sites with live streaming where you can bet on rugby.
This feature has revolutionized the way we bet. It is a big reason why rugby is available on the best live betting sites and bookmakers because has become increasingly popular. Live streams are a little different than network broadcasts in they constantly giving the viewers relevant news, stats, betting tips, and other helpful information.
Punters know that when they go to Fun88 or Betway that they will be treated to live rugby streams and all the perks that come with it. Sky Bet and Boyle Sports also provide their customers with this awesome feature as do industry leaders such as Bwin and William Hill. Of course, punters can count on Unibet and Sporting Bet to provide all the live rugby streaming action too.
Best Live Betting Rugby Bookmakers
Once you have become familiar with the benefits of live streaming you will want to get into the live rugby betting action. Live betting is a great way for punters to double down, hedge, or just get more wagering action. Is your favorite team down early?
You can get better odds by betting them to win with a live bet. Is the weather terrible and keeping the score low? Bet the live total. There are all sorts of in-play betting options to choose from and top-rated rugby betting sites like Betfair, Ladbrokes and Bet Victor will all give you more live betting options than you can shake a stick at. Many of these bookies have live betting promotions and loyalty bonuses too.
Bookmakers with the Best Rugby Betting Options
There are a plethora of professional rugby leagues and international tournaments and this makes for an astronomical number of betting opportunities. Rugby betting fanatics want to be sure that they can choose from the most wagering options on the widest markets.
LsBet, and Winmasters offer punters the most rugby wagering opportunities on both rugby league and rugby union. These bookies commonly offer over 30 different pre-match bets on a single game. Then there are the dozens of live betting options!! Paddy Power and Jetbull are well known for providing unbelievable variety as are Efbet, ComeOn and Goalbet.
Types of Rugby Bets
Punters can bet a team on the moneyline or they can bet on the spread. If they want to go for a nice payout then they can bet on a tie. Punters can wager on the first half winner, place a double result bet or bet on the team that leads after 10 minutes. Many punters like to bet on total points scored, the winning margin, and the team that scores first. You can bet on individual players to score, first or last team to score, and total tries.
If you don't know anything about the players or teams, you can always bet on a team or game total being odd or even. At the time of this writing, Betfair had a mind-blowing 94 different types of bets for each rugby league game it offers and 45 different options for rugby union matches. That is a lot of choices!!
Bookmakers with the Best Coverage of Major Events
The best rugby betting sites have become one-stop all-you-can-eat buffets of entertainment and information. It's not enough to simply offer a lot of betting options which is why the highest-rated bookies also offer live streaming, in-play wagering, updated live odds, up-to-the-second news and statistics, and helpful betting tips as well as other features such as podcasts and valuable bonuses.
You can have an exciting time betting on rugby at Ladbrokes and Sportsbet.io, as well as at Betfred. Rugby betting sites such as Betsson and 188Bet are well known for providing customers with the most extensive coverage of major events.
Check out the bookmaker database at Gamblingjudge.com to find a bookie that provides the best coverage of major events.
Rugby Bookmakers that Offer the Best Odds
One of the secrets to being able to offer great odds is having a low betting margin and Pinnacle has one of the lowest. This rugby bookmaker claims to have the best odds in the industry but they also have some stiff competition from the other bookmaking giants such as William Hill, Bwin, and Bet Victor. Betting exchanges such as Betfair are also well-known for offering great odds. Still, if you prefer betting mostly on low odds, we recommend checking our best staking plan for low odds.
One of the best ways to find the best odds on individual events is to go to one of the many websites that provide live odds comparisons. This will save you a lot of time. Remember that odds fluctuate quickly and you need to act fast when the right opportunity arises.
Rugby Bookmakers with the Most Payment Options and Highest Betting Limits
If you are a small-time recreational bettor, high limits are of little concern but those who like to bet large need to be sure that their bookie will cover their bets. They also want to have plenty of payment methods to choose from. Pinnacle Sports boasts that they accept the biggest bets of all high stakes betting sites.
This may or may not be true. Their limits vary from sport to sport usually extending into tens of thousands of dollars. They absolutely offer a wide range of payment options. Pinnacle is definitely able to handle big hitters.
Other trusted rugby betting sites like BetClic and Betfair are also known for offering higher than normal betting limits and multiple payment options as are Bet Rally and Goalbet.
If you are planning on betting big bucks then you should definitely check with your bookie to see what their limits are.
Frquently Asked Questions about Betting on Rugby
Rugby is a popular sport with plenty of mainstream and special betting markets both pregame and live.
You win by predicting the winner, the total number of points or any of the special in game events.
The most popular bets in rugby are match winner, handicaps, game totals and team to lead at half time.
The best rugby betting sites are licensed and provide many betting markets at competitive odds.
You can claim bonuses when making the first deposit and even no deposit bonuses can be claimed.
You can bet live on rugby and also watch the games as they unfold using the live stream on the site.
Pick a Top and Trusted Rugby Betting Site and Start Today!
It doesn't matter if you are a whale or a minnow. You want to find a rugby betting site that offers lots of betting options, the best odds, and the added value of bonuses and promotions.
Features such as live streaming, in-play wagering, handicapping tools, and betting tips can go far in making your rugby wagering experience as enjoyable and complete as possible. Gambling Judge can find you the best bookmakers and the best bonuses.