eSports Betting in 2023 – Where to Play and How to Bet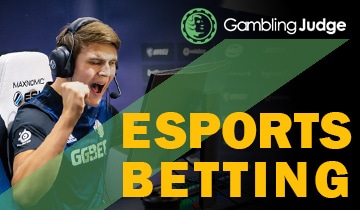 eSports betting is one of the hottest ways you can bet online right now. As you can play most of the types of games you can bet on, eSports betting represents a whole different kettle of fish to betting on say, professional football or tennis. There are, indeed, many ways for players to get involved in eSports.
Although any player hoping to engage in a spot of eSports betting on say, League of Legends betting tips, need only place a bet at an online betting site; they can also engage themselves personally in the game. In short, they can actively play the game for themselves. Insight can be a wonderful thing to have when betting. The potential is even there for them to become a professional eSports gamer, too.
For now, though, we're mostly focused on introducing you to quality eSports betting websites and showing you how you can wager on this often-underappreciated betting market as a newbie. Let us begin, then, by introducing you to the world of eSports.
Best eSports Betting Sites
in 01 November 2023 – Updated List
Rank
Bookmaker
Bonus
Safe & Trusted
Rating
Get Started
Everything You Need to Know About eSports
eSports online betting is a rapidly growing market, but it is not one which has been around for a particularly long time. As a result of that, you may not be familiar with the concept. If so, you might find yourself asking, what is eSports betting?
In a sense, eSports are video games like Valorant which are played by gamers. Much like your typical PlayStation or PC games, these are often played online by a massive community of millions of players. However, not all computer or video games are considered eSport games. Instead, a handful of games have often been chosen to appear in the industry specifically. Like most things, somebody, somewhere realised that there was potential to wager money on the outcome of these games. Thus, the eSports gamble and betting market came into existence.
The Big Hits – Popular eSports Games
Not every video game is an eSports game. The games which you can engage in a spot of eSports betting in have been carefully selected to appear in this market, as mentioned. Most of the time, these will be games which have features that have a competitive nature. Tomb Raider, for instance, is never likely to become an eSports game, as it primarily involves solving puzzles, and is a single-player platform game. However, titles such as FIFA, Call of Duty, and other MMPOGs (Massive Multiplier Player Online Games) tend to fit the bill nicely.
The eSports betting industry should not be confused with fantasy eSports betting, either. The latter involves wagering on fantasy sports teams. The eSports betting industry is quintessentially a video game market.
There are many different titles you can choose to play and wager on in the eSports betting world. Some of the more popular ones have been listed below, and there is a fair chance you will surely have heard of some of them. We're not going to tell you every little thing about these games but will provide you with a brief introduction to them.
They include:
– Call of Duty: Launched in 2015, the Call of Duty World League is one of the most popular eSport games around. Based on the hit shoot 'em up series of the same name, this eSports title involves hunting down and killing opponents either individually or in teams, while on the battlefield. CoD sports betting is one of the most popular ways to bet online.
– Counter Strike: Global Offensive (CSGO): Counter Strike: Global Offensive is another multiplayer first-person shoot 'em up. Created in 2013, it is one of the older eSports tournaments around and is a team-based competition. In the world of eSports, CS: GO betting is a popular way to wager amongst fans. You can play more for example at csgo betting sites with no minimum deposit.
– Dota 2: A multiplier online battle arena (MOBA) game produced by the Valve Corporation, Dota 2 is a fantasy-themed game, whereby players control a hero. Experience points and items can help heroes defeat enemies, with many eSports DOTA 2 betting options revolving around those personal duels. This is one of the most recognisable eSports markets out there.
– FIFA: FIFA should need no introduction to most players. This eSports game is internationally recognised as the leading eSports football game in the world. Players take control of a team and go head-to-head with other players. Betting on FIFA is much like betting on a real football match. Moreover, some real football clubs have started to get involved in the industry, setting up "teams" of professional gamers to compete for them, for cash, under their brand.
– Halo: Another popular video game which has become a significant eSports betting market is Halo. This shoot 'em up is not as popular as CoD, but there is still a large Halo eSports betting following out there. Again, Halo is more of a team event, than one for individual players.
– Hearthstone: Hearthstone's Grandmasters event sees two 8-week seasons where specialist matches see players go one-on-one for a $500,000 pot. Like DOTA 2, this is a fantasy game which involves upgrading a character's abilities and going head-to-head in battle-style encounters.
– Heroes of the Storm (HOTS): Heroes of the Storm (or HOTS) is an exciting eSport game. In it, the leading heroes and villains from other franchises, such as Warcraft, Starcraft and Diablo go head-to-head to dual against one another in what is best described as a "team brawler" game.
– League of Legends (LoL): Arguably amongst the most popular eSports around is LoL. League of Legends Live Betting and also League of Legends special bets are also hugely popular. Solo and Co-Op gameplay are made possible in this fantasy game, which features leaderboards, leagues, tournaments and competitions. Again, this is a fantasy-battle game which can see tanks, fighters, mages, assassins, marksmen and supports attempt to destroy opponents with attacks, spells and abilities.
– Overwatch: Developed by Blizzard Entertainment, Overwatch is a first-person shooter and one designed for multiplayers. Two teams of six compete with Japanese-style characters in an epic battle for supremacy.
–PUBG: Also known as Players Unknown Battlegrounds, the game is a "battle royal" style shooter, which can see 100 players take each other on until one man (or woman) is left standing in the ultimate fight for survival.
– Quake Champions: This game is an arena-shooter and a futuristic one at that. Created by ID Software (the same developers as Doom), the game is a team-based shoot 'em up based in a fantasy world.
– Rocket League: Rocket League is a game which is best described as soccer with vehicles. Players attempt to score goals against one another with upgradable vehicles in this hugely popular eSports game.
– Smite: Another battle-themed eSports title. Smite has over 30 million players and involves choosing gods to do battle. Smite is a third-person MOBA game which is free to play for everyone.
–  StarCraft 2: eSports betting is big when it comes to StarCraft. The game invites players to wage wager across the galaxy, with three distinct races. It is one of the most popular strategy-based games in the eSports betting industry.
–  Street Fighter V: Street Fighter is one of the most popular beat 'em ups of all time. Players take command of a single character and must defeat their opponent in a match to the death. Gameplay here is almost identical to that which is found in the console version of games in this series.
– Vainglory: This award-winning MOBA is another fantasy-themed eSports title. Teams are formed with skilled players to once again do battle with their foes in this entertaining but straightforward betting option.
– Warcraft 3: One of the original fantasy games to debut online, Warcraft 3 is arguably one of the best eSports titles to bet on. A strategy game, it is most popular with bettors and games based in China, Germany and South Korea.
– World of Tanks: World of Tanks is another shoot 'em up, but also a strategy style game. It involves taking control of a tank (as you might have guessed) and defeating opponents before you yourself are taken out.
–  World of Warcraft: Is there a bigger online game than World of Warcraft? There is even a World Championship for this eSport. This fantasy game features so many events that players are never short of something to bet on. Arena duals, and much more besides mean the array of bets you can make in WoW is positively gargantuan.
Of course, other eSports games can be played and wagered on, too. These include more famous console games which have become online competitions, such as F1, Doom, Gran Turismo, Tekken, and Rainbow Six. Of course, there is a considerable amount of eSports gambling going on in Fortnite, too.
A Team Sport – Working Together to Win
Not all eSports games are single-player events. eSports betting options such as CS: GO are international eSports betting events which feature teams, rather than individuals. Learning about individual players is an essential part of eSports betting. Ordinarily, you are advised to watch online players and learn about how they play. If you consider betting on a team, make sure you know the members well enough to understand how they play individually, and how their team dynamic works. You're going to want to make sure they have chemistry. A team with one single star player who is overly selfish could bring down that team. Similarly, if there is a weak link in the group, you're going to want to avoid betting on them.
Learn the Lingo: A Quick Guide to eSport Terminology
Like all aspects of betting, there are a few terms you may want to familiarise yourself with before engaging in eSports betting. Here are a couple of the types of terms you could find in any random CoD or LoL eSports betting event.
– First Blood Bet: A wager on which team or player will get the first kill of a match in shoot 'em ups.
– First to Destroy Tower Bet: A bet on which team or player will destroy a tower first in fantasy games.
– Longshot: A bet which features long odds and is unlikely to come good. An outsider's bet, these can pay out large sums of money.
– Map Winner: A stake on which team will win overall, after playing best of 3, 5 or 7 rounds on a specific map (level).
– Next Kill Bet: This bet involves putting money on who will be the next player or team to land a kill.
– Score Most Kills Bet: One of the most popular Call of Duty eSport betting options is the Score Most Kills Bet. As its name suggests, it involves betting on the team or player who will land the most kills.
– Skins Betting: A stake which doesn't involve betting money, but in-game items. We'll look at this in detail in a moment.
– Tournament Winner: An outright bet on who (or which team) will win a competition, tournament or event.
Common eSports Betting Options Everyone Can Use
The best eSports betting sites will offer you a variety of stakes. However, when betting on eSports for the very first time, it is ideal to keep it simple. Here are some of the more offered found bets you can make:
– Accumulators: A series of bets on the same ticket. You will need to land most if not all of them to bag a win. However, that accumulated win will be worth a lot more than each bet would if placed individually.
– Betting Outrights: A wager on an outright winner, such as a tournament or competition winner.
– Match Winner: A stake on who will win a match or map. This involves a single one-on-one or team versus team contest, not the overall outcome of a competition.
– Handicap Betting: Sometimes underdogs face favourites. A handicap bet is a way of eliminating the bias. Favourites must win by so many "points", and underdogs must avoid defeat by "so many points" to win these bets.
– Totals: A wager on totals might involve the total number of maps played, the total number of kills in a round, or even the total number of rounds, for instance.
– Correct Score: A bet on the correct score in a match. For instance, in FIFA, this might involve the final score of a football game. In a shoot 'em up, it could involve the number of final kills each player/team has.
– Betting Specials: These are the types of bets we discussed a moment ago. They are special because they are specific, for instance, the team who wins a map first, or the first team to slay a dragon in a fantasy game, and so on. But wait, you can also read our guide about other types of best, like over-under League of Legends betting guide for more valuable information.
Understanding Skins and Real Money Bets
There are two principle ways you can choose to bet on eSports. The first is skin betting, and the second is with real money. Naturally, eSports real money betting is a straightforward process. You merely top-up your account at a betting site in much the same manner as you would at an online sportsbook. From there, you are given a set of odds and bets you can wager on. Betting via an eSports skin betting website is a wholly original concept, though.
Skin Betting involves wagering in-game items instead of cash. These may include collectables, upgrades, and other in-game goodies. The topic is highly debatable, much like the loot boxes issue a few years ago. Bets on virtual goods (skins), is rare and is most frequently found in just a limited number of games like Counter Strike: Global Offensive. In practice, Skin Betting is done between two players over a betting exchange system, where one player wagers an item in their inventory against another bettor's item in a winner takes all contest.
There are very few eSports betting sites which allow this, but the Steam Marketplace is one such source players might use to bet such items. In recent times, the Steam Marketplace has taken measures to ensure that regular eSports betting sites are not able to use their platform to facilitate skin betting.
5 Reasons Why eSports Are Exciting Ways to Bet
There are many reasons why having a punt on eSports at gambling sites might be for you. Here are just a handful of top reasons why you might choose to do so:
– Win Real Money from Video Games: At properly licensed eSports betting sites, it is possible to win real money by wagering on video games.
– A Nobody Can Become a Superstar and Make You Rich: Any unknown player (including yourself if you play) can become a superstar overnight. Heroes can be made from nothing. Wagering on untested underdogs can provide vast riches far more frequently in eSports than with actual sports betting.
– A Growing Industry with Plenty of Choices: eSports are becoming increasingly popular. There is now far more choice with new games coming online seemingly all the time.
– Bitcoin and Mobile Betting-Friendly: eSports betting with Bitcoin is possible. If you're tech-savvy, this can be an exciting way to bet on video games online. Mobile eSports betting is also an increasingly popular option.
– Live Streamed Action: Unlike some sporting events, all eSports are streamed online. This opens the possibility not only to watch the action unfold (which is fun in itself) but facilitates live betting options for eSports.
Handy Hints and Tips for Betting on eSports
If you're going to be wagering at eSports betting sites, there are one or two things you should take into consideration. The eSports betting market is vast, and there are many players. Learning a few eSports betting tips and looking at eSports strategies is no bad thing. Here are a few to consider:
– Play the Game Yourself: You can play all eSport games. This can provide you with insight into how a game works, and that is advantageous before you bet online. We recommend that you play any game you are considering betting on.
– Choose a Reliable Payment Method: Skin betting is impossible if you play yourself. Real money sports require a payment method. Make sure you pick a good and reliable one. eSports betting with PayPal and other e-wallets is advised, and they are often free of charge to use and have the fastest transaction times, but for more read our main article about crypto esports betting.
– Set Up Your Budget: Betting on a regular basis can be costly. Make sure that you decide on a budget and stick to it. Don't chase your losses. This is essential information for eSports bettors who may not necessarily have gambled online before.
–  Analyse Odds and Probabilities: Markets and odds change. You should not only play the game you are wagering on but analyse the odds and probabilities. If you have insider knowledge of a game and its players, you will have a good idea of whether there is value in the odds you're being offered.
– Less Popular Tournaments Are the Way to Go: eSports gambling games often run many different tournaments. Less popular tournaments often provide better value and odds, as fewer people wager on them. Moreover, the players in lesser-known tournaments are not as widely known, so it is difficult for the bookie to analyse their odds as well as they could with a superstar player. If you know all about a player in a lesser-known tournament, you've got more chance of deciphering the betting site's odds and seeing if you're getting value for money.
Take Note: Keep Your Eye Out for These Mistakes
Of course, there are pitfalls to eSports online betting which you're going to want to avoid. Irrespective of whether you wager money on eSports betting leagues or one-on-one competitions, here are a few things to look out for.
– Avoiding Favourites in Single Competitions: One-on-one matches played over a single round are easy to predict. The most experienced player and favourite is likely to win. You're not likely to see much value in the odds of these competitions if they are played over a single match.
– Be Wary of Lesser-Known Teams: At the same time, new teams which are not as well known can be risky. The team may not have had much time to gel, and their members may have less chemistry. They may not understand one another's playing styles, and that makes them a risky bet to take.
– Roster Changes: Whatever game you are betting on, always check the roster regularly. Unlike sports betting, it is more common for a player or team to withdraw from the competition. This plays havoc with your bets. Keep regular tabs on the roster for upcoming tournaments.
– Watch Out for Rookies: Unlike in real sports, rookies in eSports can become overnight stars. Experience doesn't always count in eSports. Anybody can be a hero, and an exciting rookie can take a tournament by storm. The very nature of eSports makes it unpredictable and exciting. Just because a player is considered a rookie, doesn't mean that they won't give more seasoned veterans and your bets a good hiding.
Find a Place to Play – The Best eSports Internet Betting Sites
Now that you know a bit about eSports and the gamble options open to you, it is time to bet online. There are a few criteria to look out for when it comes to choosing a place to play.
They include:
– Only play at licensing eSports betting sites
– Choose a site with a good reputation
– Only play at sites which offer a wide range of eSports events, including both shoot 'em ups and fantasy games
– Make sure your chosen website provides betting options from reputable providers, not games you have scarcely heard of
– Promotions and bonuses should come with fair terms and conditions
– Ensure that your chosen site features quality support and FAQ guides you can rely on for assistance
Of course, if you want to guarantee that you're playing at the best eSports betting sites, our site can help you. We've got plenty of renowned online betting sites that provide quality eSports services, and any of those will work out a treat for you.
We also recommend taking a look at our list of German betting sites, where you can place Germany bets – no commission charged.
Player One, Ready? Bet on eSports Today
Now you're ready to start eSports betting for yourself. Have a peek at some of the games which can be played and try them out for yourself – many are free to play. When you think you know enough about the games, check out our eSports betting sites to guarantee that you're signed up at a respectable, leading domain.
From there on out, all you need to do is pick your poison and bet on the internet's leading eSport games.