Virtual Horse Racing Tips & Strategy | How to Win Virtual Horse Racing Bets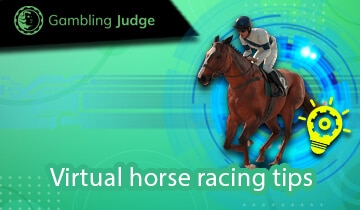 The biggest bookmakers in the UK feature all sorts of virtual sports betting options. Virtual football is the most popular of them all, but punters know that it all began with virtual horse racing.
This is still a popular betting choice for the fans of virtual sports and one that can be enjoyed at bookies licensed by the UK Gambling Commission.
In this guide, we teach you how to bet and which virtual horse racing strategy to apply at these top bookmakers. We also provide virtual horse racing tips for dead heat betting that can help you improve the odds of winning in our virtual betting guide. 
Best Bookmakers for Virtual Horse Racing Betting
in 19 September 2023 – Updated List
Rank
Bookmaker
Bonus
Horse Racing Offer
Rating
Get Started
How are virtual horse racing results settled?
Virtual horse racing strategies, tips and tricks
Virtual races are scheduled almost every minute, 24 hours a day and the algorithm is quick to determine the outcome. Punters have multiple opportunities to use virtual horse racing systems to increase the odds of winning. This is our betting advice for those searching for the best virtual horse racing tips:
1. No connection between real and virtual races
Is a ruinous mistake to assume that there is a link between virtual and real races. The same applies to greyhound racing and other sports that are available at online bookmakers. William Hill virtual horse racing tips don't apply to real races and the opposite is also true. You won't see tipsters giving their NAP of the day (we explain here what does NAP mean in horse racing) in virtual horse racing. The best sports betting strategies don't work on virtual sports.
2. The RNG decides everything
The random number generator determines the outcome and this is completely random. When you try to figure out how to win at sports betting, you need to pay enough time to research the matches. How to win at virtual horse racing requires attention to the software used by the bookmaker, the house edge and the odds offered.
3. Keep the volatility low
Some of the most effective virtual horse racing betting systems revolve around lower odds. If you back the favourite you will win lower amounts, but you will do so with a higher frequency. Given the house edge, this is the best way to tackle the challenge, as small and frequent winnings are better than bigger, but rare ones.
4. Tinker with accumulators
Experienced punters can use Bet365 virtual horse racing tips and go with accumulators. This is one of the virtual sports bookmakers that allow players to add multiple virtual horse racing selections on the betting slip. Odds are multiplied, so if you make several correct predictions, you can win significantly more than on single bets.
5. Focus on bankroll management
Whether you try to figure out how to win virtual horse racing or how to win at sports betting, sports betting money management is key. Keep the stakes sensible and bet within your means, rather than chasing the biggest profits possible. Bet responsibly and don't wager more than you can afford to lose is one of the best tips for virtual horse racing.
6. Keep gaming sessions short
Classic and virtual sports can be just as exciting, so punters might be tempted to play a lot. Have fun while playing, but do it with moderation and don't spend more time than necessary gambling. Even the most effective virtual horse racing betting strategy will fail if you spend too much time online and don't know when to quit.
7. Diversify your portfolio
There are many virtual horse races to bet on, including some major leagues. Use virtual horse racing Portman Park tips to bet on this league and consider others, instead of focusing on a single competition. This will make it easier to close any virtual horse racing loophole and mitigate the risks of losing in the long run.
Is virtual horse racing superior to real-life horse racing?
FAQ: Your virtual horse racing tips & strategies questions answered
This is not the same if you ask is horse racing fixed?If you bet at licensed bookmakers, you don't have to worry about the games being rigged. All you need to do is to learn how to win on virtual horse racing by using the right strategies and effective systems.
It is just as likely to be profitable on virtual horse racing and football as on real sports. You need to use different virtual horse racing tricks, respectively a different virtual football strategy, but it can be done.
If the bookmakers are legitimate and the software certified as fair by auditors, the risks are minimal. You can rely on your virtual horse racing strategy, while knowing that the outcome is truly random.
Unlike traditional horse racing events that require research, virtual ones are decided by software. This means that virtual horse racing tips in the form of predictions are ineffective and have no practical use.
The popularity of virtual sports has surged to new highs in recent years and bookmakers were quick to respond. You can easily find special bonuses for virtual horse racing at most of the leading bookies.
Try your luck with virtual horse racing
Virtual sports are an entirely different breed compared to their real-life counterparts and horse racing falls into the same category. The challenge is new and different obstacles must be overcome, but you can do it with the right approach. Come up with your own virtual horse racing strategy or use one already available online, such as those we suggested. There are no virtual horse racing tips that guarantee profit, but they can greatly improve the odds of winning. Give virtual sports a chance and you are likely to be pleasantly surprised by this unique online gambling experience.