Virtual betting guide | How to bet like a pro (2023)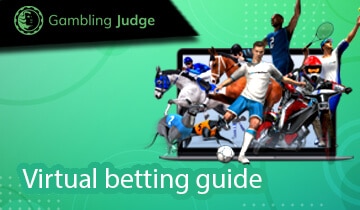 If you are complaining that there are no matches or races to bet on, we recommend that you try virtual betting. To get started, simply open a virtual betting account on any of our recommended bookmakers: You can then start betting on popular sports 24/7 after our betting guide.
The matches and races are all virtual, but they are just as exciting as the real thing and can pay the same amounts. If you want to learn about online virtual betting, you are in the right place: below, we explain everything you need to know.
Best Bookmakers for Betting on Virtual Sports
in 01 November 2023 – Updated List
Rank
Bookmaker
Bonus
Safe & Trusted
Rating
Get Started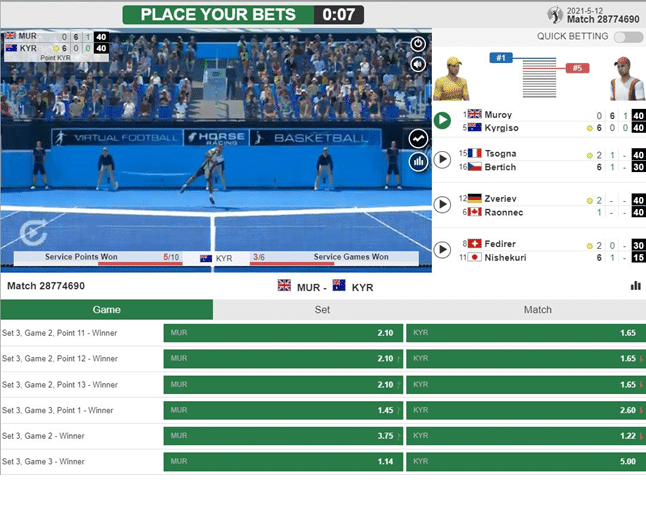 This is a screenshot of virtual tennis betting strategies. To the left, you see the list of upcoming matches. At the bottom, you see a list of available bet offers and their odds.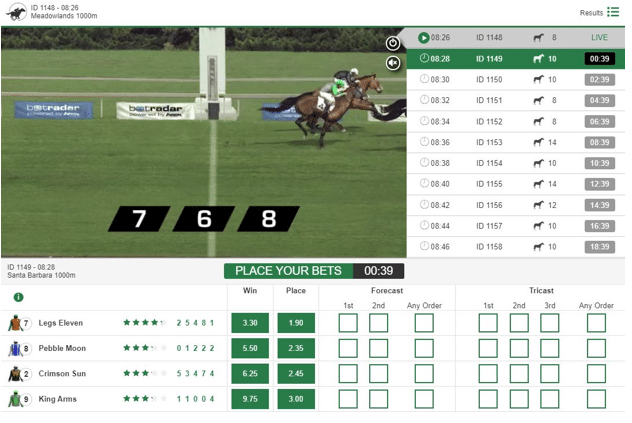 This is a screenshot of virtual horse racing betting. The setup is the same: On the left, you can see a list of the upcoming matches and how many horses are running in them. At the bottom, horses and all available betting options are listed. Make sure to check our virtual horse racing tips before placing your bet.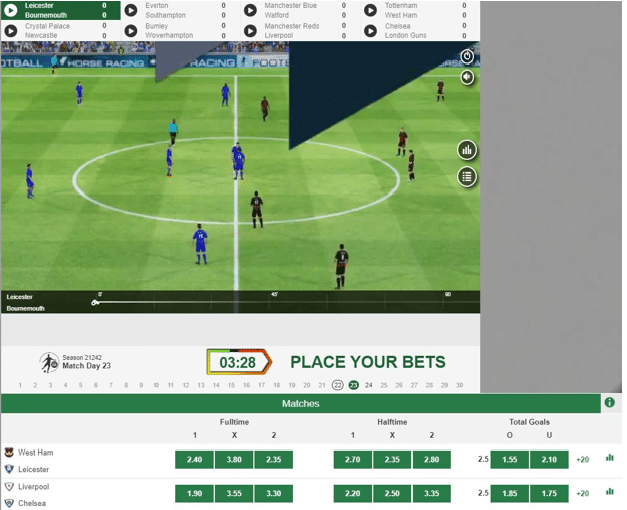 Lastly, here is a screenshot of virtual football betting. This time, the list of upcoming matches is on top but the main concept is the same: Betting options are listed below, and the matches keep running constantly – you can watch them in real time. As can be guessed, virtual football betting is quite popular, and you can even place a bet on a virtual football league. Read our make money betting on football guide before you start.
Bet types in virtual betting online
The most popular virtual betting games
As a general rule, virtual betting is possible for almost any sport. After all, this is a computer simulation and so there are no restrictions: You can create a virtual environment for every sport that exists and offer betting opportunities. However, it is possible to say that three sports are more popular than others:
Virtual football: We can say that it is the most popular online virtual betting option. In general, you bet on football matches, but there are even virtual football leagues.
Virtual horse racing: It is the most popular virtual betting option after football. Usually jump, flat, and spring races are used.
Virtual tennis: It is possible to bet on individual matches or tournaments, just like football.
The easiest sport for betting virtual
Which sport will offer an easier virtual betting experience is a personal choice and you need to decide according to your expectations. But if you have trouble choosing, virtual football betting will be a good option: The rules and the betting options offered are simple. Moreover, there are many different options: You can bet on an individual match or a league. We think virtual football betting will be the best choice for beginners.
Watching virtual sports after betting on them
Virtual betting odds and markets
We talked about virtual betting markets above: The most popular sports are football, horse racing, and tennis. All basic betting options are available for these sports. In terms of odds, you should not keep your expectations too high: With a few exceptions, virtual betting odds never go as high as real bets. The reason for this is simple: With real bets, odds keep changing because bettors keep buying favorites and underdogs.
The bookmaker dynamically changes odds according to the bettors' movements. There is no such thing in virtual betting – matches or races are already noticeably short, and odds are determined automatically by the computer program. Unless there is a very absurd outcome, we can say that virtual betting odds will be in the range of 1.90 – 3.00.
Tips, tricks, and virtual betting strategy for beginners
What to expect from putting money on virtual sports
PROS
24/7 betting is possible
You can still use bonuses
There is a match/race to bet on every 30 seconds or so
Suitable for beginners
CONS
Odds won't be that big
You won't find exotic betting options
FAQ about online virtual betting
These are digital games just like other online casino games: They are certified for fairness and regularly checked by independent auditors. They are not fixed and there are no virtual betting hacks to use.
No. You cannot cheat on slots, card games, and table games at online casinos. The same thing applies to virtual betting too: There are no cheats.
Yes, but it won't be a big profit. As we mentioned above, online virtual betting odds are typically low, and the payouts are not that big.
Betting and online betting are legal in the United Kingdom, as long as the operator is licensed by the UK Gambling Commission. In this regard, virtual betting is also legal.
Just like your other winnings. Open your profile page, click on the withdraw button, choose a payment method, and complete the transaction.
Start playing with the best virtual betting offers
You are now ready to start your virtual betting adventure: Pick one of our recommended bookmakers so you can take advantage of several bonuses. We also recommend taking a look at our live betting system and live betting strategy guides as online virtual betting is similar to live betting. As always, we wish you good luck out there!