League of Legends Betting Guide – How to Bet on LoL in 2023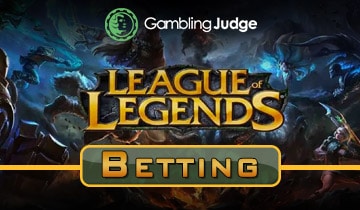 Unless you've been hiding under a rock, you will no doubt at least of heard of League of Legends.
The online game – which blends RTS (real-time strategy) and RPG (role-playing game) elements – has been nothing short of a revolution.
However, you don't have to be a player to engage in a spot of League of Legends betting tips.
On the contrary, all you need to do is be a member of one of the best League of Legends betting sites to get a slice of the action.
e-Sports betting is a big business of late and having a bet on League of Legends special bets is just one of the ways you can gamble on online games.
If you haven't tried it yet, this is the guide for you. In a short space of time, we'll cover the basics of the game, look at how you bet on it, and tell you where to place those bets.
Let's start by looking at the game itself.
Best Bookmakers for eSports Betting
in 25 May 2023 – Updated List
Rank
Bookmaker
Bonus
Safe & Trusted
Rating
Get Started
The Ins and Outs of the Game
The game mechanics are structured in a way that tens of millions of players can compete in various contests and games. Team play can see five versus five battles played out where strategic thinking wins the day. A league system is used to rank players and fighting against bots, or other competitors can see you climb that table.
Commendations are dished out to the most tactically skilled players, while numerous worldwide tournaments and the world-famous Championship Series present LOL players with the chance to showcase their talents on the biggest stage.
The MMPOG game is set in a fantasy world, with new game maps going live all the time. Players take on the mantle of summoners, who control a champion. Those champions have talents and abilities which can help you win battles. Those battles can be on an individual basis, or as part of a group or team.
Players can defend structures, while simultaneously trying to destroy rival teams' structures, which can include turrets (defensive structures which deal massive amounts of damage), inhibitors and a Nexus. Destroying the opposing team's Nexus effectively ends a game.
Along the way, neutral monsters may appear. They do not attack initially, but your champions can nonetheless choose to fight them to gain rewards. Those rewards will ramp up your champion's abilities, which is essential for beating more skilled players.
Some of those potential opponents can include jungle monsters, Elemental Drakes and Elder Dragons, Rift Heralds and Baron Nashors. As this is not a static MMPOG (massive multiplayer online game), new monsters and objectives can appear over time.
Of course, if you're into this sort of thing, the gameplay alone can be fun for players. However, LOL betting is an increasingly growing market, and many people who engage in League of Legends gambling activities have never even tried the game. If you fancy having a punt on this game but don't want to bother playing it, you have options open to you.
LCS – The World Championship Event
Arguably the biggest ever for LOL betting is the showpiece event, the LCS (League Championship Series) open to North American and European players, or the LEC betting (League of Legends European Championship).
Ten professional teams take part in these events, as well as similar competitions aimed at Asian players. The winners of these competitions then go head-to-head in the World Championship.
Naturally, League of Legends betting on the LCS is prosperous, as all the competitors are well known amongst avid fans of the game. League of Legends World Championship betting is equally as popular. Irrespective of which LOL betting option you go with, you will have resources to help you along the way.
Did You Know You Can Bet on League of Legends?
League of Legends betting isn't really any different to betting on other e-sports, or even real-to-life sporting events. By doing your homework, you can find out everything you need to know about the teams involved in championships and tournaments.
There are lots of LOL resources out there on the web where you can learn about players, teams and browser statistics relating to past performances, competitions and matches. By reviewing this data, you can rapidly become something of an LOL anorak. This is advised if you're going to bet on League of Legends.
You can opt to engage in betting on League of Legends matches or put down your chips on a long-haul bet, such as a tournament winner. There are plenty of other betting options open to players, too, and these are worth a look. We'll go over those shortly.
Stakes and payments of prizes on League of Legends bets are not really any different to those found in traditional sports bets. Players can choose to wager whatever they want, and they will be given a series of odds for those bets. If their bet is successful, they will pocket winnings based on their stake and the odds they were offered. If they are unsuccessful, LOL bettors will lose their bet.
The fate of the bet itself is in the very skilled hands of the game's players. Generally speaking, it is not acceptable to place bets on yourself in a competition if you're a player. This is true of virtually all sports, e-sports included. It may even result in your (and your team) being disqualified, as it may be seen as you attempting to "throw" a game.
Most of us are nowhere near skilled enough to compete in tournaments, though. For many of us, having a punt on someone else to win is about as close to the grand prize as we're going to get.
Betting on League of Legends
Most e-sports fans will typically choose to place betting lines stakes on League of Legends matches or tournaments. However, for those who are interested, there can be a few other wagers which might excite them.
Just how specific you can get when it comes to a bet depends on the tournaments. League of Legends odds on games and tournament winners are commonplace. However, specific bets on events occurring within a match or tournament vary depending on the League of Legends betting website you are at, and the number of competitors in a tournament.
When you pop into a sportsbook or casino which is offering e-sports odds on League of Legends, you will find an array of bets you can make. The most offered ones include:
Handicap Betting: League of Legends betting lines, such as European handicap bets are a great way to avoid risk. You are betting on a match winner, but you're also dictating how many match wins the winner must have. For instance, a +1.5 handicap means that even if your team loses an event by 2-1, you will still get paid as you've effectively added 1.5 matches to your team's score, thus making the score 2-2.5 in total. Handicaps can be either plus or minus and are a great way of evening out the odds between favourites and underdogs.
Correct Score Bets: Like other sports bets, you're looking to place a bet on the correct score of an event here. You need to predict the match winner, as well as the number of matches they will win. For instance, Team A will beat Team B by 2-1. If you're correct (and that is the score), you will win. Alternatively, a simple outright bet can be placed where you're merely predicting the team who will win, with no score involved. This pays out less than correct score bets, though.
First Team to Slay a Dragon, Take an Inhibitor, etc: League of Legends Team betting is also popular. With teams, you are essentially staking money that one team will achieve a certain objective before the other. That objective may be slaying a dragon, defeat a baron, drawing first blood, taking a turret or an inhibitor. In a sense, everything apart from destroying the Nexus, which ends a match.
Player Bets: League of Legends 1v1 betting is possible. Known as player bets, these are essentially oddities where money is wagered on single players doing more damage, scoring more kills or an array of other options. These types of bets do not appear at any bookies and can vary depending on the size of the tournament, as mentioned above.
Other Bets: There are other bets you can make, too. League of Legends live betting is gradually becoming popular, while you can also bet on tournament winners, take random bets, risk-free bets and much more besides. Visiting any site offering LOL betting odds will reveal just what each can offer in terms of wagers.
League of Legends Odds Explained
League of Legends odds shouldn't confuse players. If you've ever placed a bet on a sporting event before, you will be more than comfortable with the odds you receive. In North America, most League of Legends predictions are done using American odds.
These usually involve the +/- handicap style bets mentioned earlier. Alternatively, the decimal format for odds is favoured in Europe. This is easier for many players, as it clearly showcases what you can win for every euro, dollar or pound you bet.
You may also wish to get a touch of help with League of Legends odds. There are plenty of League of Legends betting tips out there for you to choose from. Signed up to the services of a good tipster can see you given forewarned about top League of Legends picks.
By sourcing League of Legends predictions from a tipster, you can save yourself the trouble of researching stats. In many cases, they will also have scouted through several bookies and betting sites, too, and will tell you which website is offering the best odds.
Pros and Cons to Betting on LOL
As with any gambling game, there are pros and cons to League of Legends gambling. The pros and cons of LOL betting are relatively the same as with any e-sport.
PROS
Unlike major sporting competitions, there is no off-season. This allows you to place bets throughout the year, whenever a tournament begins.
If the bets don't suit you, you needn't feel pressured into wagering on them. There will always be another competition right around the corner.
You can play the game for yourself (for fun) and learn the ins and outs of it. This should give you a bit more foresight into what you're betting on.
CONS
While there are "big teams", e-sports tend to be more susceptible to random events. Underdogs can topple favourites with frightening regularity in e-sports. This can play havoc with your bets and can make wagering on an outcome, at times, unpredictable at best. Others might argue that this makes LOL betting even more fun.
E-sports betting is popular, but not as much as say, football betting. This means that there are fewer resources for you to use. E-sports events and matches last a lot longer than a football match, too, so you will often have to watch YouTube and live streams for hours to "do your homework" or see your bets in action.
Frequently Asked Questions About League of Legends Betting:
If you still have a few questions about League of Legends betting, we'll try to answer them with this brief FAQ guide.
That depends on where you bet. Most major bookies carry LOL bets, and they are supported by gambling licenses and are regulated. A few specialist League of Legends betting sites also exist. Unless they are licensed out of a gambling jurisdiction, though, you're playing with fire.
Legends of Legends match betting is the most popular form of wagering. As mentioned above, though, there are plenty of different bets you could place. The variety of bets open to you varies from site to site. Online betting sites which specialise in e-sports will carry a more extensive array of bets.
Absolutely. Most online bookies which offer League of Legends bets will also provide a variety of e-sports events for you to bet on. You certainly won't be limited to e-sports betting on League of Legends. CSGO betting and DOTA 2 betting are also popular with punters. If fantasy-themed MMPOGs aren't for you, you have alternatives you can wager money on.
Where to Bet on League of Legends Today
As mentioned, there are specialist League of Legends betting sites out there, and most major bookies will carry betting options on e-sports. The trick is finding somewhere safe to wager. You should always choose to play at a site which is licensed to legally offer gambling options to players.
On our page, you will find a host of the safest betting sites for League of Legends gameplay. Any of these should work a treat for you. Each is guaranteed to be safe and secure, and most carry an array of betting options for you to choose from, too. If you're interested in betting on LOL, our recommended sites are amongst the best and safest around. You can play other e-sports game on csgo betting sites with no minimum deposit.