Trifecta Box Betting: What Is A Trifecta Box And How Much Does It Payout?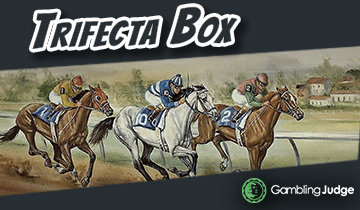 Trifecta box is one of the most popular horse race betting options for a good reason: It offers the best cost/payout ratio.
In other words, trifecta in horse racing is good both for beginners and veterans.
Instead of forcing you to make fixed selections like Exacta and Superfecta (check here our Superfecta strategy guide), trifecta box bets give you a certain freedom and flexibility on your predictions.
And the payouts are quite satisfactory too: If you make the right picks, a trifecta box payout can be very high.
However, most of the bettors are not aware of this option and the ones they do mostly have no idea about how to play a trifecta box bet optimally, a type of bet which is also available for dog betting.
Most of the time, they also have no idea about how do trifecta payouts work, which decreases the effectiveness of trifecta in horse racing.
Well, we got you covered: Whether you are a beginner or a veteran, we will answer all of your questions about trifecta odds, trifecta box costs, and trifecta betting strategies:
This will be the ultimate trifecta explained guide you can read in 2021.
Once you are done with reading, you will learn everything you need to know about trifecta wagering.
We will answer all of the common questions (i.e. how much does trifecta pay) and not so common ones too, such as how much is 4 horse trifecta box.
Let's start with the basics, shall we?
Top 10 Horse Racing Bookmakers Where You Can Try The Trifecta Box Bet [2021]
Rank
Bookmaker
Bonus
Horse Racing Offer
Rating
Get Started
First Things First: What Is A Trifecta Box Bet?
Before starting to talk about
how much is trifecta
, we should answer the obvious question: What is trifecta and
how does a box trifecta work
?
In general, a trifecta bet, or a Tricast bet, requires the following conditions:
• You will be betting on a single race.
• You will pick three horses.
• You will define the exact winning order of these horses: You must select which one will be the first, second, and third.
• And if all of your picks win the race in the order you determined, you will win the bet too.
Trifecta bet in horse racing is pretty common and such a bet is called a "straight trifecta". You are allowed to pick only three horses and required to guess their winning order – simple. Box trifecta meaning, however, is quite different.
• Trifecta box definition can be guessed from the name: You are literally creating a "box of selections". You are still required to guess the top 3 horses, but you have a certain freedom about this: You are not forced to make fixed selections anymore. Instead, you can select three or more horses, and as long as your selections finish in the top, you will win the bet. Trifecta box bets require the following conditions:
• You can pick as many horses as you want: You can add a fourth horse, for example. Or, it is even possible to make a 6 horse box trifecta bet.
• The order of finish is not important. You do not need to guess which horses will be the first, second, or third. As long as three of your selections finish in the top 3 in any order, you win the bet.
This is basically the boxed trifecta meaning. And here is how to bet a trifecta box:
• Start by choosing the "trifecta" among the offered betting options.
• Pick at least three horses. Note that there is no limit: You can pick more horses too. However, each horse will increase the cost of the wager, so make a choice according to your budget. (We will explain how to calculate trifecta box cost below.) You do not need to determine the winning order. Once again, winning trifecta is about selecting the horses that will win the race but their order is not important.
• After making your selections, look for a button/link that says "box" and click on it.
• You will see the cost of the trifecta box bet, according to your selections.
• Finalize the process and place your trifecta box bet. That's it.
As can be guessed, trifecta box betting will increase the chance of winning. For example, in a comparison like exacta bet vs trifecta box, the latter is more advantageous because you get to pick more horses, which will greatly improve your odds. You could also try the Tote trifecta, the tote version of the Trifecta bet. So, trifecta betting system offers you higher winning chances. However, for the same reason, trifecta box bets will also cost more because you will be covering a lot more possibilities. Trifecta box bets cover all breeds of racing (and cover all breeds of horses), and each time, you will be betting on at least 6 possible outcomes, so expect to pay more too. Speaking of which, let's take a look at the cost of trifecta box too and find out how much to box 8 horses in a trifecta, for example.
How Much Does A Trifecta Box Cost?
So, how much is a trifecta box? Actually, all of the online bookmakers will automatically calculate the costs for you. So, finding the cost of a 4 horse trifecta box, for example, is quite easy: Pick four horses and the system will show you how much it will cost instantly. However, if you want to calculate this by yourself, you can use this simple formula:
NH X (NH – 1) x (NH – 2) x CC
NH is short for "number of horses" and CC is short for cost per combination. Here is the cost of a trifecta box with 3 horses, assuming that you will be placing a 1 EUR bet:
3 X 2 X 1 X 1 = 6 USD/EUR
Simple, right? You can see the list of all commonly used box trifecta costs below – we prepared them as a questions/answers list, for practicality.
What Is The 50 Cent Trifecta Box Cost?
Assuming that you are betting on 3 horses, the formula will be:
3 X 2 X 1 X 0.5 = 3 USD/EUR
If you plan on betting more horses, you can simply use the formula above and calculate the exact 50 cent trifecta box costs.
How Much Does A $1 Trifecta Box Cost?
We have listed the cost of a $1 trifecta box cost above, but here is the formula, once more:
3 X 2 X 1 X 1 = 6 USD/EUR
Remember that a 1 dollar trifecta box will cost more if you pick more than three horses.
How Much Does A 2 Dollar Trifecta Box Cost?
$2 trifecta box bets are quite common. A two dollar trifecta box cost will be the following if you bet on three horses:
3 X 2 X 1 X 2 = 12 USD/EUR
How Much Does It Cost To Box 4 Horses In A Trifecta?
Assuming that you will place a 1 USD/EUR bet, the formula will be:
4 x 3 x 2 x 1 = 24 USD/EUR
How Much Is A 5 Horse Trifecta Box?
Once again, we are assuming that you are placing a 5 horse trifecta box bet that is worth 1 USD/EUR. In this scenario, 5 horse box trifecta will be:
5 x 4 x 3 x 1 = 60 USD/EUR
What Is The Cost Of A 6 Horse Trifecta Box?
If your bet amount is 1 USD/EUR, the cost will be:
6 x 5 x 4 x 1 = 120 USD/EUR
Trifecta Box Chart Of Costs: The Full List
To save you the trouble of calculating the box trifecta cost values, here is a table that shows all the trifecta box cover costs. Remember that the formula is:
NH X (NH – 1) x (NH – 2) x CC.
Trifecta Box Payouts
Let's continue by explaining how much does a trifecta pay. This actually depends on the race and odds: There are no fixed numbers when it comes to how much does trifecta pay question. For example, Preakness trifecta box payout was 149.30 USD in 2019 for a 1 USD/3 horse bet.
(For those who do not know, Preakness is the name of a horse race event that is organized in Maryland, USA every year.) But just because Preakness payout trifecta box was high this year does not mean that every trifecta box payout will be high too. In fact, Preakness trifecta box payout itself will be different every year.
The exact amount of the payout will be determined by the boxed trifecta odds you get. We explained how to read these odds in other guides and show you how to find the best ones – so we highly recommend checking those articles too.
In short, you must visit a couple of online bookmakers before placing a trifecta box bet and check the odds they are offering. If you are placing a pari-mutuel bet, for example, you may get completely different (and usually higher) odds too.
Trifecta Key Box And Trifecta Wheel: What Is The Difference?
Trifecta box betting is not the only variant of trifecta bets. There are two more variants you should know: Trifecta Key Box and Trifecta Wheel bets. Some of these offer higher payouts than the trifecta box bets, so let's take a closer look at them too.
Trifecta Key Box Bets
This option is a "hybrid" of the straight trifecta and trifecta box betting. Basically, you must pick the horse that will win the race, but for the second and third places, you gave more freedom. A sample trifecta box bet looks like this:
1 (KEY), 4, 6, 8
Note that these numbers represent the horses. By placing a bet like this, you are actually betting on that:
• Horse number 1 will win the race (this is your key)
• Any of the remaining horses (4, 6, and 8) will be among the second and third.
Trifecta key box bets can be a nice option if you have a pretty good idea about which horse will win the race, but cannot predict the other ranks. They pay more than a straight trifecta and trifecta box bet, but you lose the bet if your "key" cannot win the race.
Trifecta Wheel Bets
Before we start, know that "wheel betting" is also an option for other types of horse race betting. So, for example, there are "exacta wheel bets" and "superfecta wheel bets" too. In the case of trifecta wheel bets; there are two possible options: A full-wheel bet and a part-wheel bet.
A full wheel trifecta bet is actually placing multiple straight trifecta bets on multiple races. Does it sound complex? Well, here is a simple example:
• You will be betting on multiple races.
• In each of these races, you will pick three horses and their winning order. So, actually, you will be placing straight trifecta bets but for multiple races.
• Doing so is called a "full wheel trifecta bet". If all of your picks win, you win too.
A full-wheel trifecta bet is quite hard to win but it pays a lot more. So, what is the purpose of a part-wheel trifecta bet?
Well, this one actually means placing multiple trifecta key box bets. In other words:
• You will be betting on multiple races.
• In each of these races, you will determine which horse will win the race.
• You will also pick other horses for the second and third spots. Any of your selections can win.
• If all of your selections win, you win too.
Part-wheel trifecta bets are easier than full-wheel bets and pay a little less. However, their payout is still higher than classic trifecta box bets. If you want to take more risks to increase the payout, part-wheel bets will be a good option to start.
Best Trifecta Strategies: How To Play This Bet?
Well, now you know everything to know about trifecta box bets and trifecta box costs. However, before embarking on your journey, you may want to read our tips and tricks about box trifecta bets too. We recommend the following trifecta betting strategies:
• Combine favorites and long shots. Selecting only the favorite horses for trifecta box may sound like the safest option to use, and it really is. However, it will also decrease the odds you will be getting. By taking a little risk, you can get much higher odds – adding long shots to a trifecta box bet will significantly increase your payout. We are not saying that "go ahead and bet on the underdog." We are saying that "make your research and find out which long shots actually have a chance of winning". Such bets will pay a fortune when compared to trifecta box prices: As mentioned above, you can place a 1 USD bet and win nearly 150 USD. In short, never underestimate the importance of long-shots: They are the horses that will make you richer. (For those who do not know, long shot is a term for horses that are not the favorite.)
• Control the risk you take. By taking bigger risks you can increase the payout, that's true. However, this does not mean that you should take unnecessary risks – you must draw the line at some point. For example, placing a super trifecta box full-wheel bet will give you the highest payout, but are you sure that it is worth the risk? Maybe, placing a trifecta box cover part-wheel bet will be the better option. Do not get fooled by high odds and payouts: If they are higher than usual, this means they are also less likely to happen. If you are a beginner, stick with classic trifecta box bets for a while and do not take unnecessary risks.
• Do not create too many combinations. Picking too many horses for a trifecta box bet will increase your winning chances, that's for sure. But it will also increase the cost of the trifecta box too: Are you sure that the payout will be higher than the cost? As we have listed above, picking 6 horses will cost 120 USD/EUR, even with a single dollar. This is a big amount and only for one race: If it would be a part-wheel trifecta bet, the cost will be much higher. Again, you must draw the line at some point – picking lots of horses is not always the answer. You must look for that "sweet spot" between the cost and payout, and it is not always easy to find. Using a 50 trifecta strategy will be a good start. This means picking the 50-cent trifecta option. Doing so will require expertise, so limit your horse selection with a certain number (3 or 4 will be a good choice) at the start, until you fully understand how horse race betting works.
• Play responsibly. We give this advice to all bettors out there, no matter what kind of bets they prefer. Set a horse race betting budget before you start and respect it no matter what. Whether you win or lose, stop playing when your budget gets depleted. Do not think that "your luck will turn at some point" because it won't. Play responsibly and don't let gambling become an addiction.
Place A Trifecta Box Bet Today!
There you go: Now, you have learned how to play box a trifecta and win! Trifecta box bets are the ideal option for beginners, as they offer a certain freedom on your choices and a respectable payout.
By making the correct picks, you can even 100 times of your initial wager the latest Preakness payout rates are the proof of that. And by following our recommendations in this trifecta box guide, we can sure that you can do the same too.
We will constantly be updating this box trifecta article and share you the latest information about trifecta box payouts and trifecta box costs, so don't forget to visit us often. You may even want to try other types of bets on horse racing, such as forecast bets or reverse forecast bets. Good luck at the hippodrome!
Other articles you might like: