What is a Tricast Bet? | Tricast Bet and Combination Tricast Bet Explained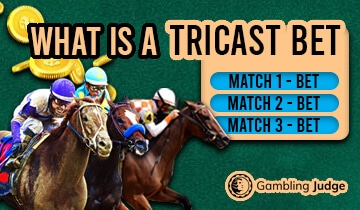 If taking high risks to get high payouts isn't a problem for you, a Tricast bet might be exactly what you're looking for. There are many different types of sports betting, but most want you to guess who will be the "first" (winner). A Tricast bet, on the other hand, requires you to correctly predict not just the first, but also the second and third.
As can be guessed, winning a Tricast bet is more difficult but the payouts are quite satisfying. In this guide, we'll explain the Tricast betting rules, explain their different types, and let you learn how does a Tricast bet work.
Tricast bet meaning: What is a Tricast bet?
Best bookies for placing Tricast bets
in 01 November 2023 – Updated List
Rank
Bookmaker
Bonus
Safe & Trusted in UK
Rating
Get Started
How does a Tricast bet work?
Let's give a practical example by using horse races, which is the most common sport for a Tricast bet or a Canadian bet. What is a Tricast bet in horse racing? 
If this is a straight

Tricast bet

, you pick which horses will come first, second, and third. The winning order must be exactly the same. For example, if the horse you chose to come first comes second, you lose the bet.

If this is a box bet, you pick which horses will come first, second, and third, but the winning order is not important. As long as those horses are in the top 3, you win this bet. 
Trifecta vs Tricast Bets: What is the difference?
Technically, a Tricast bet is a computer calculated dividend, and a Trifecta is a pool bet, just like the Scoop 6 bet. However, in practice, both mean the same thing: "Trifecta" is the term used in the United States, Australia, and New Zealand. "Tricast" is the term used in the United Kingdom, you can see it in all the
biggest bookmakers UK
.
Simply put, this type of betting is called "Tricast" in
UK horse racing betting
and "Trifecta" in the rest of the world.
How to place a Tricast bet?
We answered what is a Tricast question above, so let's continue with how to work out a Tricast bet. How do you place this bet? While this is not a how to place a bet online guide, we can still give some pointers to help you get started quickly.
Step 1
Pick one of our recommended bookmakers and become a member (don't forget to take advantage of
reload offers UK
after your first deposit).
Step 2
Pick a sport where at least three teams/players/horses/dogs etc. compete.

Step 3
When you pick that sport, you will see a list of all matches/races/events you can place a bet on. Choose one.
Step 4
After choosing one, you will see all available betting options in the middle of the screen. If "Tricast" is listed here, simply click it. (Remember that it can also be listed as "Trifecta".)

Step 5
On the next screen, you will be asked to choose an option: straight, box, or combination. Remember that the winning conditions will differ according to your selection, as explained above.

Step 6
No matter which one you choose, you will be asked to pick three teams/players/horses, etc.
Step 7
Take your pick, check the bet slip at the right corner of the screen, and click the "place bet" button: That's it.

Tricast Bet horse racing is not your only option
Yes, you will most often face a Tricast bet in horse races, but you can use this option in any other sports where at least three teams or players compete. For example, you can also find Tricast bets in dog betting. Likewise, if at least three teams are competing in a particular event, a Tricast football bet may also be an option, for example with Champions League betting or Europa League betting.
Odds & calculating Tricast payouts
So, how to calculate a Tricast bet? More importantly, how to calculate Tricast returns? The answers to both questions depend on the odds offered by the bookmaker. It is possible to say that there are generally two types of odds, fixed and dividend. You should read them as follows:
If you have trouble performing these calculations, we recommend using a Tricast bet calculator: These apps are available online for free and show how much you can win after entering the wager and odds information.
What is a combination Tricast?
For combination Tricast bets, it is enough to guess the top three runners, you don't have to guess the correct winning order. So what makes it different from Tricast box bets? In practice, placing a combination bet is to place multiple straight Tricast bets and combine them all. The purpose of this is to ensure that at least one of your choices is a winner, regardless of the outcome. So what you're actually doing is placing lots of straight Tricast bets covering each possibility.
Imagine a race with only three dogs racing. In such a race, there may be 6 different combinations for the top three. So if you place 6 straight Tricast bets, one of them will definitely win. However, the cost of placing these bets one by one can be quite high. For this reason, bookmakers offer the combination Tricast option: when you select this, you will be placing multiple straight Tricast bets, reducing the cost. In other words, your selections still need to have the correct winning order, but since you have placed a bet on all possible outcomes, one of them will win whatever the outcome. Combination Tricast bets can therefore be called a reverse Tricast bet: In practice, they work like each way bet.
Tricast bet tips & tricks for beginners
While there is no sure Tricast betting system to use, we can give you a couple of tips & tricks to increase your winning chances.
👉 Do not always chase high odds. The higher the odds, the higher the risk. Placing a low odds Tricast bet means your chances of winning will also be higher. Therefore, visit low stakes betting sites and evaluate the odds offered by them.
👉 Don't start directly with straight Tricast bets. These are difficult to win and are not suitable for beginners: They require a certain amount of experience. Tricast box bets are much more suitable for them.
👉 Use online services to calculate how much you can win. This is especially true for combination Tricast bets: Since you have placed a large number of bets at the same time, it can be quite difficult to calculate potential winnings. You can easily see both payout and risk using a combination Tricast bet calculator.
👉 As always, do your research. Tricast betting is not a type of bet that can be relied only on luck. Predicting the first three is a difficult task and requires lengthy research: Before placing your bet, track your choices over a long period of time (for example, throughout the season) until you can make a consistent prediction about their performance. Our guide on post position win percentage statistics can be very useful for your research.
Should you place a Tricast bet? Advantages and disadvantages
PROS
Pays extremely well
Horse racing is not your only option
There are simpler versions too
CONS
Can be quite complex for beginners
Can be very hard to win
FAQ about Tricast bets
This means combining multiple Tricast bets to cover all possible outcomes. If there are only three dogs in a race, for example, you can place 6 straight Tricast bets and no matter what the finishing order is, you will win this bet: This is called a combination Tricast.
There is no actual difference, both mean the same thing. Bookmakers (and bettors) from the US and Australia call it "Trifecta". "Tricast" is a term used in the United Kingdom. They are the same bet.
Not as low as a Lucky 15 or Trixie bet, for example, but still low: In a race with 12 runners, there are 1.320 possible combinations for the first, second, and third. By selecting races with fewer runners, you can increase your odds a little bit.
In a forecast bet, you select two horses/teams and predict their specific finishing order, first and second. (In a reverse forecast bet bet, selecting the first and second is enough, the winning order is not important.) In a Tricast bet, you pick the first, second, third, and their exact winning order.
If one of these non-runners is included in your selection, your bet will be refunded. If the horses or teams you selected are not included in the non-runners list, nothing happens: The bet continues as normal.
Since you must select three horses/teams/dogs etc. for Tricast bet to work, there must be at least three runners. This is almost never the case in horse races (usually, at least 6 horses are included in the race) but for some specific events and sports, there may be only three participants.
Place your Tricast bet with a bonus today
You learned what is a Tricast bet and we highly recommend reading our how to bet on horses guide to reinforce the information in this article. If you do your research and make the right choices, a Tricast bet can be extremely rewarding. Especially if you use a bonus at one of our recommended bookmakers: You can place your first Tricast bet with a bonus!