What Does NAP Mean in Betting? | What is a NAP in Horse Racing?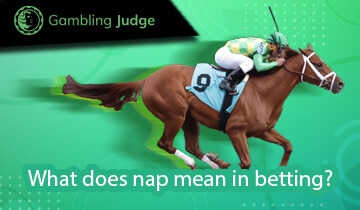 What does NAP mean in betting? If you've wagered online before – more specifically, if you've sought tips and advice – you'll no doubt have come across many horse racing terms, of which NAP is just one.
What does NAP mean in horse racing, though? It essentially means the same as it does in other sports betting options, like greyhound racing, where tipsters are involved.
If you want to get to the bottom of what NAP means and how you can take advantage of tips to place the smartest sports bets, read our guide to find out more.
What does NAP mean in betting?
Best Bookmakers for Horse Racing Betting
in 29 September 2023 – Updated List
Rank
Bookmaker
Bonus
Horse Racing Offer
Rating
Get Started
How tipsters showcase their NAPs for horse racing
As mentioned in the previous section in our "what is a NAP in horse racing?" guide, a NAP is the best tip of the day. A horse racing NAP is essentially a bet that is almost certain to be true. This element of racing certainty does not guarantee you a win – nothing can in sports – but it is as good as you are going to get. 
While NAPs can be found in many types of sports betting, most top tips typically appear in a horse racing NAP table. For instance, this is how a race card might look at the Cheltenham Festival or the Grand National:
1
Horse Name
Commit No Nuisance (NB)
2
Horse Name
Who's My Jockey? (NAP)
5
Horse Name
Part-Time Farmer
What does NB mean in horse racing?
As you can see from the table above, the NAP is clearly identified on the race card. However, you will also note that there is an NB highlighted, too. What is this, then?
While looking at opportunities to engage in NAP betting, you may also come across NB. This stands for "Next Best". It is essentially the second-best type of bet that the tipster offers you on the same race card.
Why you might wish to bet with NAPS on horse racing
Now that you have had NAP explained, why would you want to wager money on a tipster's best bet of the day?
The answer to this should be self-explanatory. They have done all the homework, checked all the stats and are far better placed to accurately predict the outcome of a race than you likely are. Given that NAPs are most likely your quickest way to a win, why wouldn't you want to bet on them?
Always check the tipsters profit/loss records. To be safer you could combine NAPs with NB selections or include NAPs in combination system bets, like Yankee bets, Tricast bets, Heinz bets and many others.
FAQs: Your questions on NAP horse betting answered
NAP stands for Napoleon. However, the horse racing NAP meaning can best be described as a tipster's "best bet of the day".
No. While most common in horse racing betting, you can commonly find NAPs in greyhound racing and other sports, especially ones that revolve around racing.
Many newspapers carry a horse racing NAP of the day. However, NAP horse racing tips can be found in The Racing Post, Sporting Life, and many other top tipster articles, journals, and websites.
Start using NAPs to engage in horse betting today
You are probably no longer asking, "what does NAP mean?" If that is the case, then why not check out some top tipsters today before engaging in NAP betting at UK horse racing betting sites. These types of bets are more favourable than having a stab in the dark at random forecast bets or each-way betting options. Do not hesitate to wager on NAPs and NBs with our leading racebooks and bookmakers if you want to win.