Forecast bet – What is a straight forecast bet [2023]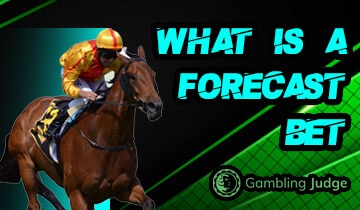 The forecast bet is a shining example of wager that has transcended sports. Initially reserved to those who would bet on horse and greyhound races, it's now popular among football and tennis fans.
It is also suitable for other sports, so given its newfound popularity, it's worth having the forecast bet explained.
In this guide, you will learn about the forecast bet meaning and the bookmakers offering it in 2023.
We take a close look at the formula for odds and give some useful forecast bet tips to help reach the best outcome.
Top Bookies for Placing Forecast Bets
in 27 September 2023 – Updated List
Rank
Bookmaker
Bonus
Safe & Trusted
Rating
Get Started
What exactly is forecast betting?
Forecast bet vs the straight forecast bet
Once you understand how does a forecast bet work you might be curious about what other types of these bet might mean. Terms such as straight forecast for computer straight forecast bet can be a bit puzzling at first.
The good news is that they are the same as the standard bet forecast, using the same formula and principles. You have to make two correct predictions and if a single selection is wrong, your bet will finish out of money. The names might differ, but you still make two bets and must win both to cash in.
Place a straight forecast bet – Step by Step
How are forecast bet odds calculated?
The manner in which horse racing sites or other bookmakers calculate the odds for forecast betting is quite complicated. They factor in a lot of elements to come up with odds that have a reasonable house edge while still being attractive. Luckily for punters wondering how to calculate a forecast betting horse racing, this is a walk in the park. The new horse racing betting sites UK will automatically calculate the odds for straight and complex forecast bets.
If you decide to bet on horses, you must look at the odds to win and finish second for each competitor. Let's assume that Horse1 has odds of 4 to win and 6 to finish in second place, while Horse2 has odds of 10 to win and 8 to finish second. A forecast bet with Horse1 – winner and Horse2-runner up will pay 4 x 8 = 32, while Horse2 – winner and Horse1-runner up will pay 6 x 10 = 60. The reverse forecast bet will add two more possible outcomes and different parts, but we'll discuss it in the paragraphs below.
What is a dual forecast bet?
What is a reverse forecast bet?
Reverse forecast betting adds two more possible selections to the straight forecast. Once you understand how to bet on horses, you can use it to mitigate the risks. You still have two selections on the betting slip, but you are paid if the horses chosen finish first and second, in any order.
Essentially you have an additional bet to place, but how to calculate a forecast bet of this type doesn't differ. The best way to use it at horse racing is to bet on the favorites, as you enjoy better odds while mitigating the risks. Professional tipsters offer their best bet (called a horse racing NAP) and their next best bet (called NB) on daily horse races, which will not necessarily include favourites.
What is a combination forecast bet?
Forecast betting tips and tricks
Whether you learn
how to bet on horses
and rely exclusively on horse racing forecast or try other sports, the forecast bet can be useful. These are some tips and tricks that can help you with forecast in betting:
Use forecast bet on ante-post winners – instead of focusing on the next horse race, rely on the bet forecast to bet on outright winners. You will cash in on the top forecast bet odds available before the competition starts and have the chance for a big payout at the end of the season.
Use safety nets with forecasting betting – this type of wager will provide you with the chance to bet on high odds, so you can invest less and still win a lot. Don't be greedy and try to mitigate the risks by keeping the stakes sensible and consider the reverse forecast bet to have bigger chances.
Pros and cons of forecast betting
CONS
You take bigger chances by having to predict the winner and runner-up
Frequently Asked Questions about forecast betting:
The forecast bet can be used for other sports not only for greyhound and horse racing. It is perfectly suitable for football, tennis and many other sports, especially for ante-post wagers.
Most UK licensed bookmakers will offer players the alternative of forecast betting. Some limit it to horse races, but many have the "request odds" feature that enables punters to ask for a forecast bet.
Not only UK sports books have forecast betting in their offer. Any bookmaker that has horse races in its portfolio, as well as other operators are likely to provide this alternative.
There are no differences whatsoever, and the same principles apply for the straight forecast bet, as the regular one. The ones that differ are the reverse bet forecast and combination forecast bets.
Foretell you betting profits with the forecast bet
There is an indissoluble link between risk and reward and nothing highlights this reality better than the forecast bet. If you're confident enough in your predictions and can anticipate the winner and the runner-up, forecast betting is perfect for you.
The odds are significantly higher and a single bet can produce top winnings if you know what you're doing. Whether you choose the straight forecast bet or tinker with a reverse forecast bet and combinations of wagers, you can expect a boatload of excitement.
Other articles you might enjoy: