How To Bet On Horses – Horse Racing Betting Explained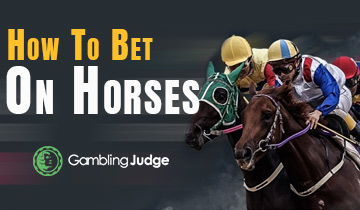 So, you want to play some horse betting but have no idea how to bet on horses and win, right? Well, don't worry: We were all beginners at some point. Learning the fundamentals of horse race betting can take some time, especially because of its unique lingo.
There are dozens of horse racing betting terms and believe it or not, more than 250 types of horse betting like dead heat betting.
So, if you want to be successful, you have a lot to learn. And this how to bet on the horses guide is exactly the thing you need as a beginner.
Below, we will show you the basics of betting on horses, explain the types of horse racing betting, and let you learn everything you need to know about the best way to bet on horses.
Let's start: We have lots of things to talk about.
Best Bookmakers for Horse Racing Betting
in 01 November 2023 – Updated List
Rank
Bookmaker
Bonus
Horse Racing Offer
Rating
Get Started
How Does Horse Betting Work? The Basics
Horse racing betting is probably the oldest form of competitive sports bets: Historical records show that horse races are organized since 648 BC. And you can be sure that the people are asking how to bet on horses question since then, because if there is a race, there are always some people ready to place a bet.
Horse races (and horse racing betting) became popular in Europe first and especially in France – that's why most of its terms are in French. Nowadays, it is a global sports event and organized in almost every country.
Since this is a how to bet on horses for beginners guide, we will start with the very basics. Have you ever visited a hippodrome before? This is the name of the building where horse races are organized. Each and every day, a couple of races are organized in a hippodrome – the runway length and the number of horses participating in these races are different for every event.
And it is possible to place a bet for each race: Most basically, you can place a bet for which horse will win a specific race. However, your horse race betting options are not limited to this outcome: You can bet on which horse will be second, which one will be the third, or which horses will win in multiple races – basically, it is possible to place money on any outcome that can happen in a horse race.
And each of these outcomes will offer a different payout, which is determined according to how probable they are. For example, if you are betting on a single horse which is clearly the favorite of everyone, you will get lower odds: That outcome is expected by all bettors and will pay less. But if you bet on an "underdog", the odds will be much higher, and the same will apply to the payout too.
This is because the probability of that outcome was very low, and you took a big risk. As a result, your prize will be bigger too. In short, if the risk you are taking is big, the odds (and the payout) will be higher. But if you are taking almost no risks and bet on the favorite, your odds and prize will be less too. Make sure you understand how odds modify when there is a non-runner involved. In this case the betting rule 4 applies and deductions will be applied: the shorter the price of the eventual non-runner at the time you place your bets, the larger the reduction will be. This is how horse betting works, in a nutshell.
Types Of Horse Races: Horse Racing For Dummies
Every horse betting for dummies guide must start with explaining the race types because each of them will have a different runway length & number of horses. Knowing the race names is more important than you think because just like "human" athletes, some horses perform better on different types of races. Here is what you need to know about horse betting games and races:
Flat Races: The most basic type of horse races. The runway is 440-yards long and the horses run for 2.5 miles. The majority of races fall into this category and you win your bets if your horse finishes the first. Simple.
Jump Races: Also known as hurdles, this race track contains multiple obstacles. The horses must jump over them to reach the finish line.
Endurance Races: The runway is still 440-yards long but the horses run much longer. In Europe, this can be as long as 250 miles. The Americans prefer 20-mile long endurance races, for some reason.
Harness Races: Hey, we can answer how to bet on harness racing question here. Do you remember chariots of the old times? The horse pulls some kind of sulky and the jockey sits on this thing, not directly on the horse. Saddle trot racing is also similar to this one, but the jockey "lies" on the sulky, instead of sitting.
There are more types of horse races but the majority of them will fall into one of these categories, even for virtual horse racing (have a look also at the best virtual horse racing tips and strategies). These are enough to understand how to place bet on horse race: You start with selecting the race type. The next step is selecting a bet type, which we will explain below.
Types Of Horse Racing Bets
Types of horse racing bets can be divided into two main categories: Straight wagers and exotic wagers. If you want to understand how to bet on horse racing, you need to know which outcome you are placing a bet on. This outcome can be an expected one, such as which horse will win the race.
These are called "straight bets" – they are not complex and mostly based on which horse(s) will win or lose. Exotic bets, on the other hand, are based on unexpected outcomes. For example, if you are betting on the possibility that a specific horse will get injured before running half a mile, this is an exotic bet – such outcomes are rare.
As a general rule, straight bets are simpler to play and offer "average" payouts. Exotic bets are more complex but pay a lot more. Remember the "take big risks, get big payouts" explanation above? It is the same thing. Let's see some practical examples on both kinds of bets, this is crucial for understanding how to bet on horses.
Straight Horse Race Betting Types
Win place and show bets are the most common horse racing betting types in this category, you just pick one horse and hope for the best. They are the best betting options for beginners and also work for dog betting.
Win: You are betting on that your horse will win the race.
Place: You are betting on that your horse will finish as the first or second.
Show: You are betting on that your horse will finish as the first, second, or third.
Across The Board: You are making a single bet that includes win, place, and show options together. If your horse is the first, you win all these three bets. If it finishes second, you win place and show bets. And if it finishes as the third, you win only the show bet.
Exotic Horse Racing Betting Types
These are more complex horse race betting options (like forecast bet or reverse forecast bet options) and includes more possibilities/outcomes. Your chances of winning are lower than the straight bets but the payout will be bigger too. These bets have an important place in horse racing, as some of them offer the chance to become a millionaire.
Exacta: You pick two horses in a single race and determine which one will be the first and which one will be the second. If the horses win in this exact order, you win the bet too.
Quinella: Same as exacta bet, but this time you do not need to determine the order. As long as your horses are the first and second, you win this bet.
Trifecta: This is the upgraded version of exacta bet, in UK also known as a Tricast bet, but if you want to know how much a 50 cent trifecta box costs in 2023, check our updated article. So, how to bet on horses trifecta? This time, you pick three horses and determine which ones will be the first, second, and third.
Superfecta: Trifecta but four horses this time. How to bet superfecta on horses? Well, you are picking four horses and determine in which order they will win the race. This is a very long shot, so superfecta bets pay lots. Check here our superfecta strategy list for more details.
Daily Double: As explained above, multiple races are organized in a hippodrome each day. You pick two different races and determine which horses will be the first to finish the race. If both of your picks win, you win the bet. This is often considered the smartest bet in horse racing.
Pick 3: Same as the daily double, but this time you are betting on three different races.
Pick 4: Same as the daily double, but this time you are betting on four different races.
Hi-5: This one is also known as Pentafecta bet. Same as the daily double, but this time you are betting on five different races.
Pick 6: Same as the daily double, but this time you are betting on six different races. This is the "jackpot" of all horse race betting: If you win this bet, you can literally become a millionaire.
Tote betting: You can try this type of bets at pool betting sites. Here all tote bets are collected in a pool, and after deducting the commission, the money accumulated in the pool is divided among the winners. The types of Tote bets are the: Tote trifecta, Tote exacta, Tote placepot, Tote Win/Place, Tote swinger, Tote jackpot, Quadpot or Scoop 6 bets.
Note that there are other horse racing betting types too, like the Lucky 15 bet, Lucky 31 bet, Lucky 63 bet, Heinz bet or Super Heinz bet. But most of them are truly exotic and requires taking heavy risks. These horse race betting options are enough to understand how to place a horse racing bet, and, more importantly, how to bet the horses and win on a budget. As long as you stick with these options, you can gamble responsibly and enjoy horse race betting at its finest.
How To Place Bets On Horse Races: Horse Race Betting Explained
So far, you have learned the race types, the betting types, and how race horse places affect the outcome of a bet. Now, let's see how to bet on horses online: You don't need to go to a booth for betting on horses. A reputable, safe, and licensed online bookie is the only thing you need. Here is what you need to do, step by step:
Find an online bookmaker that accepts betting on horses. Ideally, that bookie must support all of the horse racing betting options listed above.
Become a member, login, and check all the available races.
Pick a race and click on it. You will see all the horse race betting options offered for that event.
Pick an option; for example, pick a winning horse, make a deposit to fund your ticket, and finalize the process.
That's it: This is how to bet horses by using an online bookmaker. But before you finalize the bet, you need to know about another important thing: the odds.
Understanding Horse Racing Odds With Practical Examples
Knowing how to bet on horses odds is of crucial importance because this is how you make a real profit. Each bookmaker will offer a different odd for a specific horse race. You must search for the best ones before placing your bet. The odds won't increase your chances, but they will affect how much prize money you are going to win. First, let's take a look at odd types.
There are two types of odds: Decimal and fractional. Decimal system gives the odds directly, like 1.10, 2.30, and 4.20. The fractional system is better because it lets you understand what the payout will be and how much money you need to invest to win that payout. Fractional odds look like this: 4/1, 1/9, 5/2, etc.
So, what is the meaning of this? Let's say you are betting 2 EUR for a horse race and the odds are shown as 8/5. What kind of payout can you expect from this bet? The calculation is actually simple:
You start by multiplying the first number by 2 (your bet amount)
You divide the result with the second number,
You add 2 (your bet amount) to the result,
And the final result shows your actual payout.
If we give a practical example with the odds 8/5;
8 x 2 = 16
16 / 5 = 3.20
20 + 2 = 5.20
So, placing a 2 EUR bet for a horse race with 8/5 odds will actually pay 5.30 EUR. Here is a table that shows different odds and payouts for 2 EUR bets:
You get the idea: This is how you calculate the odds and the payouts. And your goal should be finding the best odds out there, in order to increase your winnings. When selecting the SP you won't know the odds until the race starts. If you think that ante-post odds will change significantly, betting on the SP may be the better choice. What does SP mean in betting? The acronym means starting price, but we explain more in our guide.
How To Successfully Bet On Horses: Tips, Tricks, And Basic Strategies
Well, you have learned how to bet on horses, but learning how to win at horse racing will require additional things. We will be listing some how to bet on horse racing tips below, but note that there is no tactic or strategy that can "guarantee" a winning. Horse racing betting is a game of chance and while it is possible to increase your chances, it is impossible to win every bet you place.
Pick your own horses. We know you are wondering how to pick horses to bet on, but this is a very loaded question. Picking the correct horses will require a lot of research, dedication, and knowledge about horse breeds. In any case, do not let anybody else tell you how to pick a horse to bet on: You should always do your own research. You will be hearing lots of "tips" about how a particular horse will win the race, but all of these will be nonsense. You are the only person who can predict this.
Make your research. As mentioned above, there are different horse race types that include different runway lengths and miles. Learn everything there is to know about the horses: Their breed, performance on different racetracks, previous wins and losses, post position win percentage, even their ancestry. Do not expect to place a single bet and win: Horse race betting requires dedication and long research. You will be seeing results only after a while, not immediately. Take tipsters into consideration. They offer NAP and NB tips daily. We explain more about horse racing NAPs and NB in our "what does NAP mean in betting?" article.
There is no best bet in horse racing today. We have listed all the commonly used horse race betting options above, but we cannot pick a single one as the "best". All betting options have advantages and disadvantages, and each of them can be the best choice according to your experience and knowledge. We can only suggest sticking with straight bets until you fully learn how to bet on horses and win. Exotic bets are for veterans.
Respect your budget. Make sure to play responsibly and do not surpass your budget. Hippodromes are filled with bettors who think that their luck will turn. Determine a bankroll and keep playing until it depletes: Whether you win or lose, always respect your budget.
Horse Racing 101 FAQ: Betting On Horse Racing For Dummies
In most countries, you need to be 18 years old and over. But some countries require being at least 21 years old to place horse racing bets. And some of them completely bans all kinds of betting, no matter how old you are. Check your local gambling laws.
"Horses box wheel" is a term used for making multiple trifecta bets. You determine which horses will be the first, second, and third, but in multiple races. Check above to learn more about trifecta bets.
The best way to do this will be by placing multiple "across the board" bets. Basically, you will be using this bet type for multiple races, and pick three horses in each one. Or, you can choose to place a "Pick 6" bet, if you are after big payouts.
Ascot is the name of a hippodrome in the United Kingdom. Each year, a big horse racing tournament is being held in here, and this year, it will be called "Royal Ascot 2019". We cannot tell you how much to bet on this event: You must decide according to your budget.
Tier means "rank", so by placing a tier bet, you are actually playing a win, show, or place bet. Check our explanations above to learn more about them.
Find an online bookmaker and follow our step-by-step explanations on how to bet on horses section. If you are having trouble finding an online bookie, you can always pick one of our recommendations. We tested each and every one of them and confirm that they offer the best horse racing betting experience you can get.
Learn How To Bet Horses Successfully, Start Winning The Big Bucks!
Now, you have learned how to bet on horses like a pro: It is time to start making some "practice". Remember that learning how to bet on horses will take time and you will keep getting better and better after every race. Horse racing betting requires making a lot of research and dedication, but you will be rewarded for your efforts.
Continue by picking one of our recommended online bookies to play horse race betting and keep visiting us: We have other guides on betting on horses too. Good luck!