Lucky 63 Bet Explained | How to Place & Win a Lucky 63 bet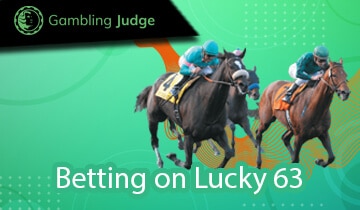 Placing a Lucky 63 Bet might not be the most obvious thing for you to do. However, once you have a Lucky 63 bet explained to you, you will likely feel a lot more comfortable and in control of how you wager on sports.
Like all betting terms, it will take a bit of time for you to get to grips with the Lucky 63 Bet meaning. If you are wondering "how does a Lucky 63 Bet work?" or you fancy learning how to place a Lucky 63 Bet online; then our guide is for you.
Read on to discover what is a Lucky 63 bet and how to wager with this bet at the biggest bookmakers in the world today.
What is a Lucky 63 bet?
Best bookmakers for placing Lucky 63 bets
in 01 November 2023 – Updated List
Rank
Bookmaker
Bonus
Horse Racing Offer
Rating
Get Started
How does a Lucky 63 bet work?
 How do you win a Lucky 63 Bet? Here are the rules you need to know:
You can use Lucky 63 Bets in horse racing, greyhound racing and many other types of sports betting options. What is a Lucky 63 Bet in horse racing? Perhaps you want an answer to "what is a Lucky 63 football bet?"
Ultimately, the bet is the same no matter which sport you wager on. Popular ones include football, horse racing, rugby, basketball, American football, and other team sports.
Learn how to place a Lucky 63 Bet
Placing a Lucky 63 Bet sounds tricky. After all, we are dealing with sixty-three bets, right? Surprisingly, it is not as difficult as you might think. If you head over to one of the biggest bookmakers in the UK, you only need to follow these short steps to get started.
Step 1
Sign into your bookmaker account
Step 2
Choose the six selections that will make up your Lucky 63 Bet
Step 3
Make sure that they are on the same slip
Step 4
If your bookmaker accepts Lucky 63 Bets, there will be an option to place this bet on the betting slip
Step 5
Make sure you choose a stake that is accepted. Some bookmakers have a minimum requirement of £1 per Lucky 63 Bet (so a £63 outlay), while others accept stakes of 50p or even 25p
Step 6
Once you are ready, place the bet
Some bookmakers allow you to select a Lucky 63 Bet from the drop-down menu on the betting slip, like Bwin. Others have a separate section where you can go for this option, like William Hill. As soon as you add 6 selections to your betting slip the Lucky 63 bet option should be available.
Here you can see how to place a Lucky 63 bet on Bwin and William Hill: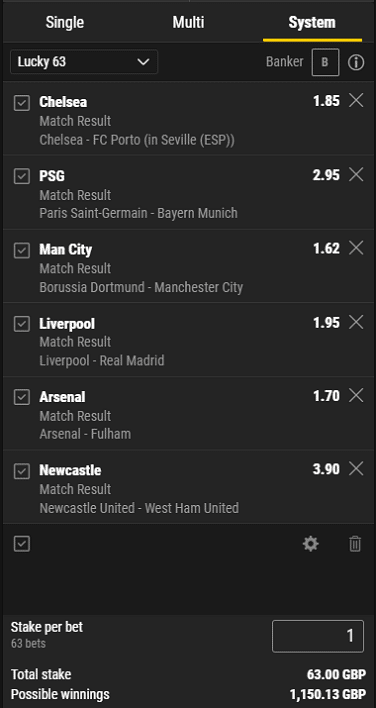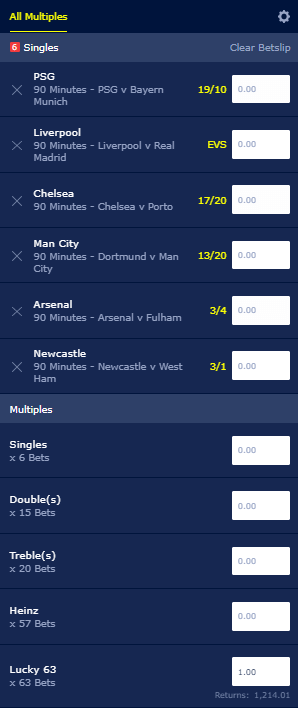 Calculating your Lucky 63 Bet winnings
The quickest way to learn how to place a Lucky 63 Bet is to look at an example. First, you need to get your pricing right. How much does a Lucky 63 Bet cost? The answer is usually £63. The amount you can win can be determined by a bet calculator for Lucky 63 stakes. However, we will give you a rough idea below.
Let us pretend that you want to wager £1 on a Lucky 63 bet, with each horse having odds of 3/1. If you do this, the potential return can be determined as follows:
Number of Winning Selections
None
Total Profit/Loss
£63 Loss
1 Selection
Total Profit/Loss
£59 Loss
2 Selections
Total Profit/Loss
£39 Loss
3 Selections
Total Profit/Loss
£61 Profit
4 Selections
Total Profit/Loss
£561 Profit
5 Selections
Total Profit/Loss
£3,061 Profit
6 Selections
Total Profit/Loss
£15,624 Profit
Of course, your six selections are not likely to all be priced at 3/1, and you might even opt to wager on football instead. However, you decide to wager, though, a return on four or more selections will always generate a wealthy profit with these bets.
If you want to be sure what you can receive, we will always recommend using a Lucky 63 Bet calculator. Most major bookies provide these for free on their website anyway.
What is the difference? Lucky bets vs. Heinz bets
Bet Structure
Lucky 15 Bet
• 4 Singles
• 6 Doubles
• 4 Trebles
• 1 Four-Fold Acca
Lucky 31 Bet
• 5 Singles
• 10 Doubles
• 10 Trebles
• 5 Four-Fold Accas
• 1 Five-Fold Acca
Lucky 63 Bet
• 6 Singles
• 15 Doubles
• 20 Trebles
• 15 Four-Fold Accas
• 6 Five-Fold Accas
• 1 Six-Fold Acca
Heinz Bet
• NO single bets
• 15 Doubles
• 20 Trebles
• 15 Four-Fold Accas
• 6 Five-Fold Accas
• 1 Six-Fold Acca
Bonuses and consolations for Lucky 63 bets
Sometimes, there are hidden perks to playing with some bets over others. Win bonuses or consolations are some of these. A Lucky 63 bonus is known as a consolation, and it means that you will get a return for selecting just a single winner out of your six selections.
Some bookmakers may quadruple the odds of your single winner, and some even go one further and multiply those odds by 5x. If this is the case, you only need a single selection to win to get your money back.
The terms and conditions will vary here, but these are far more attractive than other sports betting bonuses, such as conventional risk-free bet offers, and well worth keeping an eye out for.
Top tips and super strategies for wagering with Lucky 63 bets
There are not many Lucky 63 tips out there, but we have compiled a list of the best for you below. These include:
👉 Do not be afraid to take risks; you are going to need to if you want to win on all six selections.
👉 Stick with selections that you are confident in. Do not wager with selections you know nothing about.
👉 Avoid betting on underdog selections when playing with Lucky 63 bets unless you know enough about them.
👉 Only sign-up to bookmakers offering win bonus and consolations, as you will get more for your money with less risk.
👉 Scout around for the best odds before including a selection on your ticket. Playing at multiple bookies can sometimes help.
Pros and cons of Lucky 63 bets
There are pros and cons to Lucky 63 betting, and we have listed those for you below. They include…
PROS
You can win a hefty amount with the right selections
The bookmaker "places" the sixty-three bets for you, all you have to do is select Lucky 63 as your betting option
Win bonus and consolations can virtually guarantee a return with just one selection
CONS
Not ideal for players at low stakes betting sites
The fewer underdogs you have, the more likely you are to need many winning selections
FAQs: Your question on Lucky 63 bets answered
Do you still have questions, such as "are Lucky 63 bets worth it?" Let us see if we can help you with this brief FAQ guide.
Is Lucky 63 a good bet? We would say so. However, the potential returns are astronomical, but you will need to pick the right selections and need a spot of luck.
As the name of this bet suggests, there are sixty-three different bets on the go here. Scroll up to find out what they consist of.
Any Lucky 63 free bet calculator will give you the amount you can win, but typically you will need three or more selections to bag a profit and just one selection to land a "win".
If you opt to play with a 50p stake at bookmakers, then a Lucky 63 Bet will cost you £31.50.
That depends. Lucky 63s use singles, and Heinz bets do not. Ultimately, it depends entirely on what you are betting on.
If there is a non-runner, it will not affect your Lucky 63 bet. Non-runner doubles become singles, trebles become doubles, and accas will be calculated without them.
Play with Lucky 63 bets at leading online bookmakers today