What is a Heinz Bet? | How Does a Heinz bet work?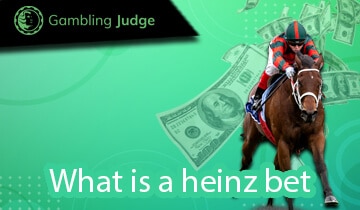 What is a Heinz Bet? Apart from its comical name, the Heinz bet is one of the more profitable types of options you can use to wager on sports. What does a Heinz Bet mean, though? Oddly enough, this type of bet – commonly used in horse racing – is not that difficult to grasp if you follow our guide.
It is not as easily explained as other betting terms, such as the Trifecta box, but if you want to know how it works and learn the answer to "is Heinz a good bet?", stick with us, and we will walk you through it.
What is a Heinz bet?
Best bookies for placing Heinz bets
in 31 May 2023 – Updated List
Rank
Bookmaker
Bonus
Horse Racing Offer
Rating
Get Started
How does a Heinz bet work?
How does a Heinz Bet work? Allow us to explain. Across all types of sports betting options, the bet remains the same, as does its result. Here are the Heinz rules you need to know:
As you can see, the terms for a Heinz Bet are not complicated. However, you will see how it works more clearly if we provide you with an example, so let us do that next.
Heinz Bet explained with example
For our Heinz Bet example, let us pretend that we want to bet on football, specifically the Premier League. We need to choose six matches over a weekend, and we are going to choose to bet a tenner per stake. Ultimately, punters are going to need to wager £570 in total then.
Below, you can find our "ticket" and how things look.
Assuming that Man Utd and Liverpool both win, and all the other bets lose, we will have got at least two selections correct. Our £10 stake x 2.45 x 1.62 results in a payout of £39.68. As you can see, that is a far cry from our £570 outlay.
However, if we got all six selections correct, we would win around £8,740. As you can see, there are particularly good reasons for betting with a Heinz Bet. To keep the outlay small, some bookmakers will permit you to wager as little as 25p per bet, but this is not common.
Heinz bets are not limited to football betting. As mentioned, you can also play horse racing Heinz bets. How many horses are there in a Heinz bet? The same as the number of football matches in the example above. You are looking at six selections spanning fifty-seven different bets.
How to place a Heinz bet
Are you still wondering how to do a Heinz Bet online? As touched on earlier, a Heinz Bet consists of 57 bets spanning six selections or events. It consists of 15 four, 6 five and 1 six-fold accumulator bets, 15 doubles, and 20 trebles.
Some bookmakers allow you to select a Heinz Bet from the drop-down menu on betting slips, like in the example below. Others have a separate section where you can go for this option. As soon as you add 6 selections to your betting slip the Heinz bet option should be available. However, many bookmakers will require you to set up these accumulators yourself.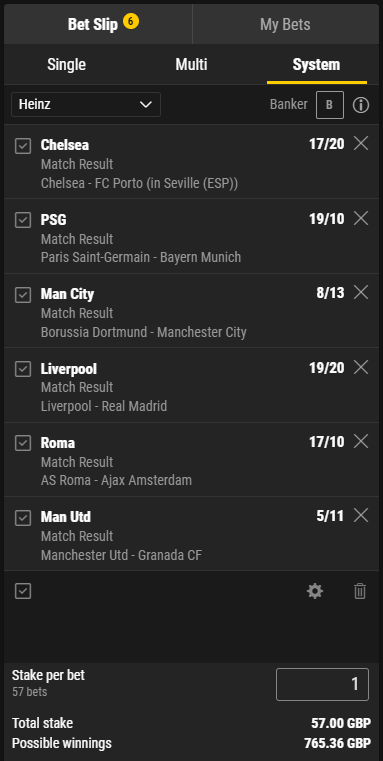 Selecting a Heinz bet on Bwin
On the upside, most key bookmakers will provide FAQs and walkthroughs which show you how it is done in their domain. This is handy, as each leading sportsbook may prefer you to set up Heinz bets in their own way.
How to calculate a Heinz bet?
Is an Each-Way Heinz bet possible?
As you will know, a typical Each Way Bet will allow you to cover your bases. These types of bets can also be used when wagering with Heinz bets. However, if you thought that a Heinz bet was expensive, then you wait until you see how much an Each Way Heinz Bet costs.
These are essentially twice the price of a typical Heinz, as any Each Way Bet usually is. So, if the initial cost of a Heinz Bet is £57, you can bank on shelling out £114 with this option, as you can see in the examples below:


Top tips for Heinz betting online
There is no sure-fire answer to how to win a Heinz Bet. You ultimately need to make sure that you bet on selections that stand a decent chance of success, as is the case with all system bets. However, there are a few Heinz Bet tips we can share with you which may help. They include:
👉 Learn About Other Bets:
It can be useful to learn about similar bets, such as
Trixie Bet
,
Yankee Bet
and
Lucky 15 Bet
s. If you learn about these, you will know when it is ideal to place a Heinz Bet or go with one of these potentially more favourable options.
👉 Take Advantage of Bonuses: Claiming risk-free bet offers is a great way to experiment and build up your cash pile. As Heinz betting is costly, we would suggest taking advantage of any offers that offer fair terms, even no minimum deposit betting deals.
👉 Check Your Bookie's Terms: Some bookmakers offer low betting stakes, of less than £1, possibly as little as 25p. This is ideal if you are on a budget, as Heinz bets are notoriously expensive.
👉 Look for a Heinz: When betting, try and find the correct box for a Heinz Bet. If you are new to the Heinz concept, do not try to calculate the bets yourself, as you are likely to end up making a mistake.
👉 Only Bet on What You Know: Only ever bet on the selections you know a bit about. Do not try to add any old sixth selection to make up the numbers. If you cannot find six events to bet on, do not place a Heinz bet.
The pros and cons of using Heinz Bets online
There are pros and cons to Heinz betting, as there are with any type of sports bets. These include:
PROS
You can make a lot of money if you correctly predict many selections
You need just two selections to "win"
Heinz bets are common at many bookmakers
CONS
Not ideal for fans of low stakes betting sites
You need a good understanding of system bets
FAQs: Your question on Heinz betting answered
If you still have questions about Heinz betting, this guide may help you out…
How many bets in a Heinz, you ask? How many do you think? There are 57 varieties of Heinz, and so a Heinz Bet has fifty-seven separate bets over six selections.
The amount you can win with a Heinz Bet is entirely dependent on your stake, the odds in play, and how many selections you predict.
Wondering, how much does a Heinz Bet cost? A Heinz Bet will always cost 57x your stake unless you play Each Way when it costs 114x your bet. As most Heinz bets must be worth at least £1, the answer is usually £57.
Both Heinz and Lucky 63 bets feature six selections. However, Lucky 63 bets also include singles, whereas Heinz bets do not.
In most cases, a non-runner in a Heinz Bet will see that bet voided. For instance, if the non-runner is on a treble, then that treble becomes a double, as the bet with the non-runner is considered "settled".
You can have the same extremely high return, in theory, that a Heinz bet brings with a standard six-fold accumulator. However, that six-fold accumulator will require every selection to win to pocket your prize. Heinz bets can pay out sizable sums with a lesser number of selections, correct.
Place Heinz bets at leading bookmakers today
We doubt that you are still asking, "what is a Heinz Bet?" Hopefully, we have given you the answer to that. Presumably, you now know how to place a Heinz Bet, too. All that remains is to head over to the biggest bookmakers in the UK, sites such as William Hill, to start betting. At the same time, if you want to learn more, do not hesitate to check out our guides to Canadian bets, the Super Heinz Bet, and feel free to explore our other betting guides and top-rated online bookmakers.