Goliath Bet Explained: The Gambler's Comprehensive Guide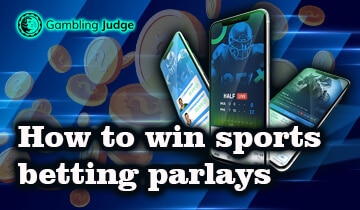 Goliath bet is a comprehensive betting option for those who want to combine multiple selections in one wager. Unlike conventional multi-bets, Goliath bets are more extensive and complex.
In this article, we'll delve into the mechanics of a Goliath bet, provide you with valuable tips, and share effective Goliath betting strategies to help you maximize your chances of winning when placing a Goliath bet online.
Best online bookmakers where you can place Goliath bets on 18 September 2023
Rank
Bookmaker
Bonus
Safe & Trusted
Rating
Get Started
What is a Goliath bet?
How does Goliath bet work in horse racing?
A Goliath multi-bet cannot be placed on the same event, just like other types of multiple bets. Therefore, if you wish to place this bet, you need to make a range of selections over a range of events on the same day or weekend. 
For example, if you want to place a Goliath horse bet on a horse racing event, you will select eight horses and eight races. If you want to make many selections on the same event, go for the forecast bet instead.
How to place a Goliath horse bet
To place the Goliath horse bet, you need to find betting sites that offer the Goliath bet option. Such a bet is popular on most top betting sites. Here is how to bet Goliath on online sportsbooks:
Step 1
👣 Log in to your preferred betting site
Step 2
👣 Top up your betting account with enough credits to stake on this bet
Step 3
👣 Head to the betting market section and select an important event like Cheltenham Festival
Step 4
👣 Select the 8 different races on that event and then choose 8 horses you think will win
Step 5
👣 Place your bets that make up the Goliath bet, enter your base stake amount and confirm if everything is okay
Step 6
👣 Confirm your bet and wait for the event to unfold
A Goliath bet example
As stated earlier, your stake is automatically multiplied by the number of sub-bets. So, £1 stake results in a total stake of £247. Typically, 8 events will give you 247 combinations. Let's look at an example of how a bettor would place this bet on the Cheltenham Festival at eight different events. Here is a real-life Goliath system bet example: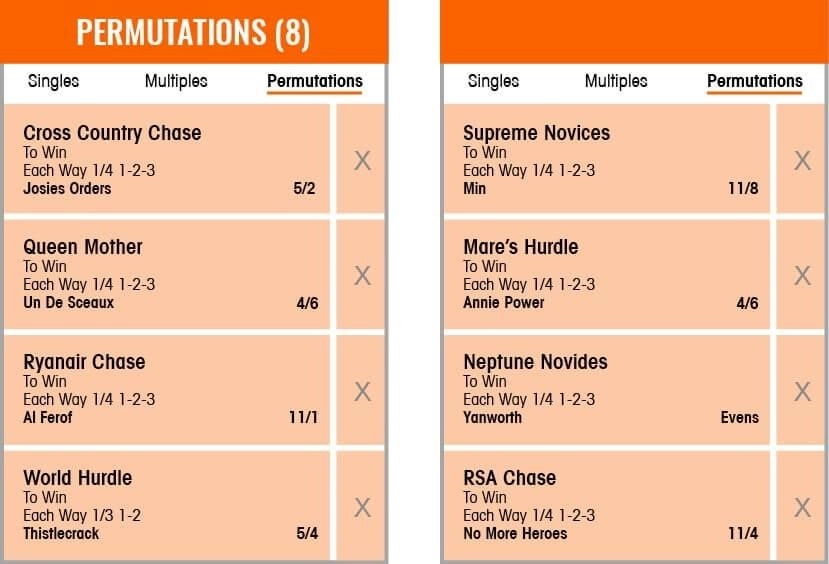 A Goliath bet can yield substantial returns, even with a modest £1 stake (totaling £247), if all sub-bets are successful. In this case, the total returns would amount to £37,637, assuming the bets are the smartest in horse racing.
However, it's important to note that you don't have to have all selections win in a Goliath bet to earn winnings. With just two correct predictions, based on the odds, you can start seeing returns.
How to calculate Goliath bet winnings
Useful tips on how to win a Goliath bet
Winning a Goliath bet requires an understanding of how to win a Goliath bet. This involves knowing how many bets to place and the betting sites to place the Goliath wager. Check out valuable Goliath bet tips:
👉 Get odds from 1.5 upwards: You need selections with more than 1.5 odds to have better winnings in case your bet is successful. Otherwise, if you select games with too low odds, you will need too many selections to realize more returns concerning your
initial stake
.
By contrast, if you get too high of an odds, you will need a lot of luck. 
👉 Look for value: Always look for horses or matches representing good value. So, only go for those you feel have a higher chance of winning. Success in a Goliath bet means winning between 15 and 25 % of the time you bet.
Other types of horse bets similar to Goliath
There are several types of multiple bets, each with its own unique characteristics. Some of the most common types include:
Pros and Cons of Goliath bet
PROS
Punters can get higher returns if the bet is successful
Makes accumulator wagers more appealing
You can earn returns even when not all selects are successful
CONS
Your initial stake is multiplied by 247
You only get a good payout when most of the selections go well
Frequently asked questions about placing a Goliath bet
You should engage in Goliath betting if you are an experienced punter. This bet type has multiple sub-bets, making it the most complex bet. As such, it only requires an experienced individual to win higher returns.
It depends on the level of your experience. The Goliath can be a more exciting method of placing multiple bets since it increases your chance of getting a better return. But that depends on your ability to select teams that win. On the brighter side, you can get a return when two of the eight selections win. However, the bet requires a mammoth stake.
The total goliath bet cost varies depending on your stake amount, as your stake is usually multiplied by 247. So, if you stake, £1 bet costs £247.
Yes, you can also place each way Goliath bet easily on most UK horse racing betting sites. Note that in Goliath betting, you can back your bets each way, and it will pay out should any of your horses place rather than win their race.
Goliath bets in 2023: Can they make you good cash?
Betting accumulators are one of the most exciting ways of making cash for most bettors. However, you need to know how to place a bet online, more specifically, how to bet on horses. With better insight, an understanding of types of horse racing, and getting the best odds guaranteed on horse racing, you can make good cash on this type of bet.