What is a Super Heinz Bet? | Super Heinz Bet Explained Simply (2021)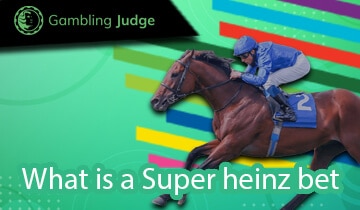 In all types of sports betting, there are lots of betting terms to learn, and horse racing is no exception: A Super Heinz bet, in this regard, one of the most interesting accumulator bets you can find.
This is a single bet that consists of 120 different selections, and as can be guessed, it pays very well if you know what you are doing. But if you do not, no worries: We prepared this Super Heinz bet explained guide for you.
Below, we will talk about this bet type in detail, give examples, and share some tips for beginners. Let us start with the obvious question: What is a Super Heinz bet?
What is a Super Heinz bet?
We are sure that you are familiar with the "Heinz" brand: It offers soups and ketchup. The company slogan is "57 pickle varieties" and some of the biggest bookmakers UK used this marketing term to create a special type of horse racing bet: Heinz. A Heinz bet consists of six selections and 57 bets in total.
Please note that we explained treble bet and double bet in different guides, so we will not explain them also here. So, basically, this bet contains lots of outcomes, just like the Yankee bet, Lucky 15, and Lucky 63. However, even so, a Super Heinz bet is the "grand-daddy" of all: There are not too many bet types out there that surpasses the "100" threshold.
Best bookies for placing Super Heinz bets
in 20 October 2021 – Updated List
Rank
Bookmaker
Bonus
Safe & Trusted in UK
Rating
Get Started
Super Heinz bet example: How does it work?
You learned what is Super Heinz bet so let's continue with rules and an example. So, how does a Super Heinz bet work? More importantly, how is it different from accumulator bets? A Super Heinz bet is still an accumulator bet at least in definition because it contains multiple selections. However, as you know, in order to win accumulators, all of your selections must win. Even if a single one of them loses, you lose the whole bet.
A Super Heinz bet, on the other hand, is more forgiving: In order to win it, at least two of your selections must win. If more of your selections win, the payout will be much better, of course, but this is the minimum requirement to win a Super Heinz bet: Out of seven selections you made, two of them must win. These are the basic Super Heinz bet rules you need to know:
Super Heinz and Super High Five bets are designed for horse racing and this is still the best sport for this bet type. However, it can be used in any sport that allows you to make at least 7 selections in different events. For this reason, you can see Super Heinz bets in other sports too, especially in greyhound racing and football, due to its popularity. In fact, Super Heinz bets can be used as a profitable football betting system too.
However, no matter which sports you prefer, the main rules do not differ. So, the answer to what is a Super Heinz bet in football and what is a Super Heinz bet in horse racing questions are the same: You bet on 7 different events and place multiple bets. In fact, here is an example that shows a Super Heinz football bet: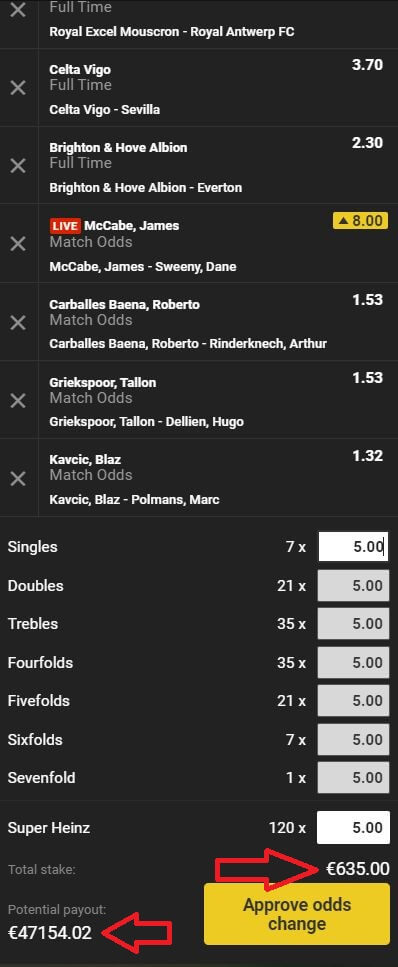 Placing a Super Heinz bet: Step by step
Let's quickly explain how to place a Super Heinz bet too. In this example, we will use a Super Heinz horse bet, but the steps below will work for any sports.
Step 1
Log in to your favorite bookmaker. If you don't have a favorite, check our list of high and low stakes betting sites and pick one
Step 2
Click on the "horse races" link
Step 3
Make 7 selections: They cannot be for the same race, so you need to use 7 different races. Once you pick the 7th race, your bet slip will automatically display the "Super Heinz" option
Step 4
Check the total cost and payout of the bet and click the "place bet" button on the slip to complete the process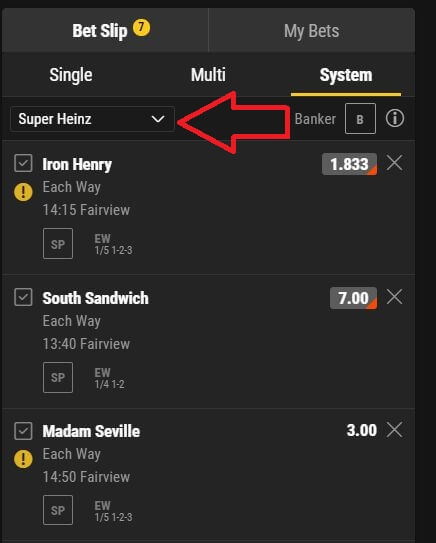 This is an example of Super Heinz bet on Bwin: After selecting 7 events, you need to manually pick the "Super Heinz" option from the drop-down menu.
How much does a Super Heinz bet cost?
Or, in other words, how to calculate a Super Heinz bet?
The payouts will depend on your bet amount and how many of your selections win. The table below shows the potential payouts for a 120 EUR/USD Super Heinz bet with 4.00 odds for all selections. Once again, if the odds are different for your selections, the payouts will be different too: We recommend using a Super Heinz bet calculator to see all potential payouts for any amount of bet/odds.
A Super Heinz bet with a total stake of 120 EUR/USD and 4.00 odds
If none of the selections win
Is a Super Heinz bet each way possible?
Each-way betting means that you are placing two different bets: One for the win and one for the place (second place). As long as your selection ends the race/match as the first or second, you win the bet. It is possible to use each way bet in a Super Heinz bet too but doing so will increase the overall cost.
For example, below you can see the usual Super Heinz bet: We are placing 1 EUR per bet and the overall cost is 120 EUR.

And here we used the "each way" option for the same bet. As you can see, the cost has doubled, and we need to pay 240 EUR now. However, we are more likely to win.

Super Heinz bet tips & tricks
👉 Check other types of multiple bets too, such as
system bets
,
Patent bet
,
Trixie bet
, and
Trifecta box
. This way, you can understand how Super Heinz bets work and how to win them.
👉 Use risk free bet offers to place your first Super Heinz bet. We have a wide selection of low stakes betting sites or low deposit betting sites and using a bonus will teach you the basics before risking real money.
👉 Most of the time, it would be better to stick with favorites: You are already making too many selections and the favorites will offer low odds but better winning chances.
👉 Horse racing is the best sport for this bet type, but don't hesitate to try it on others too: Greyhound racing and football will be great choices.
Is a Super Heinz bet worth it?
PROS
You can diversify your wager
You need to win only 2 selections
The payout can reach amazing figures
CONS
Calculations are complex
Winning is not easy
FAQ: Your questions on the Super Heinz bet answered
A Super Heinz bet consists of 7 selections and 120 bets in total. In this regard, it is possible to say that it is the bet that covers the greatest number of outcomes.
In order to win a Super Heinz bet, at least 2 of your selections (out of 7) must win. The more selections you win, the better the payout will be.
The cost of a Super Heinz bet can be found by multiplying the bet amount by 120. Most of the time, 1 EUR/USD is the minimum value you can use, so in general, the cost of this bet is 120 EUR/USD.
In a Heinz bet, there are 6 selections and 57 bets in total. In a Super Heinz bet, there are 7 selections and 120 bets in total.
In this case, the bet will not be void, the scope of your selection will be reduced. For example, a six-fold bet becomes five-fold, or a four-fold bet becomes treble, etc.
This depends on your budget and expectations. To win a 7-selection accumulator, all of your selections must win, but in Super Heinz, it is enough to win 2 selections to get a payout.
You learned how to work out a Super Heinz bet: Try it today!
This is the end of our Super Heinz bet explained guide and you are now ready to place your first bet. We wish you good luck: May all of your selections win! Multiple bets are harder to win but they pay quite big amounts, so we are sure that you will enjoy Super Heinz bets. Pick one of our recommended bookmakers to use a bonus in the beginning: This way, you can start your adventure without taking any risks. We will continue to prepare new guides for you, so do not forget to visit us often!