Super High Five | Tips and Strategies [2023]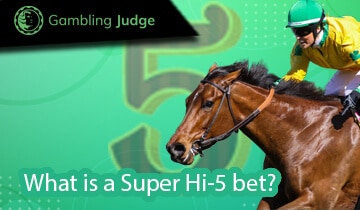 It is critical for every racetrack and racing event to entice bettors to wager on a race and their favorite horse. Betting is a significant source of revenue, and viewers hope that their selection is correct and that they will be able to take home some wins from the best virtual games.
Horse racing is a sport, and the conclusion is never certain, as everyone is warned. As a result, various betting terms, wagering forms, and daily sports betting bonuses, and free bet offers are developed to keep punters engaged and provide them with a better chance of winning. 
Best Bookmakers for Horse Racing Betting
in 01 November 2023 – Updated List
Rank
Bookmaker
Bonus
Horse Racing Offer
Rating
Get Started
Understanding Horse Racing Super High Five's
Definition Of Super High Five-Bet Or Pentafecta
The Super High five or Pentafecta is inarguably an exotic bet that has become one of the most used by horse racing punter. This particular bet comes with its very own betting pool and the cash that is staked into this pool is kept segregated from other money that has been bet on a race. The racetrack pool is also linked to the online racebooks. Every penny staked by internet bettors is added to this massive betting pool. Those who accurately predict the five horses in the perfecta get a portion of the betting pool. Everyone who has a winning ticket gets an equal portion of the prize pool.
Minimum Stake
It is advisable to place your
super high five-bet
or pentafecta horse racing wager at the
best mobile betting sites
racebook. To begin with, it is more practical because there is no need to leave the house and travel to a live racecourse. For a
Super High Five explained
or Pentafecta wager, the minimum amount is generally $.50. The lowest stake for online Super Hi-5 bets is the same as the amount for betting Super Hi-5s at the track. Signing up with
trusted sports betting sites
will also make you eligible for
live betting
and
sports betting bonuses
.
Maximum Winnings
Winnings are limitless and decided by the pari-mutuel system, in which all super high five winning tickets split the pool of money gathered, less the commission taken by the track at super high five first tour. . However, if you strike the Super hi-5 against the odds, it might be a potentially life-changing victory. For instance, in the 2014 Kentucky Derby, if you had gambled $1 and accurately predicted the Super Hi-5/Pentafecta, the super high five payouts would have been a mind-boggling $149,764.70. A successful Super High five bet in this year's Derby would have yielded over a 150,000-1 return, with the favorite California Chrome finishing in first five, the longshot Commanding Curve finishing second, and the 8-1 dark horse Danza finishing third, Wicked Strong fourth, and Samraat rounding out the top 5.
The Super High Five At The Kentucky Derby
Boxed Super High Five
As per super high five rules, you must still choose the first five horses in the right order, but by boxing your picks, they can finish in any order. This also enables you to select numerous runners. If you would like to handicap it and approach it like an exacta or Pick 3, the amount of the minimum stake will undoubtedly influence what you do.
For instance, if you just box five horses, there are 120 options, bringing the super high five box cost of a $1 ticket to $120. However, if you simply wager 10 cents, the cost reduces to a more manageable $12.
That bet, on the other hand, offers no room for mistake because you must hit the top five finishers. Overall, boxing is a costly technique of attacking the bet. If you box six horses, allowing yourself the option of losing out on one horse, the permutations increase to 720, totaling $720 for $1 super high five tickets and $72 for 10-cent tickets.
Consolation Pool And Carryover Pool
Dead Heats
A super high five dead-heats is typically considered half a win. It wins you half the mutual payoffs and, if you're a horseman, less purse money than if your horse had crossed the finish line an inch clear of his or her competitor. But don't tell that to one extremely lucky Pick 6 player at Aqueduct, who discovered that a tie was as good as a win.  If you want to know more about how to win sports betting parlays, check out how to win at sports betting: ultimate tips and systems.
Frequently Asked Questions
It's dangerous, but rather than a trifecta for accurately guessing the top three finishers, you'll receive a Super High 5. That ticket costs $120 for $1 tickets and $12 for 10-cent wagers.
Punters can bet on the first five horses they believe will win in the Super High Five.
First, you'll need to determine which horses will cross the finish line first, and which ones will not. As long as they're in the correct order, you win!
There is a growing pool of wagers until one ticket correctly predicts the finishers in the chosen race. Because of this, the value of a pool can increase to "life-changing" sums.
All winning tickets participate in the pot when betting on a pentefecta.
To Wrap It Up
Some racetracks will only provide the Super High Five on the final race of the day, while others will offer it on several races. It is believed that the Super High Five would provide punters with a larger objective, especially when the pool rolls over. The Super High Five will soon become a permanent feature in the horse racing business, with an increasing number of facilities sanctioning this new betting option.