Superfecta strategy – Best Superfecta strategies to use in 2022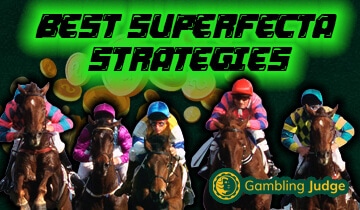 We already have a betting guide for superfecta bets, but if you want to increase your winning chances, you need to know how to use a superfecta strategy too.
This is what we will do in this article: First, we briefly remind you what superfecta bets are and how to place them.
Second, we will list the best and most common superfecta strategies for beginners and veterans.
Once you are done reading, we recommend taking a look at our trifecta box payout guide and live betting system articles too. But for more information about the prices, you can also read our 2022 update article about how much a 50 cent trifecta box costs.
Now, without further due, let's start: We have lots of things to talk about.
Best Horse Racing Betting Sites to place Superfecta Bets
in 16 May 2022 – Updated List
Rank
Bookmaker
Bonus
Safe & Trusted
Rating
Get Started
What is superfecta in horse racing?
How to bet a superfecta?
Step 1
Log in to your betting account and choose the race you want to bet on
Step 2
You will see a "bet type" menu. Click on it and choose "superfecta"
Step 3
Enter your bet amount
Step 4
Pick four races and mark their finishing orders
Step 5
Your final bet slip will look like this: "Superfecta 5-3-4-1" This means you think that the fifth horse on that race will finish first, the third horse will finish second, and so on
Step 6
Submit your bet and wait for the race results
Best superfecta strategies for beginners & veterans
We can now start talking about the best superfecta wagering strategies. We listed them below and you can use them at all dollar betting sites. In addition to these, don't forget to take advantage of bonus offers such as free horse racing bets no deposit: The right bonus can make all the difference.
High & low superfecta strategy
This one is similar to a trifecta part wheel, but it is for a specific scenario when you have a "high" and a "low" horse. The high horse is the horse you think is most likely to win the race. The low horse is the horse that you think will finish the race in 3rd or 4th place.
If you can make an accurate prediction for only these two horses, you can use a low-cost superfecta strategy with just a 10-cent bet and get surprising results. To give you an idea, here is the cost of such a 10-cent superfecta bet:
This is probably the best 10 cent superfecta strategy for this specific scenario: If you can only predict the first and third/fourth horses, this superfecta system may be the best choice for you and you can use it at any of the new horse racing betting sites UK.
Cheap and effective superfecta strategies
Superfecta strategy for veterans
These superfecta strategies are for veterans: Bettors who already know all horse betting terms and how superfecta bets work. They are complex, require using multiple tickets, and can be a little riskier than usual. However, the payouts will be very good.
Key Horse with Required Finish: This superfecta betting strategy requires selecting a key horse, a horse you think will finish in the top 3. However, for this to work, the crowd-favorite must finish off-the-board, so your key horse cannot be the crowd favorite. You will bet three tickets and try to cover all of the possible finishing positions. It will look like this:
Your Horse / 2-3 / 2-3-4-5/ 2-3-4-5-6-7-8
COST OF 1 USD WAGER
36 USD
1 / Your Horse / 3-4-5 / 3-4-5-6-7-8
COST OF 1 USD WAGER
18 USD
1 / 2 / Your Horse / 4-5-6-7-8
The total cost is 60 USD and we covered 8 horses with these bets: This means we are betting on lots of combinations at once, so we have more winning chances.
Superfecta Wheel Strategy: As mentioned above, this superfecta strategy requires picking the winner horse only: You can select any number of other horses to finish in the second, third, and fourth places. There are 60 possible superfecta combinations you can use, which makes the maximum cost of a $1 superfecta wheel 60 USD. The advantage of this superfecta strategy is that it lowers the costs & allows you to bet on more combinations. This horse racing superfecta strategy can adapt to your bankroll too. For example, the cost of a $1 superfecta wheel bet will be:
THE NUMBER OF HORSES FOR THE REMAINING THREE POSITIONS
Simplest superfecta strategy
This is one of the most used superfecta strategies because it is very simple. It may not be the best superfecta strategy but is definitely the most popular superfecta strategy. It costs low enough and simple enough: A straight superfecta bet is 1-2-3-4, and if the final order of finish is 1-2-3-4, you win this bet.
In an 8-horse field, this means you need to correctly guess the correct finish order out of 1.680 different combinations and yes, it is a long shot. But this bet costs only 2 USD.
Pros and cons of Superfecta betting
PROS
Payouts are satisfying
You can play even with 10 cents
The odds are high enough
CONS
Hard to win
Can be too complex for beginners
Frequently Asked Questions about Superfecta strategies:
No. We listed the best sports betting strategies above but none of them "guarantees" a thing. Superfecta is a risky bet and you can still lose even with the best superfecta strategy.
Check the top superfecta strategies we listed above: If you are a beginner, superfecta wheel betting is your safest strategy.
Yes, but they won't be record-breaking numbers. The most profitable superfecta strategy is wheel betting in the long run: The profits won't be big but they will still be profits.
If this is a $1 Superfecta Box bet, the cost will be 120 USD, as there are 120 possible combinations.
Play with the winning superfecta strategies
We listed the best superfecta strategies: You can try them all at our recommended bookmakers and find out which superfecta strategy works best for you. You may also want to try other types of bets on horse racing, such as forecast bets or reverse forecast bets.
Superfecta is an exciting bet option and offers great excitement & high payouts when you win. And with these strategies, you are more likely to win than ever: Good luck!
Other articles you might like:
Other Tutorials and Strategies