Late goal insurance offers | 2023 updated guide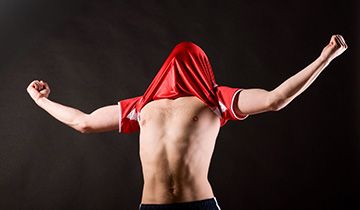 If you play any game long enough, you will eventually get to experience all the pitfalls and pleasant surprises associated to it. In the line of sports betting, there are plenty of surprising outcomes that can lift the spirits of punters, but also heartbreaking moments. Perhaps the most frustrating event that sadly happens with a pretty high frequency is to see a winning wager rendered useless by a late goal.
Contrary to popular belief, it happens pretty often that a game that is seemingly heading to a predictable outcome is utterly changed by a lucky goal. With a lot of money being lost in the final minutes of regulation time and sometimes in those couple of minutes of extra time, these are the bad beat stories you hear more often. Virtually anyone has such a sad narrative to share with his peers, while those fortunate situations when a lucky goal brings profits no one expects, are seldom remember.
Bookmakers are now trying to make the situation more bearable and help players reduce the frequency of those cases when they lose everything seconds prior to the final whistle. The late goal refund campaigns are focusing precisely on these forgettable events and they are offered on a broad scale. There are a couple of terms and conditions that players need to abide by and also small compromises to make, such as to focus on selected markets and wagers.
Top Bookmakers with the Best Welcome Bonuses
in 28 September 2023 – Updated List
Rank
Bookmaker
Bonus
Safe & Trusted
Rating
Get Started
The advantages of late goal cashback
It is probably self evident that those bookmakers currently offering injury time insurance are making it easier for players to stay afloat. There are plenty who blame bad luck for their misfortunes and in the back of their heads, they use the late goals as an excuse for their mishaps. The late goal offers have a two-pronged effect, on one hand reducing the amounts lost, on the other forcing punters to reevaluate their betting patterns.
Today there are plenty of bookmakers who allow customers to use the cash out feature and lock in on their existing profits way before the final whistle. Savvy punters are making great use of these campaigns and the most experienced ones know how to extract maximum value. At the same time, there are many who are so concerned about the possibility of losing money in the final minutes, that they sacrifice potential profits by selling the bets when this moves makes no sense whatsoever.
As a first glance it might seem like the late goal insurance is defeating the purpose of maximizing the profit margin for bookmakers. Punters are the obvious beneficiaries of these campaigns, as they no longer have to make painful decisions, as they already have a safety net in place. The odds offered by bookies to those who contemplate the possibility of closing bets with five minutes left in the game are borderline rip-off and they play on the weakness of less experienced punters.
By comparison, the overtime goals promo encourages players to hold their ground and wait a bit longer, therefore making the reasonable decision as opposed to one based on impulse. In football last minute goals are downright frightening and that's why players are reluctant to assume a captain's stance and go down with the ship if necessary. The bottom line is that late goal promotions are bolstering the confidence of punters while occasionally saving them from painful losses.
Which markets qualify for the late goal refund?
When things sound too good to be true, they usually are and in exchange of receiving something that looks like a freebie, players are expected to make certain compromises. In this particular case, the late goal reimbursement doesn't come at a hefty price and all that players need to do is to comply with terms and conditions. They must accept the fact that the refunded amount will consist of a free bet, therefore its stakes will be subtracted once the games conclude and they also need to focus on selected markets.
To some extent, the late goal money back betting offers are a bit restrictive, because those who bet on the outright winner, the total number of goals and other basic markets are not eligible for a refund. By contrast, these campaigns appeal to punters who don't mind assuming high risks for a chance of winning a significant amount. Speculative markets, such as indicating the name of first, last or anytime goalscorer (and also scorecast bets and wincast bets), to win both halves, correct score and halftime fulltime bet results are a perfect match for late goal offers.
Depending on how lopsided the games are, the odds on these markets range from those that barely hit even value, to some that produce a return on investment many times the stakes. It's almost unheard of players being given odds of less than 2.00 to score the opening goal and there are few instances when such value is offered on the anytime goalscorer. Betting on 2.00 odds, also known as EVS betting can be quite risky but you can have your stake doubled. Half time/full-time markets and similar combinations can sometimes result in less riskier bets, but this is the exception rather than the rule.
As the biggest betting companies are slowly realizing the importance of diversifying their refund campaigns, the late goal reimbursement is gaining a lot of traction. Such offers can be used in conjunction with the bore draw refund, which have the stakes returned up to a maximum amount when the games result in a draw without a goal being scored. While not necessarily mutually exclusive, the very nature of these promotions makes it impossible for players to win in both cases.
The arguments in favor of choosing bookmakers that offer both of them are strictly related to minimizing the risks. Sometimes they have the unintended consequence of opening the appetite for risk taking, as players are inclined to take more chances when they know that they may get a second chance. One would need to exercise caution when embarking on new promotions, even some that look so tempting as the late goal reimbursement.
How to maximize the late goal insurance
The late game campaigns can be profitable by themselves, although they usually address the need of recuperating some of the losses. The reason for why they were introduced in the first place was not to maximize the profits, but to reduce the money lost. In the long run, these two actions converge to the same outcome and savvy punters know that in the great scheme of things a bet not lost is a bet won.
Amateurs and recreational players are going to regard the late bet offers as an unintended, although welcomed safety net. There are ways to maximize the effect of such campaigns with minimal effort and the first step is to open multiple accounts with different bookmakers. The idea is to have more options when redeeming the free bets, by taking advantage of better odds and on rare occasions to use hedging strategies to bet on opposing outcomes.
This is a practice frowned upon by bookies and those who read the fine print of the terms and conditions will learn that free bets generated from late goal insurance are prohibited from being used in this manner. Once again, the idea of resorting to these fotball betting strategies is to reduce the chances taken and the best case scenario is to opt for risk free bet offers. The advantage of having multiple accounts with several bookies is that you get to bet on the best odds, instead of settling for a standard offer.
As explained above, by using the injury time insurance in conjunction with bore draw campaigns, you have more chances to receive a loyalty bonus when things go south. Betting on individual games is necessary to tap into the immense potential of such promotions, so being restricted to a handful of higher risk matches is not such a major inconvenience. It's also recommended to wager with bookmakers that offer both football last minute goals insurance and the possibility to cash out profits.
Top late goal insurance offers by bookmakers
Involuntarily punters are making plans in advance when the game they chose is well on the right track with just a couple of minutes left. When such matches are derailed by a late game, they are left in the state of these may and quite often succumb to tilt, therefore further amplifying their losses. Late goal insurance promos can help them stay positive even when they don't actually win the amount they were counting on.
Several bookmakers are currently running such tempting promotions for existing customers and will offer free bets to those who lose in overtime. It's even better when the generosity of these campaigns also includes the final five minutes of regulation time. Betway is such a bookmaker that will refund all the bets lost as a result of a goal being scored from the 85th minute onward.
Their offer applies to all televised English Football League, Belgian Jupiler pro, Bundesliga, La Liga, Swedish Allsvenskan, Norwegian Tippeligaen (read also: NOK bookmakers and betting sites) or Finnish Veikkausliiga. One would need to bet prior to kickoff and only the half time/full-time or correct score markets qualify, but there are no prerequisites regarding the stakes. On the other hand, those who happen to lose in the final five minutes of regulation time will receive a maximum of €25 or currency equivalent, regardless of how much they wager.
Unibet was among the first to jump on the bandwagon and offer late goal refunds on the flagship football competitions. They've expanded their collection of games and now virtually all the games qualify, while the risks of losing in overtime have all but evaporated. The difference between their campaign and the ones offered by many of their counterparts is that players are only reimbursed if the dreadful goal is scored in the minutes of overtime.
Wagers of up to €100 will be reimbursed in full and in addition to the correct score at half time/full-time markets, Unibet chose to also introduce the first and last goalscorer bets. Their promotions are mostly geared towards the main European football competitions and this offer is available to all those who place a pre-match bet on the Champions League fixtures.
It's important to mention that when wagering on games scheduled for the elimination round, the late goal reimbursement doesn't apply to the two halves of extra time. Unibet is simply trying to save the players the pain of going through the late game drama, without cutting down on its otherwise generous odds.
GR88 is a relatively new bookmaker with high expectations and it already learned the ropes of highly successful promotions. With the late goal offers being among the most popular, it was only natural for them to reimburse those who lose in the last minutes. Their campaign is a successful hybrid between the standard approach which refunds all the goals scored after the 85th minute and those promotions that are centered on the injury time goes.
When a goal is scored against their team and as a result they lose their bets, players will be eligible for a refund of up to €50. The trick is that the dreadful goal is to come after the 88th minute and it includes all the additional minutes given by the referee. The money is awarded as a free bet, so it is subject to a one-time wagering requirements and players can only count on the profits they make, not the stake itself.
BetVictor has some of the best Correct Score, Half-Time / Full-Time, First Goal Scorer, Last Goal Scorer, Spincast or Scorecast bet offers of all online bookmakers. It would have been a shame not to encourage punters to bet on these markets, by failing to come up with a compelling late goal package.\
Betfred also has some exclusive offers on goals scored, and Goals Galore No Draw is definitely worth checking out.
For the time being, their offer only includes Premier League matches but every now and then the promotion is extended to include prominent tournaments, such as the Champions League, Euro or the World Cup. If a goal is scored in the stoppage time, BetVictor will reimburse all the losing wagers placed on the aforementioned markets, up to a maximum of €25 or currency equivalent.
FAQ about Late goals insurance
Late goal insurance is that situation when your team will lose a game in the late part of the game, so the bookmakers, according to some terms and conditions, will refund your bet or will give your money back.
According to some statistics, the late goal insurance was made almost for football because almost 50% of the goals are scored after the 70th minute.
No, you can find late goal insurance offers in Football, Hockey, Polo, and other sports where you can score goals. You can have those offers in Tennis or Basketball.
You can skip a late goal bet when you can't see on the pitch what you want even if your team is on the field. So, you need to think clearly and skip sometime a late goal bet.
Other For sports