Daily price boosts and enhanced odds | Best enhanced bets offers [2023]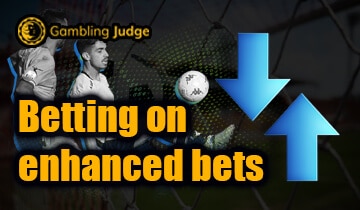 Daily price boosts and enhanced odds are a bargain hunter's dream come true. Imagine being able to buy a $100 pair of shoes for $25 or a $50 bag of groceries for $15. Enhanced bets provide you with such an opportunity to mitigate the house edge and level the playing field.
How about four ounces of gold for the price of one? This is the same idea behind these new and popular promotions that bettors can find at some of the world's best online gambling sites.
In this guide, we review the most popular enhanced odds offers available and some of the best bookmakers in 2023. Keep reading to find out how the odds and price boost offers work and which are the terms and conditions that govern these opportunities.
Best Daily Price Boosts and Enhanced Odds promotions
in 18 September 2023 – Updated List
The definitive 2023 guide for enhanced bets
What are and how do enhanced bets work?
Enhanced football bets are sought after by players signing up for accounts with an online bookmaker. They have essentially inflated odds offered by the house to reward new players for choosing them. These are the best odds margins one can hope to find online, but in most cases they are one-time opportunities.
Some bookmakers have free bet offers for existing customers that propose the same enhanced football odds. By betting on these matches, players enjoy the best odds guaranteed. They still need to make the right prediction, but if they win, they claim profits that are significantly higher than regular odds.
What about enhanced odds?
Are enhanced odds and enhanced bets the same thing?
Savvy punters shop arbing or simply put sharbing are always on the lookout for new customer enhanced odds. There are few arbitrage-friendly bookmakers out there, so risk-free and no-lose offers are in short supply. When doing this kind of research, you can stumble upon offers such as the Paddy Power enhanced bets or the Betfair enhanced odds.
At the first glance, these might look like entirely different things, but they are essentially the same. Enhanced bets and bookmaker enhanced odds are identical and consist of increased odds on selected markets, which are subject to strict terms and conditions.
A quick glance at price boosts
Why do sportsbooks offer enhanced odds?
Enhanced bets are not that difficult to find, as most bookmakers use them routinely as marketing tools. They are offered for advertising purposes, to appeal to prospective players looking for the best closing odds.
Offers to new members or through betting reload offers, these enhanced odds are appealing but they come with certain strings attached. In your quest for the best EVS betting opportunities and price boosts, you should be wary of these things:
New customer restrictions – some enhanced football bets are only accessible to new players. This means that existing members can take advantage and won't benefit from the price boosts.
Country restrictions – when searching for the best enhanced odds offers, pay attention to country restrictions. Residents of certain nations might be eligible for these offers.
Maximum bet limits – to limit the arbitrage opportunities, most bookmakers allow you to bet the maximum amount on enhanced bets. The limits are generally prohibitive to limit maximum winnings.
Ineligible deposit methods – e-wallets are frequently excluded from both single and acca enhanced odds offers. You would have to use credit and debit cards or wire transfers to take advantage of these offers.
Enhanced odds paid in free bets – some bookmakers will award profits resulting from price boosts in free bets. Unlike enhanced odds paid in cash, these are subject to further wagering requirements.
Enhanced odds tips & tricks
Enhanced football bets are useful for everyone, including beginners who rely on them to bet at higher odds. With the right approach, you can come up with the
best staking plan for low odds
and even use enhanced bets to produce a total or
partially matched bet
. These are some of the tips and tricks that can help you maximize the returns when using matched betting enhanced odds.
👉See what the experts have to say – pay attention to the matched betting offers professional tipsters recommend. These can help you harness the power of enhanced odds to turn your unmatched bet into an arbitrage wagered. Use the enhanced football bets to wager on opposing results and win for sure.
👉Build an accumulator – you can offset the effects of dropping odds or odds shortening and underpriced favorites with enhanced bets. Add multiple selections on the same betting slip to create higher-paying accumulators, 5 should be enough. Read our guide on how to win football accumulators for more tips and strategies. When betting live, accept all odds movement to quickly take advantage of fast-changing odds.
👉Focus on profitable markets – go beyond conventional wisdom and tinker with special markets. Spread betting can be particularly profitable, especially if you combine enhanced bets with Asian handicap arbitrage. If you have accounts with several bookmakers, you can place concurrent bets that always win.
Where can you find enhanced offers?
There are plenty of bookmakers offering enhanced football bets, so you can simply check their websites. It is far easier to simply use our page to check out all the latest offers at a glance.
Here you'll find updated information about the best offers, as well as time-limited enhanced odds. Don't ignore social media as a reliable source of information, with some cool offers being popularized on Twitter, Facebook, and Reddit.
Pros and cons of using enhanced odds
CONS
Maximum betting limits apply
Subject to strict terms and conditions
Frequently Asked Questions about enhanced bets:
These are enhanced bets on outright winners, involving two teams or athletes to finish first and second.
Price boosts and enhanced odds are the same, only the name differs.
Most bookmakers don't allow early cash outs for enhanced odds or price boosts offers.
Many bookmakers offer enhanced football bets as incentives to new and existing players.
Most enhanced bets focus on new members, but existing customers are also eligible at some bookies
UK bookies love enhanced football bets, but these offers can be found at international operators too.
Maximize your sports winnings with enhanced odds
Enhanced bets, odds, and price boosts are different names that refer to the same generous offers. When you sign up for an account at bookmakers offering them, you might have the chance to place bets at inflated odds. On one hand, this will give you the opportunity of claiming bigger winnings while taking the same chances.
On the other hand, used in conjunction with arbitrage strategies, enhanced football bets can produce guaranteed winners. Regardless of how you choose to harness the power of enhanced bets, keep an eye for these bonuses and take advantage of them whenever an opportunity presents itself.