Best Bore Draw Promotions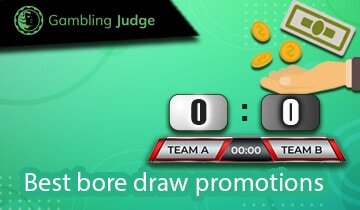 The quality of a football match is not indissolubly linked to the number of goals scored, although the fans prefer a high scoring game.
In fact one of the reasons for why many regular football aficionados end up placing a wager on a match is to turn the heat up a notch and make even the dullest affair an interesting feature.
It goes without saying that the worst-case scenario is to bet on a game between average teams and have it end in a bore draw.
Bookmakers have picked up on the vibes and are ready to meet punters halfway, with money back betting offers that are meant to alleviate the frustration felt when the games end undecided.
A bore draw campaign will usually refund the stakes lost by customers, up to a maximum amount if the game ends without either team scoring a goal in the form of a free bet.
The limits differ depending on the generosity of the bookmakers, but the basic principles of the bore draw insurance are the same.
Not all the games qualify for the 0-0 bore draw offer and bookies usually channeled their attention on prominent competitions or domestic leagues.
In anticipation of an international competition, such as the World Cup, the number of such promotions increases greatly, while bookmakers also boost the number of qualifying markets.
The idea is to cover a broad spectrum of bets and make the bore draw promotion alluring not only for those who bet on the outright winner but also savvy punters.
100% Goalless Draw Money Back from Veerbet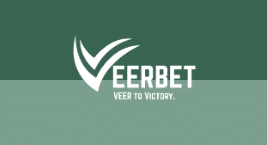 ➤ Place a single pre-match bet in a currency equivalent from
 5$ to 100$
 on the correct score (except for 0:0) of any Copa America, Africa Cup of Nations
, 
English Premier League, Spanish La Liga, German Bundesliga and Italian Serie A, Portuguese Primeira Liga,
Turkish
Super Lig, and France Ligue 1 football match
➤ If the match ends with the score 0:0 and your bet loses, Veerbet will provide you with a bonus of 100% of your bet amount.
Best Sports Welcome Bonus Offers
in 28 September 2023 – Updated List
Rank
Bookmaker
Bonus
Safe & Trusted
Rating
Get Started
The perks of bore draw offers
The obvious advantage of being a part of a bore draw money back deal is that you don't take additional chances for having a safety net in place. Since these campaigns are targeted on recreational players, the minimum bets that qualify for the reimbursement are extremely low.
Players are provided with the incentive to bet on draws, on tight games with no clear favorites, knowing that in such encounters, the odds of the match ending undecided are significantly higher. Usually at these games you find odds of 1/1 or 2.00, also known as even odds. Betting on even odds is also known as evens betting or EVS betting.
This is usually credited to the accounts of eligible punters immediately after the game has concluded, so they can use it on matches that are about to start. The very nature of free bets means that the amount is subject to a one-time wagering requirement and once the outcome of the game is decided, the stakes are subtracted.
The same thing applies to any free bet a UK player could get for signing up.
The bore draw refund is also subject to certain deadlines and players need to use the free bet within a reasonable timeframe, otherwise it will expire. Having the stakes returned up to a certain threshold means that punters can take more chances when gambling, but they are recommended to stick to the same approach in regard to the free bet.
With only the profits being credited to their account, it goes without saying that using the free bet on a risk match will defeat the purpose.
Bore draw offers have gained a lot of traction over the last couple of years, so it comes as no surprise that several sportsbooks are running them today as a way to attract new and keep existing customers.
This comes in handy for savvy punters who have accounts with multiple online gambling companies, as part of their arbitrage betting strategies (including hedge betting). Although, if they don't register at arbitrage friendly bookmakers, this is a very hard to spot tactic by the classic sportsbooks.
What types of bets qualify for a nil nil cashback?
0-0 bore draw promotions are not offered on all markets and players need to focus on a relatively narrow niche if they want to benefit from a potential reimbursement. Only those bets that end out of money are refunded, so the best case scenario is to actually place a winning bet, rather than hope for the game to end undecided and with no goals scored.
The most popular bets that are also eligible for a bore draw insurance are the halftime fulltime bets, bets on the last, anytime or first goalscorer as well as correct scores or to win both halves bets. One of the things that these wagers have in common is that they have higher than average odds and an excellent return on investment.
Players can make a relatively small financial commitment and aspire to win several times more, so these bets are speculative and variance is a major concern.
At least in theory, the bore draw money back promotion generates the same benefits regardless of which of the aforesaid markets punters choose to focus on. At the closer look, it is pretty obvious why professionals are usually betting on narrow margin wins, draws at both halftime and fulltime, as well as underdogs scoring the first goal.
The thing that all these markets have in common is that there is a strong possibility for the game to be a scoring affair and a nil-nil result is one of the more probable outcomes. Derbies and games where the teams involved would benefit greatly from splitting the points tend to be more profitable in the long run.
There is no guarantee that a bore draw promotion will actually trigger a reimbursement, but punters have the duty of trying to mitigate the risks by any means.
Offers compatible with bore draw promotions
While it is not customary for bookies to offer a nil nil cashback on all football games, the number of operators that are a part of this trend is constantly growing.
They tend to focus on prominent competitions and the qualifying markets range from the standard First Goalscorer, Last Goalscorer, Scorecast bets (First Goalscorer Scorecast and Last Goalscorer Scorecast) to more exotic ones such as To Score A Hat-Trick.
The rules are more or less the same and it is mandatory for the game to end undecided, without any of the teams scoring a goal. There are a handful of bookmakers who have their created from the basic guidelines and offer a similar refund to all the games where points are split.
Basically all the draws are covered, but the qualifying markets are more restrictive, while the maximum amount that one can have reimbursed is significantly lower.
It doesn't happen all that often for players to be allowed to place several bets on the same wagering slip and still qualify for a reimbursement. The rule of thumb states that only single bets are eligible for a refund and only on selected competitions.
Using these selections on accumulators or in conjuction with acca insurance is not allowed. So draw no bet accumulators do not qualify for bore draw promotions. On the bright side, it is perfectly possible to place a single bet and be eligible for different types of reimbursement, since players are not supposed to opt in.
A shining example of reload offers UK, but also for players from other countries, that also results in free bets and doesn't interfere with the bore draw promotion is the late goal insurance. This type of wager does exactly what the name indicates and will refund the losses incurred as a result of players losing in the final minutes of the game.
The bets that qualify for the refund are those that are winning at the time the decisive goal is scored, with the deadline being usually set for the 85th minute.
There are plenty of occasions when the fate of a game is decided in the late minutes of regulation time or even in extra time. Bookies who are willing to offer a free bet to those who lose in this heartbreaking manner, don't mind that these two promotions are overlapping.
Basically, if no goal is scored by the 85th minute, players will have to distinct chances to have their stakes returned to their account,
The fact that these promotions have similar requirements further reduces the risks of players losing their bets when wagering on speculative markets. In both cases it is essential to wager on the Correct Score, Half-Time/Full-Time or Scorecast, score at half time, to win either half and so on, before the first whistle.
Players can hit two birds with one stone and also benefit from the extraordinary odds associated to these types of markets
Frequently Asked Questions
Your best shot at finding bookmakers that offer bore draw promotions is to go with one of the bookmakers listed on this page, as not all leading bookies provide this option.
A bore draw money back offer is a special bonus bet you can make. It allows for a full or partial refund if the final score in a sporting event in a draw. In most cases, the bet refers to football markets.
A "bore draw" is a sporting event where there is no winner. In terms of football, this often means a 0-0 score line, where the lack of goals have invoked no excitement amongst the viewers.
Bet365 is one of the leading bookmakers to offer bore draws. They aren't alone in doing this, but Bet365's offer is valid on correct score, half-time/full-time scores and Scorecast bets on any football match.
Popular bore draw offers by bookmakers
LSbet was one of the international gambling companies to introduce the bore draw refund and they are still one of the few that cover all football games. With hundreds of qualifying matches, punters enjoy unlimited freedom when choosing what games to bet on and they will be reimbursed up to €20.
The free bet is given to all those who lose after placing a pre-match Correct Score, Half-Time/Full-Time or Scorecast bet. So most of the football betting strategies will work here. Once players receive the free bet, they can use it not only on football games, but on virtually any sport that is currently offered by LSbet.
Stan James makes a very similar proposition and the Bore Draw special is going to refund the stakes of losing bets on Scottish and English football leagues. An additional request that the bookmaker has is that the games need to be televised, with the list of qualifying matches being published on the website.
If you are not able to catch the tv station broadcasting the game, remember there are plenty of betting sites with live streaming where you can see it. The nil-nil promotion applies to the First Goalscorer, Last Goalscorer, First Goalscorer Scorecast, Last Goalscorer Scorecast, To Score A Hat-Trick markets.
Recently new to the betting arena, BetBright was quick to embrace those sports betting bonuses that have proved their worth in the past. The 0-0 moneyback offer is actually a standard board draw refund, but it has the particularity of applying exclusively to the Champions League games.
The best part is that this campaign can be used in conjunction to any deposit or no deposit free bet and the promtions are not mutually exclusive.
Each year, the bookie extends its generosity to matches played beyond the group stage and the fact that it is a betting exchange provides unique opportunities to punters. The promotion only applies to those bets placed prior to kickoff, so those who fancy live betting, won't be eligible for a refund.
William Hill has its own bore draw insurance and once again it covers virtually all the football matches, including those played in lower divisions. Players need to wager on the name of the first goalscorer, the last to find his way to the net, the score casts and various combinations of these markets.
Players can make the transition from the traditional casino section to the betting exchange and benefit from the same lucrative currency regardless of whether they back or lay a favorite.
Another betting exchange that is keen on introducing this popular concept of bore draw reimbursements is Smarkets. These guys offer better than average odds and in exchange of benefiting from a potential refund, punters don't have to trade this value.
The welcome bonus consists in a free bet, but those who choose to bet on the first or last goalscorer, scorecast or hat trick scorer will have this freebies queued.
The generosity of this promotion extends to all the games, but whenever major competitions are about to start, the odds offered are boosted. Those who sign up for new accounts are also eligible to bet on the same matches at higher odds and still qualify for a bore draw reimbursement.
BetSafe is yet to make nil –nil bore draw campaigns the standard and such offers are only available for some football competitions. Insurance was given to all those who wager on the World Cup and it is only fair to expect them to run similar campaigns when the European championship starts.
The same can be said about 138, an Asian oriented bookmaker that has a reputation for celebrating the most important tournaments with bore draw deals.
Other articles you might like:
Other For sports