How to bet by SMS or Text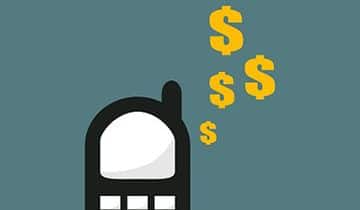 We tend to take the advancements of technology for granted and punters among others embrace them wholeheartedly and are reluctant to return to their old betting ways.
Once the transition to online gambling has been made, desktop and laptop computers became widespread for wagering purposes.
Today it is customary for bookmakers to offer mobile gambling possibilities and many have dedicated applications that run on mobiles and ipad tablets powered by various operating systems.
These devices are usually using the same manner as computers, with an Internet connection being all that it takes to learn trips and tricks from a virtual betting guide or how to place a bet at the bookies.
Admittedly, bets over text aren't common, especially nowadays. Our money says that you that you probably didn't even know you could bet using mobile phone credit, did you? Well at Boku betting sites it is.
Only a fraction of those who own a smart phone rely on text betting, but this way of placing wagers is far more popular among those who use regular mobile devices.
Granted their number is shrinking every day, SMS betting is still pretty useful due to the fact that it can be relied upon when you don't have access to the Internet.
The utility of this service is self evident, but the truth is that the vast majority of gamblers are reluctant to use it for the first time.
They assume that the procedure is far more complicated than it actually is, but once you get hooked on text betting, it quickly turns into one of the most convenient solutions.
Interesting enough, many bookies who have released special applications for mobile devices are still offering text betting and even incorporated this feature into their apps.
On the other hand, only a handful of them cater exclusively for those who use phones with no Internet capabilities.
Truth be told, even if you are on the right track you will get run over if you just sit there and text betting is not the tool of the future.
Every now and then, there will be special mobile promotions dedicated to those who are still hooked on SMS betting, consisting of free bets and loyalty bonuses.
Let's begin this guide then and show you how to bet with SMS.
Best Sports Welcome Bonuses
in 21 June 2022 – Updated List
Rank
Bookmaker
Bonus
Safe & Trusted
Rating
Get Started
Is SMS Betting More Than a Gimmick?
This is a legitimate question given all the alternatives that players have when betting and the fact that overall text betting represents a rather narrow niche.
The main advantage of SMS betting is that you can travel abroad or anywhere without requiring an Internet connection. A simple text message sent to your bookmaker will allow you to place the wager without any delays and there is no longer a necessity of finding a land-based bookie. In some cases, you may even receive bookie texts, which tell you of exciting offers.
The process itself is also surprisingly easy and punters only need to set up an account compatible with SMS betting. This initial step doesn't take any longer than opening a real money account with the gambling operator and customer support is always willing to lend a helping hand.
Those who want to use text betting with bookmakers will often be required to verify their account and the phone number, a procedure that also takes just a few seconds. From there on out, you're ready to place bets over text.
Under normal circumstances, those who apply for a SMS betting service will be notified by a short message that their online account and phone number was verified. This is an essential step that all punters need to fulfill, but from this point onward the process is fully automatic.
This is the purpose of text betting in the first place and except for the inherent limitations that have to do with the maximum size of the bet, there are no obstacles to overcome.
Also, if you also want to learn how to bet online from abroad as a UK player, check here our guide.
How to Use Text Betting with Ease?
In order to bet by text, you don't need any previous experience, but there are a couple of guidelines that bookmakers urge prospective customers to get familiar with. To start with, there are special numbers that players need to use when they bet by text and certain codes and abbreviations.
The ones who are handling text betting are well versed in the art of placing these wagers fast enough as to take advantage even of matches that will start on a short notice. Those who bet in text message format often place the majority of their wagers via this medium.
Text betting services don't require a special account and players can use the same one for SMS betting, but they are required to choose a username. It is also extremely important for punters to double check the size of their bet, the type of the wager as well as the selections. Since it is possible to place accumulator bets (from a double bet to a 5 fold bet, 7 fold bet or even a 20 fold bet), going over the message when you bet by SMS will mitigate the risks of making mistakes.
The best bookmakers are also allowing customers to set up an account by simply making a phone call on one of the toll-free numbers they offer. The idea is to keep the entire registration process consistent and coherent, since the same mobile phones will be used for text betting.
Once you are fully integrated in this virtual ecosystem, you will be able to bet on any sports or events as you would by phone, online or in land-based venues when bookmakers have established such a presence.
SMS betting represents just the tip of the iceberg and players can also deposit funds by phone or use the tax betting service to deposit funds. They would still have to verify their credit cards or financial instruments, but once they do it, future transactions will be performed much faster.
Many fund their bet using mobile phone credit, although the winnings are normally paid out via credit card and bank transfers. If you've got rapid bets to make over text, credit is a quick and easy way to go about that. Nowadays, you can also bet using phone bill to go about that process.
The minimum bet amounts vary from bookmaker to bookmaker, but they are generally the same and the only additional costs are the result of network providers charging a fee for SMS.
Bookmakers offering SMS Text betting
When the first bookies made the transition from land-based wagering to Internet gambling, finding those offering SMS betting was pretty difficult. It's not that easy today but for entirely different reasons, as many simply made the transition from conventional betting to online gambling while skipping this step.
Luckily for those who are hooked on SMS betting there are still legal betting sites that offer highly professional text betting services.
The Paddy Power messenger app is a shining example of application that serves multiple purposes, including this convenient way of wagering. You can bet by SMS here on any of their sports and also stay up to date with the latest news regarded as the games of interest.
The app is fully customizable and players can choose to be notified about the latest changes that occurred on the football pitch, live scores and all sorts of shifting odds and results.
Those who are in the market for text betting with bookmakers will find the Paddy Power messenger app to meet them halfway on both iOS and Android powered devices. Both device manufacturers are gaining traction worldwide, so it is only natural to have the application compatible with these operating systems.
Obviously, you would need a smart phone to unlock the full potential of the Paddy Power messenger app, otherwise, you will have to settle for the rather mundane task of betting by SMS.
This is not the only online gambling operator where text betting with bookmakers is possible and another UK-based company is offering a compelling service. William Hill is one of the most reputable international gambling companies and their text betting service is available 24/7 just like the customer support, so any questions regarding it will be promptly answered.
It is most convenient that players can use smartphones and tablets to get in touch with their specialists via live chat and also bet by text when an Internet connection is not available.
William Hill, as one of the best high stakes betting sites, has also bump the limits for their SMS betting service and as long as players have enough money in their account, they won't have a problem with betting as high rollers. It is also very easy to deposit and cash out funds by using the same text betting service, so you will be hitting two birds with one stone.
The bookmaker will require players to register their mobiles to get started and it is of critical importance to correctly and then the mobile number to allow the system to recognize the device.
The text betting service will prove its effectiveness and celerity by providing a confirmation code immediately, although players could also expect a phone call to provide additional details. The faster they complete these preliminary steps, the faster will they be able to bet by SMS.
Once they jump on the bandwagon, they can bet on football games, Greyhound and horse racing competitions and everything in between. No commission is charged for using the text betting service.
Ladbrokes have its very own SMS betting service and they take great pride in simplifying the sign up process as well as the wagering itself. In order to start betting with bookmakers, players have to register a real money account and confirm personal information, something that Ladbrokes also demands.
Not all the details are required immediately, with most being only necessary when they cash out for the first time, no matter what the bookmaker withdrawal limits are.
To bet by text, players will have to enter the stake, the bet type as well as the selection of multiple bets if they fancy accumulators with acca insurance, maybe. The number to use when undergoing this process is 60043, not the easiest one to remember but five digits that players will surely keep in mind if they bet by SMS several times.
Even in the initial stages, the odds of running into insurmountable obstacles are slim to none, as the ones placing the wagers on your behalf know how to interpret the data sent.
Ladbrokes emphasizes the importance of double checking the facts, because the idea is to render any risks of misinterpreting the bet by text virtually nonexistent. Immediately after a bet is accepted, the bookie will send a bet received straight to the smartphone of the one placing a wager. Furthermore, players will be kept up to date with whatever happens, as they are notified by SMS is their bet is successful.
Anyone who has a real money account is by default eligible for the SMS text betting service, but they need to hit the activate button. This is the first time when a message needs to be sent to 60043 containing the chosen username and the request to activate the account. Someone will promptly reply to this request so players will be able to bet by SMS immediately and also use the text betting service to check their balance.
The same contact number needs to be used when punters choose to deposit funds or when they consider that it is time to cash out their profits. The operator has fine tuned the application, so that whenever players try to wager and they've got a negative balance or insufficient funds, they will also be notified. The proposed solution would be to automatically top off the account, so that the opportunity is not missed.
Those who have an active payment method will be able to perform this operation with a single click of the mouse. The only thing that is not possible by using the text messaging feature is to register a credit card or electronic wallet, so punters will have no choice but to go online. On the bright side, if you had a payment method that has expired and you simply need to update it, the customer support will be happy to do it on your behalf.
It may be a dying art, but the ability to bet via SMS does still exist. If you fancy an exciting way to wager on your favourite sports while on holiday, or where you cannot reach your normal bookie, betting via text is an interesting option.
Frequently Asked Questions
Yes, to register, text JOIN to 29252. Your username and password for logging in to the site will be sent to you in a reply message.
To withdraw money send W#amount#password (for example, W#300#qwerty123) to phone number 29252. The normal SMS charges will apply
Send a SMS of the games you have selected, your predictions for these games, and the amount you want to bet with
Other For sports