Giropay Bookmakers | Best Giropay betting sites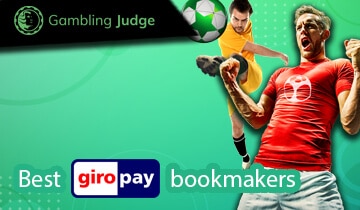 Giropay is an online payment software based on internet banking which was founded in February of 2006. It has gained great recognition in the past years and has been used by many cooperative banks of Germany. With a customer base of seventeen million, it works with about 60% of all commercial bank accounts which is about 1500 in total.
It is considered the most popular and trustable way of payment in Germany because of its level of transparency and security, for more information, read our article about German gambling sites. Giropay is, therefore, extensively used as one of the bookmakers payment methods by the best betting sites in Germany, pay n play casinos, etc. Giropay provides their customers the same payment environment as that of their bank's internet banking system.
Best Online Giropay Bookmakers
in 01 November 2023 – Updated List
Rank
Bookmaker
Bonus
Giropay accepted
Rating
Get Started
Giropay account could directly be linked to your bank account. When a merchant's or Giropay betting site's payment page will open, we would get the option of Giropay payment along with other options like a credit card, debit card, etc. Clicking on the option would lead you to your bank's internet banking page. After entering the required details such as account number and pin, your bank will authorize the transaction and you will receive a confirmation from the bank. It is a simple to use and secure gateway that guarantees payment of up to five thousand Euros.
Deposit
As a buyer, you can transfer or send money using Giropay. The steps to send money are:
Select your bank account from which you want to use Giropay

Log in to an online banking site using your bank details for example account number and PIN.

Then by providing your TAN, your Giropay transfer will be complete.
Withdrawal
Withdrawal is simple, as Giropay is linked to your bank account, any money transfer will directly be credited to your account.
Funding Giropay Account
There is no need of funding your Giropay account as it is linked to your bank account. Using Giropay ID you can easily transact directly from the linked bank account
Legal Age Online Prove
Your legal age and bank details can easily be verified by a website or Giropay betting sites, by simply using your Giropay ID and filling up the required bank details. 
Activating Giropay
By activating Giropay or Paydirekt you would be able to deposit with your username and password. Moreover, the transaction is additionally secured by paydirekt buyer's protection.
Open Giropay Website

Click on the option "Activate Giropay/paydirekt"

Select your bank name

Select the branch of the particular bank

Then fill in the user data form, that needs your email address, username, and password. Username and password are to be created.
List of betting sites that accept Giropay
22Bet Sports

William Hill

Register today at William Hill and get the sports welcome bonus: €30 after depositing just €10! Code: 'P30'.
1xBet Sport

PROS
Easy Access to Funds: The transaction is conducted by your host bank and hence Giropay gives you instant and easy access to your funds. After approving your Giropay bookmakers deposit transfer in a sportsbook or casino, the amount is immediately credited to your sportsbook account. Giropay is thus a quick and simple method to use for betting in bank transfer bookmakers and betting sites.
Reliable medium of Transaction: Giropay acts as a medium linking your bank account and the betting site. There is no involvement of any third party, unlike e-wallets. So, Giropay does not cause any technical problem during a transaction, if there is a problem it is either of the bank or the betting site and the newest online Giropay bookmakers.
Secure: Payment by Giropay in a betting site is secured by three layers of security, the betting site, the host bank, and the Giropay adds an extra layer of protection. It is thus one of the safest ways for depositing in pay by mobile casino sites and other betting sites. Moreover, Giropay uses AES 256-bit encryption and TLS 1.2 for data transmission, thus providing the highest level of security to your data.
A huge number of Bookies accept Giropay: Giropay is a popular bookmaker payment method in Germany, hence is accepted in almost all Germany-based online casinos, betting sites, and sportsbooks.
CONS
Cannot make Withdrawals from betting sites: The main drawback of the Giropay payment method is that there is no option to withdraw money from betting sites using Giropay. As an alternative bank transfers could be made, but take a longer time to process. And hence is not a payment method for instant withdrawal casino.
Bank restrictions: Giropay links to your host bank, while most of the German banks participate in the Giropay payment method but few lesser-known banks do not. People with an account in such banks cannot access Giropay. For online casino payment besides having an account in a bank that works with Giropay, you also need to have access to the internet banking of that bank to use Giropay.
Can not be accessed everywhere or by everybody: Giropay is a German company and works only in German-based casinos and sportsbooks. It cannot be used for offshore betting. Moreover, Giropay is not accessible in any other country like the UK, it gives its access only to residents of Germany.
Depositing and Withdrawing at Betting Sites that Accept Giropay
Depositing Funds using Giropay
Giropay provides an easy and quick method of depositing in online betting sites in a familiar environment. The steps to follow to deposit the betting sites are:
Log into your bookmaker account of your betting site. If you do not have a bookmaker account on a Giropay betting site, create your account by clicking on the sign-up option provided on the website of the particular betting site. You will have to create a username and password that will be used for logging into your account.

After logging into your account, you need to open the payment page or deposit page, where you will have to select the Giropay payment option.

Then you will need to select your host bank that is linked to the Giropay ID. 

Then you will be redirected to your bank's internet banking page, where you have to give your bank's account details like account number, PIN, TAN along with the amount to be deposited.

For a bank that uses multifactor authentication, you will receive a one-time security code that you have to put in to approve your transaction. 

After approving the deposit, the amount will immediately be reflected in your bookmaker account from which you can bet on games.
Withdrawing Funds using Giropay
As mentioned earlier, Giropay does not have an option to withdraw money from betting sites. The only way to withdraw the winning money for Giropay users is to pick an alternative. One popular alternative is bank transfer, though it takes days to get processed.  Another alternative is Trustly, which is similar to Giropay and has the withdrawal option, but it is not widely accepted and can only be accessed in Trustly betting sites and Trustly casinos. Some widely accepted payment methods include Neteller, Visa, Mastercard, etc.
How to Claim Free Bet Offers and Other Bonuses
All betting sites offer many appealing bonuses on sign-ups, using a particular payment method like Giropay, cryptocurrencies, etc, deposit money, etc to lure gamblers to play on their site.  To claim free bet offers and other bonuses follow these simple steps:
Create your account on a particular betting site, then log into that account.

Make a deposit to claim your welcome bonus or sign-up bonuses. 

After making a deposit, the bonus is automatically credited to your bookmaker account that could be used on betting. 

You can withdraw the money only after wagering it. different sites have variable wagering and withdrawal limit. 

Keep an eye on the bonuses and promotion webpage of the betting site, where you can find daily, weekly and monthly offers. Most betting sites have bonuses offered on matches of the day and live to bet.
Bonuses and offers are available with Giropay
There are various types of offers offered by any Giropay betting site, they are discussed below:
Sign-up offers:

These offers attract most of the customers of betting sites, therefore most of the betting sites offer attractive welcome bonuses. This could be claimed after registration and is valid for a short period after registration. To get the best offers and

welcome bonus with Giropay

one need to register in top websites like William Hill, bet us, etc. 

Loyalty programs:

these are premium membership programs, in which for a regular deposit of a certain amount, one gets regular offers, free bets, and other offers.

Free bets:

Free bets offer players a free wager of a fixed amount of money after they have made their first deposit. This is often is a part of the

sign-up offer through Giropay

Deposit offers:

This offer can be claimed after the first deposit of about ten to twenty US dollars or equivalent to that. After depositing the minimum required amount some websites offer a 100 percent bonus on deposit money, that is if you deposit 20 dollars, they credit an extra 20 dollars that could be wagered on bets. 

Promo codes:

Promotional codes are a part of marketing that attracts new players to a website. To claim an offer of promo code, you need to put the code during deposit, to different types of offers and bonuses like free bets, deposit bonuses, etc. Promo codes are heavily used by websites having affiliate programs, where if someone uses a promo code given by you, you get some commission as bonuses or offers. 
Comparison to Other Alternatives
Some of the alternatives to Giropay and best e-wallet and betting sites are:
Visa:

Visa is way higher in the market than Giropay contributing to its high-rate accessibility, but in the case of security in

Giropay bookies

, Giropay is better than Visa.

Mastercard:

Mastercard is accepted worldwide while Giropay is accessible only in Germany, but Giropay is more secure and cheaper than Mastercard

.
Paysafecard:

Giropay has is better than Paysafecard in terms of availability in the finance and e-commerce market, while Paysafecard is quite popular in the gambling and betting industry and is available in countries other than Germany covering UK, Canada, Poland, India, and many other. It could be used in any betting site which is on the

2023 Paysafecard casinos list

. You should also check our Amazon Pay list of bookmakers.
PayPal

: PayPal is an e-wallet while Giropay is directly linked to your bank account, both provide a secure way of payment while Giropay provides greater security.

Apple pay: Apple pay is a payment app for iOS or apple users, where one can store their card details which are used to make online payments while Giropay provides an internet banking environment for making payments. Apple pay is more convenient while Giropay is comparatively safer.
Bitcoin:

Bitcoin is a cryptocurrency that is secured by blockchain technology while Giropay is a payment gateway using 256-bit encryption. Both provide exceptional security to your data. Bitcoin is the best payment option in a

no account casino

.

Sofort:

It is the main competitor of Giropay in Germany, their function is quite the same but Sofort is available in other countries like Austria, Belgium, Netherlands, Italy, Spain, and Slovakia.

Trustly:

The main difference between the two, its availability of withdrawal options in Trustly, while trustly is far less popular than Giropay in Germany. But it is available in 29 countries across Europe.
All betting sites have a certain limit to which they offer bonuses. This varies for different sites like for BetUs it is 2500 dollars while for Bovada sports it is 250 dollars.
To pick the best welcome bonus you need to check two things for a website, first, the percentage of bonus that could even be 400percent, and second is the wagering limit, sometimes the bonus would not be profitable if the site has an unattainable wagering limit. It is advised to deposit the maximum amount while claiming a welcome bonus, as it is the best offer you get on betting sites.
This minimum amount on betting sites is variable while that standard amount for UK-based casinos and sportsbooks is around 10 to 20 dollars.
This too varies for different sites, like William Hill is one of the highest deposit sites that allows 250 thousand euros of maximum deposit, while sites like BetVictor and Coral have no limit for deposit amount.
It depends, some e-wallets allowing sending money to ID s of other payment methods.
No, you can not cancel a deposit after it has been made. You can try to withdraw but most betting sites have a higher withdrawal limit and deposit, besides there are withdrawal and wagering restrictions that make it impossible to get your deposit back immediately.
Giropay is an excellent bookmaker payment method, which is safe, secure, and user-friendly. It is one the best ways for transactions given that you are a German citizen having a bank account that works on Giropay. Some updates on accessibility in Giropay Germany could make the payment method the best for betting sites.