Neteller Bookmakers and Betting Sites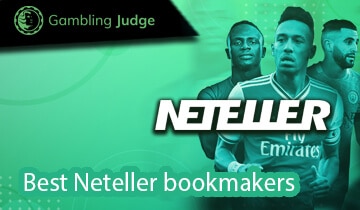 Neteller is an e-wallet that was established in Canada in 1999. The company moved its base to the Isle of Man in 2004. Its primary function is to allow people and businesses to transfer money online.
A person or business can open a Neteller account by following the instructions found on the official website. Depending on what country you live in, there are about 40 different ways to add funds in different currencies, such as Swiss francs (CHF), to a Neteller account with the most common methods being via bank transfer and credit/debit card.
Account-holders can withdraw funds using the same methods. Under the Financial Conduct Authority (FCA) e-money regulations, Neteller is required to keep customer funds in a separate account from their operating account so that all customer funds can be repaid simultaneously.
Since 2003, Neteller account holders have been able to get a Net + prepaid Mastercard which may be used at point-of-sale wherever Mastercard is accepted. The Net + card can also be used to withdraw cash at select ATMs. However, in November 2016, Neteller announced that they were discontinuing the use of the Net + card in over 100 countries.
While this change in policy does not affect countries in the European Single Euro Payment Area (SEPA), it does affect some of the biggest gambling markets on Earth including Brazil and Australia.
Customers in Russia and China may continue using their Net + cards until they expire but they will not be able to renew them. PaySafe, the company that owns Neteller, has not yet publicly explained its reasoning behind this move at the Russian betting sites.
If you have ever made a deposit into an online betting Neteller site, you have likely seen the Neteller logo displayed as a payment option. Neteller is one of the most popular payment methods for online bookmakers and there are hundreds of betting sites using Neteller.
It became an accepted form of gambling payment in July 2000. Soon after, Neteller gambling transfers accounted for 95% of the company's revenues. Neteller's annual revenues stood at $89.6 million in 2014.
Best Neteller Betting Sites
in 01 November 2023 – Updated List
Rank
Bookmaker
Bonus
Safe & Trusted
Rating
Get Started
How and Why Should You Use Neteller for Sports Betting?
There are many reasons why Neteller is an excellent payment method for online sports betting. Aside from being a fast and easy payment method, a strong majority of sports betting sites are Neteller friendly, so there are lots of Neteller betting sites to pick, which results in more options.
Online betting Neteller deposits are usually instant and withdrawals are a cinch. Users can also rest assured that their funds are safe and secure.
Using Neteller to perform financial betting transactions with Neteller friendly sportsbooks couldn't be simpler. To start, go to the official website and open up an account. It doesn't cost a thing and it can be done in a couple of minutes.
The next step is to fund your Neteller account by using a credit card, bank account, or any number of other methods that are available depending on what country you reside in. Be sure to check with them to see what methods are available in your country.
Most deposits are instantly credited to a Neteller account and can be used immediately to fund your Neteller friendly sportsbook.
Finding a Neteller accepting bookmaker can be done by referring to the Neteller bookmakers database at Gamblingjudge.com and selecting "Neteller" in the payment method filter – we have dozens of betting sites that accept Neteller in our database.
Search results will yield an extensive list of recommended Neteller gambling sites that accept this method of payment, including Thai gambling sites.
Conscientious bettors are advised to read the in-depth reviews of our top 100 bookmakers so that they can make an informed decision when they choose their Neteller bookmaker. In fact, you can even find betting sites that accept Neteller from Americans or Neteller Belgium betting sites (betting exchange – Belgium based sites included). Our reviews are geo-targeted.
One step that Neteller customers should promptly take is completing the verification process. You will need to submit copies of your identification along with some basic banking information. This can all be done electronically and typically takes just a couple of days to be completed.
The verification process is standard procedure for these types of businesses and is required by law. This process is in place to protect the customer as well as the company.
Customers should know that they are free to fund their accounts and make payments using those funds without going through the verification process. However, customers will not be able to withdraw funds until verification is complete.
Is it Safe to use Neteller for Online Betting?
Using Neteller for online betting is absolutely safe. As previously mentioned, this payment provider is regulated by the FCA and is required to keep all customer funds available. All personal data is kept confidential meaning it will not be shared with third parties.
Neteller uses Secure Socket Layer (SSL) technology and 128-bit encryption which are both standards in the industry.
Their security team works around the clock looking for suspicious account activity. Some things, like signing into your account from another country or using a VPN when accessing your account, will usually send up a red flag and draw the attention of the diligent security team.
It may cause a minor inconvenience but Neteller would rather err on the side of caution. These issues can be easily resolved by contacting Neteller.
Of course, customers must take certain steps to ensure their own safety and security.  Strong passwords and avoiding open networks are a couple of obvious measures. Passwords should be regularly changed and they should never be shared with anyone.
Are there any Neteller Fees for Deposits and Withdrawals at Sportsbooks?
Some small fees may apply when funding your Neteller account but these fees are not levied by them. For example; a service fee ranging from 1.9%-4.95% may be charged when funding your Neteller account with a Visa or Mastercard. Once again, these fees are charged by the credit card company and not by Neteller.
The vast majority of Neteller accepting bookmakers do not charge fees for making deposits and the deposits are almost always instant. Be aware that different online betting Neteller bookies require various minimum deposits, usually $10. That's why the majority of sportsbook $10 minimum deposit sites will offer Neteller as a payment method.
Withdrawals are another issue. Many online bookies will allow for one free minimum withdrawal per month but anything over and above this will usually come with a fee that is levied by the bookmaker. Unlike sportsbook deposits which are instantly applied, Neteller withdrawals normally take 3-5 days to complete.
Keep in mind that the withdrawal fees and processing times are pretty much the same with any eWallet. Please check with your online bookie to find out what fees apply.
Neteller has partnered with Boku as the latter is available only for deposits. So the advice is to make withdrawals with Neteller at Boku betting sites. You can also fund your Neteller account via Boku, but there will be a transaction fee of 2,5%.
How to make Deposits and Withdrawals using Neteller?
Deposits and withdrawals using Neteller are very easy. To make a deposit, sign into your sportsbook account and select the "Deposit" option. Follow the instructions and select "Neteller" when prompted to choose a payment method. The process takes mere minutes and when it is completed your sportsbook account will be instantly credited and you may place wagers right away.
Making a Neteller withdrawal is just as easy. Login to your sportsbook and select the "Withdraw" option and follow the instructions. When prompted for a withdrawal method, select the same option to complete the process. Upon completion, you will normally need to wait 3-5 days for the transaction to complete. The processing time is right in line with other eWallets.
What are the Best Betting Sites that Accept Neteller?
Or, simply put, which betting sites accept Neteller? Most top-rated bookmakers accept Neteller payments. Industry leaders such as MarathonBet accept Neteller payments as do SportingBet, William Hill, BetVictor, and Paddy Power.
Other highly-respected Neteller bookmakers include Vernons, Betfred, Leonbet, Bet At Home, Stan James, Ladbrokes, 888, and Intertops. There is a very long list of excellent bookies that accept Neteller deposits and withdrawals. Check with your bookmaker to see if they accept it.
Is Neteller Good for Betting Bonuses? What are the Top Neteller Sports Betting Bonuses?
Neteller deposits are a great way to collect valuable betting bonuses. Players using this method can collect up to £20 in welcome bonuses at Royal Panda or Propawin when they make such a deposit. You can get your hands on up to €50 in welcome bonuses if you deposit using Neteller at Argo Casino and IVI Casino.
For those who want a really big bang for their buck, BetDNA is offering up to $1,000 in bonuses on Neteller deposits. There are many more great bonuses available for customers using the e-wallet option and these can be found in the promotions section at Gamblingjudge.com.
Unfortunately, a few sportsbooks do not give bonuses for deposits using Neteller. Betfair, for example, offers a £20 bonus on first deposits but Neteller deposits are not eligible. Be sure to check the terms and conditions at your sportsbook to see if the bonuses are available for this payment method.
Are Some Countries Banned From Using Neteller?
Neteller does not offer their services to the following countries: Afghanistan, China, Cuba, Eritrea, Iran, Iraq, North Korea, Kyrgyzstan, Libya, South Sudan, Sudan, and Syria.
Neteller offers limited service to the following countries: Belgium gambling sites, Canada, France, Hong Kong, Israel, Italy, Japan, Macau gambling industry, Singapore gambling sites, Spain, Turkey, UAE, UK, and the USA. Therefore, you'll have to do a bit of research to find out if you may use Neteller at certain Italian bookmakers, Turkish betting sites, Singapore betting sites, sports betting Japan sites, Macau sports betting sites, Spanish bookmakers, French betting sites or sites of sports betting – Israel based.
Canadian players can always choose Interac betting sites or ecoPayz betting sites since Neteller is not working anymore in Canada.
For further information, visit Neteller's Online Help.
Can Neteller be used for Online Sports Betting in the UK?
Yes. Neteller is a widely accepted payment method in the UK. Of the 102 recommended sportsbooks that are listed at Gamblingjudge.com, 71 of them take payments with this method. Many of these sportsbooks also offer some nice bonuses for the first deposit.
What are the Advantages and Disadvantages of Using Skrill?
Aside from the sheer convenience and processing speed, Neteller is accepted at most online gaming sites which gives their users a wide variety of reputable bookmakers sites to choose from. Setting up a Neteller account is free and it takes just a few minutes.
Once the account is funded, almost all sportsbook deposits made this way are instant. Because Neteller is regulated by the FCA, customers can be certain that their money is safe and always accessible.
There are a few disadvantages too. Some sportsbooks do not give out bonuses for Neteller deposits although most do. This can also be said for other eWallets as well. Nobody likes to pay fees and experience a long wait when they are trying to make withdrawals but Neteller's fees and processing times are on par with other eWallets.
Neteller security can be a little overzealous which can cause a few hassles and delays when making a withdrawal of this kind. Trying to make a Neteller withdrawal from a foreign country or by using a VPN will likely get the attention of the security team. Again, this drawback is common in the industry and is really done for your own protection.
These issues can normally be resolved by contacting their customer service either by email at complaints@neteller.com or by calling them at +44 21 3308 9525. Be sure to have your account details handy and be prepared to clearly describe the problem. Customers can also try to reach them through their Facebook page or via Twitter.
In the end, Neteller is a safe, secure, quick, and easy way to do financial transactions also with HKD betting sites.
FAQ about Neteller bookmakers and betting sites
So, Neteller is an e-money transfer method that allowed you to transfer money in your account if your bookmaker has this payment option available.
Yes, Neteller is available all over the UK, is approved by FCA, and is available even for bookmakers and betting sites.
Yes, as long as you are using an authorized bookmaker with Neteller available on their payment methods list.
Yes, you can use Neteller to make a deposit or to withdraw from William Hill.