Best Boku Sports Betting Sites 2023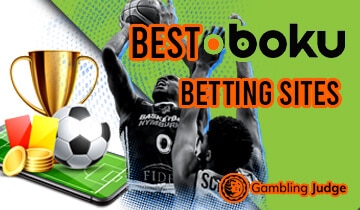 Boku betting sites are the best option for gamblers that do not use a credit card or a bank account. It allows you to bet using phone bill or mobile phone credit, via a method called "carrier billing". In this context, Boku is one of the best payment methods to use at low deposit betting sites.
It is also very easy to use: As long as you are able to use SMS, you can play at Boku deposit betting sites too. And it is supported by even the biggest betting companies, so you can use your mobile phone to make a deposit in lots of online bookmakers. In this article about Boku betting, we will explain how this payment system works and give you a list of the best Boku payment betting sites.
What is Boku betting and how does it work?
That's it: This is how Boku sports betting works. You can use any type of phone for this service, it does not need to be "smart". Boku pay by mobile method works even on old Nokia 3310s: As long as it can send and receive SMS, any phone can be used. However, there are three things you need to know:
👉 There is a transaction limit of 10 EUR/USD/GBP. You cannot deposit more than this amount in one transaction.
👉 There is also a daily deposit limit of 30 EUR/USD/GBP. You cannot send more than this amount within 24 hours.
👉 Boku betting sports can be used with pre-paid SIM cards too but the number of carriers that offer this option is very limited. And even then they require you to have an active balance, because the charge will be deducted from it instantly. If you don't have an active balance on your phone account, you cannot use Boku betting with pre-paid SIM cards. As of 2020, pre-paid SIM cards from Verizon, MetroPCS, Straight Talk, Cricket, and AT&T are not supported.
Below, we are presenting you with a list of bookmakers who accept Boku payments. This list contains all the information you need to know. We will explain how you can do this below.
These are the best Boku betting sites you can play right now and as always we wish you good luck.
Best Boku Betting Sites in 01 November 2023 – Updated List
Rank
Bookmaker
Bonus
Safe & Trusted
Rating
Get Started
Please note that: 
There are

high stakes betting sites

in this list too, but

Boku betting

has payment limits, as explained above. If you are a high roller, you should pick another payment method. 

While there are instant withdrawal bookmakers in this list, you cannot use Boku as a withdrawal method. Once again, we will explain this in detail below.
As always, you can personalize this list by switching to a different country: For example, you can easily see the biggest bookmakers UK that supports Boku payments. We can find the best betting sites that use Boku for any country in the world.
Countries with Boku sports betting
The benefits of playing at Boku betting sites
Boku betting sites offer lots of benefits. Once you find the easiest sport to bet on, you can start using Boku for all your deposits and get the following advantages:
Making a deposit at betting sites with Boku
Let's say you are making a William Hill Boku payment: How can you complete it? As mentioned above, payments at Boku betting sites are quick and easy. Here is everything you need to know:
Step 1
Open your profile page and click the "deposit" button.

Step 2
You will see a list of all available payment methods. Select "Boku" among them.
Step 3
On the next screen, you need to enter the deposit amount and your phone number. Click "submit" when you are done.
Step 4
You will receive an SMS asking you to confirm the transaction. Answer this SMS by sending a "yes" message.
Step 5
And that's everything you need to do: You will see the deposit amount on your casino account instantly. You can now start mobile phone gambling!
Making a withdrawal at bookmakers that accept Boku
Unfortunately, Boku cannot be used for withdrawals. You don't need to check bookmaker withdrawal limits if you are using this method: Boku is for making deposits only. Since there is no "customer account", there can't be withdrawals.
To make a withdrawal, like with Kluwp at Kluwp bookmakers, you must pick a different method. We suggest using an e-wallet service because as we will explain below, Boku and e-wallets have a good synergy. For withdrawals eWallet bookmakers like Neteller betting sites are recommended, but also ecoPayz betting sites are a good choice. 
Combining Boku betting with Neteller: The best of both worlds
If the bookmaker does not support Boku payments but offers e-wallet payments, you can still make a deposit with your phone. Boku has partnered a couple of e-wallet services for this purpose, and at the moment, Neteller is the best service you can use.
Basically, you will top up your Neteller account with Boku and use Neteller to complete the payment. Here is what you need to do: 
✅ Select "Boku" from the "Money In" section of your Neteller account. 
✅ Submit the amount you wish to send with Boku. 
✅ Confirm the SMS as explained above. 
Your Neteller account will be credited instantly and now you can pay & withdraw with Neteller. However, remember that there will be a 2.5% fee for this operation. Using Neteller Boku betting has its benefits as it expands the use of Boku payments but it also brings a transaction fee.
Limits and fees of depositing with Boku
❗ You cannot send more than 10 EUR/GBP/USD in one transaction. 
❗ You cannot send more than 30 EUR/GBP/USD in a day. 
❗ There is no fee for direct Boku payments.
❗ There is a 2.5% fee for sending money to your Neteller account with Boku.
Best alternatives you can use at betting sites that accept Boku
Boku betting sites support other payment methods too and you can always use them if Boku payments are not available. PayPal is currently the best alternative to Boku. You can also send money from Boku to PayPal. We think that these are other best alternatives you can use:
Should you play at Boku betting sites?
PROS
Fast and secure payments
Pay back with the monthly phone bill
There are special bonuses for Boku payments
It is as easy as sending an SMS
CONS
Withdrawals are not possible
You cannot use Boku in some countries
FAQ about betting sites using Boku
Yes, but this is a limited option – the majority of carriers don't offer this opportunity. And the ones that offer require you to have an active balance.
Yes. You can even send funds to your e-wallet account by using Boku. This option allows you to use Boku payments even in bookmakers that don't support it.
If it is a direct Boku payment, no, you don't have to pay any fees. If you are sending money to Neteller with Boku, there will be a 2.5% fee per transaction.
This is because of the local laws – carriers in some countries don't have an agreement with Boku and some countries don't allow mobile payments for online gambling.
Play at the best Boku betting sites
We explained what Boku sports betting is and gave you a list of the best Boku betting sites: The rest is up to you. Pick a Boku betting website from the list above and create your account today. Use your mobile phone to make instant deposits and pay back to your phone carrier later! Boku offers the chance to gamble even if you don't have a credit card or bank account, you should not miss this opportunity. Good luck out there!