EntroPay Bookmakers and Betting Sites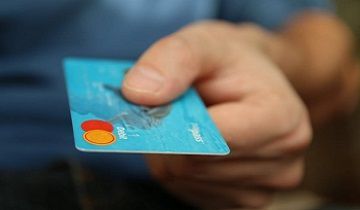 EntroPay is a virtual prepaid Visa card that can be used to perform secure financial betting transactions online or at land-based point-of-sale locations.
The company was established in 2003 by Ixaris Systems who had identified the need for an easy payment option that anyone in the world could use regardless of their credit rating.
The concept is simple. Users fund their EntroPay accounts with a credit/debit card or by bank transfer. They can then use these funds to purchase goods and services.
This payment provider is accepted wherever Visa is which makes the virtual card quite flexible. Users can have multiple cards in Euros, British pounds, or US dollars. Sports bettors love the fact that EntroPay is accepted by many of the world's best online bookmakers and their deposits are instant. Setting up an EntroPay account is free and takes just a couple of minutes.
EntroPay users can also obtain an actual reloadable card that can be used to make payments at land-based businesses. These cards can also be used to withdraw cash at ATMs around the world.
Those in possession of a physical prepaid card can load them by transferring funds from their EntroPay account, bank account, or debit/credit card.
Best Entropay Betting Sites
in 19 September 2023 – Updated List
Rank
Bookmaker
Bonus
Safe & Trusted
Rating
Get Started
How and why should you Use EntroPay for Sports Betting?
Sports bettors want their deposits to be instant and they also want their sportsbook withdrawals to be fast. EntroPay accommodates these wishes which is why this payment method is so popular.
Another reason to use this payment provider is that most of the leading brands in online bookmaking accept it as a payment option which gives users more choices. Unlike some other similar eWallets and virtual cards, EntroPay can be used to make sportsbook withdrawals. So can iDeal, that's why we also recommend new online bookmakers that accept iDeal, as an alternative.
Using this method to deposit or withdraw from your sportsbook is quite simple. It is just a matter of following the deposit/withdraw instructions at your online bookie and selecting "EntroPay" when asked to choose a payment/withdrawal method. Deposits are usually instant and withdrawals are normally processed in 3-5 days.
Is it Safe to use EntroPay for Online Betting?
EntroPay users can rest assured that this company meets the highest industry standards when it comes to security. They are licensed and regulated by the Financial Services Authority and they use the latest technology to keep your personal data secure.  Their website uses SSL and 128-bit encryption as well state-of-the-art firewalls.
They use the same technology that is used by Visa and Mastercard as well as having the security team actively monitor accounts for suspicious activity. They leave absolutely nothing to chance.It is important for users to protect themselves through such measures as protecting their account information and avoiding the use of open internet signals.
Are there any EntroPay Fees for Deposits and Withdrawals at Sportsbooks?
One of the drawbacks to using EntroPay is their fees. Sportsbook deposits are subject to a small fee but the vast majority of online bookmakers will absorb this fee. Depending on the sportsbook, these withdrawals are subject to a service fee of up to 2%.
Many online bookies allow customers one free withdrawal per month which means that there will be no fee charged to the user. Anything over and above the free EntroPay withdrawal would come with a cost.
Refer to the official website's fee structure for more information and check with your sportsbook to see what fees apply to your transactions.
How to Make Deposits and Withdrawals Using EntroPay?
Using EntroPay for sportsbook deposits and withdrawals is certainly easy. Obviously, you need to have available funds in your EntroPay account and you must be using an bookmaker that allows this kind of transactions. Bookmakers accepting this method are easily found in the sortable bookmaker database at Gamblingjudge.com.
To make a sportsbook deposit, users just need to login to their online bookie and choose the "Deposit" option. Follow the posted instructions and click on "EntroPay" when you are asked to select a payment method. You will need to enter the amount of the deposit as well as your 16-digit virtual EntroPay Visa number.
You will likely be redirected to the official site where you can confirm the transaction. Once complete, your sportsbook account should be instantly credited and you can start placing your bets.
The entire process takes just a couple of minutes. Don't forget to cash in on any bonuses that are being offered. Hundreds of thousands of dollars worth of sportsbook bonuses are found in the promotions section at Gamblingjudge.com.
Withdrawals are just as easy. Login to your online sportsbook and select "Withdraw". Follow the instructions and click on "EntroPay" when prompted for a withdrawal method. Withdrawals can be processed within a couple of days depending on the sportsbook.
What are the Best Betting Sites that Accept EntroPay?
Many of the most reputable online sportsbooks accept EntroPay, Bwin, for example. Other respected EntroPay-friendly bookmakers include Betclic, Party, Ladbrokes, 888, and 32 Red along with Betsafe, Titanbet, Jet Bull, Betway, and Red Kings.
Is EntroPay Good for Betting Bonuses? What are the Best EntroPay Bonuses?
Sports bettors are eligible to cash in on a large number of EntroPay deposit bonuses. BetVictor and Titan Bet are welcoming customers with up to €25 when they deposit using this deposit method.
Industry giant William Hill is giving away up to €100 in bonuses to those who deposit using EntroPay and other bookies are generously adding up to £200 on deposits. You can find all of the latest and greatest bonuses and promotions at Gambling Judge.
Are Some Countries Banned from Using EntroPay?
EntroPay cannot be used in Afghanistan, Belarus, Cote d'Ivoire, Cuba (read Cuba betting sites for more info), Iran, Iraq, Lao, Liberia, Libya, Myanmar, Nauru, North Korea, Pakistan, Palestine Territory, Principe, Sao Tome, Sudan, Syria, Turkmenistan, Turkey, Uzbekistan, Yemen, or South Africa.
Can EntroPay be used for Sports Betting in the UK?
EntroPay can be used by residents of the UK and many UK-based bookmakers accept this provider. Because this company is licensed and regulated by the FSA, their services are available to residents of any country within the European Economic Area.

FAQ about Entropay bookmakers and betting sites
Is not that important, because Enteropay is just a payment method and the reliability is about the winnings.
Yes, Entropay is a safe payment methods like others ewallet methods, and in bookmakers and betting sites is the same situation.
Normally, takes a couple of hours, but read all terms and conditions that are indicated in the Entropay Bookmakers and betting sites.
Entropay do no charge fees for withdrawals, but still you need to be careful about this subject, our recommendation is to read Terms and Conditions available on bookmakers websites.