Instadebit Bookmakers and Betting Sites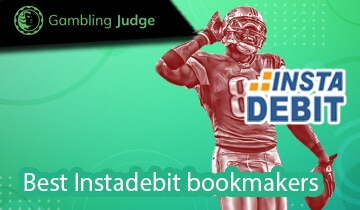 Instadebit is a payment processor that facilitates financial betting transactions between Canadian bank transfer, Visa accounts and merchants. It isn't an eWallet. Users do not need to deposit funds into an Instadebit account although balances are certainly allowed. It is more like an intermediary between your bank account and your bookmaker. Accounts are free to open and users need only provide a bit of personal and banking information. The Instadebit method is approved by trustly betting sites all around the world, like other new payment methods like SporoPay.
How and why should you use Instadebit for Sports Betting?
Instadebit is a fast and easy payment method and customers usually have their deposits instantly credited to their Instadebit sportsbook account. Bookmaker withdrawals made with this provider are among the fastest. They are usually available within 24 hours which is considerably faster than most other methods.
Users just need to sign into their betting site and enter the "Banking" area. Choose "Instadebit" when asked for a payment method and follow the instructions to complete the transaction.
Top betting sites with the best welcome bonuses [2021] – Updated List
Rank
Bookmaker
Bonus
Safe & Trusted
Rating
Get Started
Is it Safe to use Instadebit for Sports Betting?
Yes. Instadebit transactions are safe and secure. Users need to take the same precautions as they would with any other payment method. Keep your details private, never perform a transaction on an open or unsecured internet connection, and make sure that the site you are making a transaction with is secure and uses data encryption.
Are there any Instadebit Fees for Deposits and Withdrawals at Sportsbooks?
Yes. There are a couple of fees that users may be hit with. Instadebit charges $1.95 to process a payment from your bank account to a bookmaker but some sportsbooks will absorb the charge. Sportsbook withdrawals will cost $2.00 to transfer the money into your bank account.
In cases where a currency conversion is necessary, users can also expect to pay a small fee.
How to Make Deposits and Withdrawals Using Instadebit?
Instadebit is only available to those with Canadian bank accounts so we will assume you have one. We will also assume that you have opened a free Instadebit account and you have found a bookmaker that accepts this payment method. Don't forget to verify your account!! Keep in mind that Instadebit bookmakers are Canadian Dollar Bookmakers at the same time.
Betting with Instadebit is quick and easy. Simply log into your betting site, go to the "Banking" section, and choose "Deposit". The instructions are easy to follow. You will need to provide some basic information such as the amount being deposited and any promo codes that may apply. You will then be asked to select a payment method at which time you will select "Instadebit". After a few more mouse clicks your transaction will be complete and your funds should be instantly credited to your betting account.
Withdrawals are just as simple. Log into your Instadebit-friendly bookie and go to the "Banking" area. Choose "Withdraw" and follow the instructions. You will select "Instadebit" when prompted for a payment method. Upon completion, the money is normally available to you anywhere from a couple of hours up to a couple of days.
What are the Best Betting sites that Accept Instadebit?
Many of the world's most respected bookmakers accept Instadebit for betting. William Hill, 888, and Boyle Sports allow you to use this provider for betting deposits as do 32 Red and Titan Bet. It is also accepted at Youwin.
Check out the bookmaker database at Gamblingjudge.com to find out what internet bookmakers accept payments like these.
Is Instadebit Good for Bonuses? What are the Best Instadebit Bonuses?
Instadebit wagering deposits are absolutely eligible for bookmaker bonuses. Punter using this payment provider can cash in on €50 at Super Lenny, €75 at Jet Bull, €100 at Exclusive Bet, and a whopping $1,000 at The Greek. Visit the promotions section or bookmaker database at Gamblingjudge.com to find more Instadebit betting bonuses.
Are Some Countries Banned from Using Instadebit?
Instadebit is really only available to Canadians so, unless you live in a foreign country and have a Canadian bank account, you will not be able to use this service. Interac is also available only for Canadian players, so whenever Instadebit is not available you can always go with Interac betting sites.
Can Instadebit be used in the UK?
A UK resident would need to have a Canadian-based bank account in order to use this payment provider. So, technically speaking it is possible but it is not probable or practical.
What are the Advantages and Disadvantages to Using Instadebit?
The biggest advantages to betting with Instadebit are the ease and speed of deposits and withdrawals. Unlike eWallets that require an account balance to process payments, this method takes the money out of your bank account and deposits it directly into your sportsbook account.
The main disadvantages are that this service can only practically be used by Canadians and not a lot of bookmakers accept this payment method. Just 8 of the 115 recommended betting sites as listed by Gamblingjudge allow Instadebit wagering deposits. This seriously limits an Instadebit user's options.
Other articles you might like: