Best Betting Sites with Rapid Transfer Instant Payments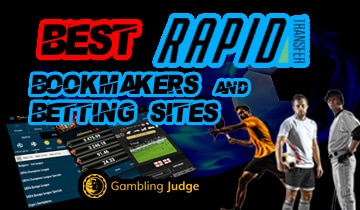 If you want to use your bank account to make online gambling payments but cannot do that directly, Rapid Transfer bookmakers  and betting sites will offer this option to you. You can find this payment option at all Skrill betting sites, as it is owned and operated by the Paysafe Group. Rapid Transfer betting sites allow you to make instant deposits with your bank account and offer several other advantages.
We will talk about these advantages in detail below and also give you a list of legal betting sites that support payments with this method. After reading our guide, you will learn everything you need to know about online betting sites accepting Rapid Transfer transactions.
Best Rapid Transfer Betting Sites in 01 November 2023 – Updated List
Rank
Bookmaker
Bonus
Safe & Trusted
Rating
Get Started
An overview of Rapid Transfer betting sites
If we create a list of bookmakers' payment methods, bank transfer betting sites will be in the top 3.
However, using bank transfers for online betting is not an easy job: First of all, there are lots of fees, especially if you are making an international transfer.

Second of all, it takes time: Bank transfers are not instant and can take several days to complete.

And, most importantly, you cannot use them for gambling-related payments at all, if you live in a country where gambling is considered illegal.
To find the best rapid transfer bookmakers and betting sites, one has to go through the ratings, reviews, and filter options to narrow the choices down. Is rapid transfer safe? One can find a 'Recommended' section on top of the search engine which would offer the finest Rapid transfer casinos. Overall, even your £1 deposit will be safe with Rapid Transfer, as long as your operator is legit. Another tab 'Newly Opened' is also available which offers the recently launched casino websites offer rapid transfers.
Rapid transfer online betting sites solve all these problems.
We will continue with a list of rapid transfer betting sites, as promised above. We checked all new bookmakers and also the biggest betting companies to pick the best ones that support this payment method. Below, you can see the best Rapid Transfer bookmakers you can place a bet right now: Don't forget to claim your bonus too with your first deposit. Enjoy!
History Around Rapid Transfer Bookmakers And Betting Sites
Security of transactions at Rapid Transfer online betting sites
Your deposits at Rapid Transfer betting sites are safe and secure, because:
👉 All of the transactions are secured by SSL.
👉 You also get to use the security measures of your bank. For example, if you need to verify a transfer via SMS, this feature is still active: You can still benefit from your bank's security features.
There is also a bonus: Your transactions at Rapid Transfer bookmakers will award Loyalty Points (LP). These points are for the Skrill loyalty program and they can be exchanged for rewards, cash vouchers, and, most importantly, big bonuses at bookmakers that accept Rapid Transfer.
How to make a deposit at Rapid Transfer betting sites?
Step 1
First, visit the official Rapid Transfer website and create an account.

Step 2
Add your bank account as the "funding source" to this account. Rapid Transfer supports 170 different banks throughout Europe, and the banks you can use will vary according to the country you live in.
Step 3
Pick one of our recommended Rapid Transfer online betting sites and create an account.
Step 4
Log in, open your profile page, and click "deposit". You will see a list of all available payment methods. Pick "Rapid Transfer".
Step 5
Enter the amount you want to deposit and click "Next".

Step 6
The official Rapid Transfer website will launch in a new window or tab. First, enter your Rapid Transfer username and password.
Step 7
Pick the bank account you want to use for this transfer.
Step 8
Complete the security measure of your bank: This will be different at each bank. For example, if you receive a code by SMS, enter this code to the Rapid Transfer website.
Step 9
Click "Submit". If your bank account has enough funds in it, the deposit will complete instantly.

Tips & Tricks About Rapid Transfer Casinos
How to make a withdrawal at betting sites accepting Rapid Transfer?
Making a withdrawal at Rapid Transfer bookmakers is also an easy job. In fact, we can even say that it is easier than the deposit process. Follow the steps below:
Step 1
Once again, make sure to have a Rapid Transfer account with a bank account in it.

Step 2
Log in to the bookmaker's website and open your profile. This time, click the "Withdrawal" button.
Step 3
Select "Rapid Transfer" among the list of available options.
Step 5
Enter your Rapid Transfer username and click "Submit".

Step 6
That's all: The money will arrive at your bank account associated with your Rapid Transfer account.
Transaction fees at Rapid Transfer sports betting sites
Alternative payment methods at betting sites with Rapid Transfer
There are a couple of alternative payment methods you can use at Rapid Transfer bookmakers and betting sites. Some of them are very similar to this method, such as Pay N Play betting sites. Pay N Play is a service provided by Trustly and it also uses your bank account for online purchases and deposits. It has a very important advantage against Rapid Transfer: You don't have to register at betting sites that use this system. You just click the "join" button and enter your Pay N Play username: All other information is automatically sent to the site by Trustly. Rapid Transfer does not have this feature.
On the other hand, Trustly (and its Pay n Play system) is available only on a couple of online betting sites. Paypal bookmakers and betting sites, Interac bookmakers and betting sites, royal pay bookmakers, and betting sites are also available. Rapid Transfer supports more countries, more currencies, and more websites.
Other Payment Methods
Advantages and disadvantages of Rapid Transfer at online betting sites
PROS
Allows gambling bank transfers to be made from any country
Only the sender pays fees (1%)
Supports 170 different banks
Can be used in almost every country in Europe
CONS
There is still a fee (1%)
Not available outside of Europe
FAQ about Rapid Transfer online betting sites
In a way, yes. Rapid Transfer uses your bank account to complete the transfer but uses its own network so it is faster.
Yes. There are two native apps for iOS and Android. You can download them from the App Store and Play Store.
No. This payment method is available only in Europe and only supports European banks.
No. Rapid Transfer betting sites never see your banking details.
No. Rapid Transfer is provided by Skrill but it has its own account: You can use it even without a Skrill account.
Play at the best Rapid Transfer bookmakers right now
Rapid Transfer bookmakers give you the chance to pay and withdraw with your bank account even if you can't use that account for gambling: This is a huge advantage, especially for certain countries. Even if there is no such problem, you can take advantage of instant transfers and lower fees at Rapid Transfer betting sites. In short, you need to start playing at Rapid Transfer online betting sites today: Pick one of our recommendations and create your account right away!