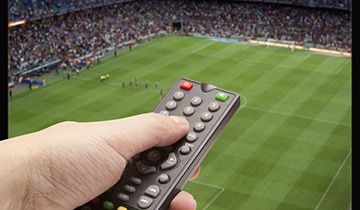 The sports betting industry is growing at an accelerated pace and the recipe for success is a combination of convenience and interactivity. Punters are no longer restricted to placing a couple of wagers prior to kickoff and now enjoy the unlimited freedom of betting in real-time. This type of wagering has the advantage of getting players fully immersed in the gaming atmosphere, while also encouraging them to watch the games as they unfold.
For those who have a keen eye for sports and can take advantage of odds movement, live betting is an integral part of their betting routine. With bookmakers offering similar odds prior to kickoff and once the game has started, there is nothing lost in the process and no compromises to make. Players have another chance at placing a wager if they miss the deadline, but they can also take advantage of an event occurring early or at any point in the match.
Live betting sportsbooks are usually doubling down on this feature by offering live streaming, yet only the best of them can brag about this achievement. In most cases, punters have to rely on static facts which are provided by the bookies once the game has commenced. They go beyond the obvious things, such as the score in the match and include ball possession, attempts, faults and everything in between.
Which are the best live betting sites? – try these offers first
| | Bookmaker | Live Betting Offer | Play Link |
| --- | --- | --- | --- |
| | LS Bet | Place 8 in-play single bets on football matches for a €50 Euro Free Bet | |
| | 888 | £5 Free Bet when you place three in-play football bets on Saturdays! | |
| | Betonline | $25.00 free play – risk free for your first live bet | |
| | 32Red | Profit boost of maximum of £100 for your first live bet | |
| | LS Bet | Place 8 Live bets on tennis for a €50 Eur free bet | |
| | Vernons | A free bet worth £5 will be awarded after any 5 consecutive Live tennis bets | |
In the world of sports betting the house edge can be crushing and in the long run, being able to minimize it can make the difference between success and failure. The advantage of betting on games that are yet to begin is that you have all the time in the world to compare the odds offered by various betting sites. Once the matches have started, players have a narrow window of opportunity and that's why it is of critical importance to have an account with one of the better live betting sites.
The live betting bonuses that are offered regularly for those who bet in real-time are a great addition besides the welcome package found here. They also have the celebrated cash in feature, which is a godsend for risk-averse players who want to lock in on existing profits. It is in effect not only on those games broadcasted live, but all those suitable for live betting.
Bwin was one of the first live betting sports books. They have a spectacular offer that goes beyond popular division and sports. They have the reputation of offering slightly lower odds than the best paying bookmakers, yet this is a small price to pay for enjoying a comprehensive collection of games. Players enjoy unlimited freedom in adding events that have started as well as games that are yet to begin on the same wagering slip. The only problem is that if you choose this path you will be unable to cash out your profits on active games.
Betting exchanges with live betting sites
Betfair is the leading betting exchange and one of the best live betting bookmakers, offering some of the best odds margins in the entire industry. They've got few sign up free bets due to the fact that they don't act as a conventional bookmaker and make their profits by charging a small commission. On the bright side, players are the ones who set the odds for all the games, including those suitable for live wagering, so punters will always benefit from top value.
Sportingbet offers a dual package that consists of a traditional bookmaker and the betting exchange and live betting is available on both platforms. As one of the successful live betting sportsbooks, it presents customers with a continuous flux of information. Unfortunately there is no live streaming service available, therefore no possibility to watch the games and punters have to rely on this data. The odds move quickly and there is no downtime, so players can bet virtually at any time. The exception to the rule is when penalty kicks or any other special events occur, as the bookie temporarily disables live betting.
Unibet is another shining example of live betting bookmaker who also offers conventional wagering in addition to lay betting. The games that are about to start appear at the top of the list and players can also have live matches displayed with priority. The bookie doesn't have a dedicated promotion for live betting, yet the free bet worth €15 can be cleared by betting on games that have already started. Furthermore the Every 5th bet risk free campaign also includes live betting, so players will be able to redeem the free bet.
British in-play bookmakers
Some of the most respected gambling companies in Europe have the headquarters in United Kingdom and William Hill is an excellent example. It is a top promoter of European football but also offers greyhound and horse racing events, which appeal to English players. Live wagering is an integral part of their activity and they've got a special educational section where players can learn how does live betting work.
Those who go over this content will not only learn the live betting definition, but also get the chance to place the first bets in real-time. The welcome bonus can be cleared by betting on any sports, including some of the popular North American professional leagues. William Hill is also one of the few bookies that offer a live streaming service available to all real money players.
Ladbrokes is one of the in play sportbooks based in the UK and focusing mostly on local customers, while being a staunch promoter of live wagering. The welcome package is a standard €25 which can be used on games that have already started and the odds are comparable with the ones offered prior to kickoff. They move much faster based on the manner in which the games evolve, but players can keep up with all these changes thanks to the live streaming feature.
Those who are new to online gambling and in play betting sites will be happy to discover that Ladbrokes has an informative tutorial. This explains what is live betting and how to bet in real-time in such a way that the outcome will meet your expectations. Players can shift from live streaming to a sheet of facts that includes all the important aspects and a dozen of additional features. Some of them are relevant for the broad audience, while certain data can be used by those who bet on exotic markets.
Paddy Power doesn't allow customers from United States, but it is one of the best bookmakers for those who want to wager in real time on American sports. MLB, NHL, NBA and NFL leagues are all covered and even though a live streaming feature is not available, players can bet on hundreds of markets. This is one of the few gambling operators where punters actually have the chance of choosing between more markets once the game has started.
Horse racing competitions are also available for live betting and with the emphasis being on US races, most of them are broadcasted by national televisions. There are no special promotions dedicated to those who bet exclusively in real-time, but the Paddy Power Freebet of €20 can be used for this type of wagering. This is the standard welcome package and everyone is eligible for the bonus, as long as they make a qualifying deposit of €10 and use a suitable payment method.
Other articles you might like: