Best Live Betting Sites and Bookmakers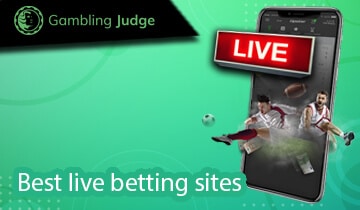 The sports betting industry is growing at an accelerated pace and the recipe for success is a combination of convenience and interactivity. Punters are no longer restricted to placing a couple of wagers prior to kickoff and now enjoy the unlimited freedom of betting in real-time. The best live betting sites (including American football betting sites) offer this opportunity.
For those who have a keen eye for sports and can take advantage of odds movement, live betting is an integral part of their betting routine (check live betting strategies). With betting sites with live streaming offering similar odds prior to kickoff and once the game has started, there is nothing lost in the process and no compromises to make.
Best Live Betting Sites
in 27 September 2023 – Updated List
Rank
Bookmaker
Bonus
Safe & Trusted
Rating
Get Started
Live betting explained
How did we pick the best live sports betting sites?
Picking the best live betting sportsbook is not an easy job: There are lots of things you need to consider. We evaluated all the best new betting sites and bookmakers to create our lists, and we used the following criteria:
Best betting sites with live streaming
Betting exchanges with Live Betting sites
British In-Play Bookmakers
Some of the most respected gambling companies and sportsbooks in Europe have the headquarters in United Kingdom and William Hill is an excellent example. It is a top promoter of European football but also offers greyhound and horse racing events, which appeal to English players. Live wagering is an integral part of their activity and they've got a special educational section where players can learn how does live betting work.
Those who go over this content will not only learn the live betting definition, but also get the chance to place the first bets in real-time. The welcome bonus can be cleared by betting on any sports, including some of the popular North American professional leagues. William Hill is also one of the few bookies that offer a live streaming service available to all real money players as well as Asian handicap in play betting options. And, if you are wondering which betting app is the best, we highly recommend taking a look at William Hill's apps. In fact, it is at the top of our list of the best mobile betting sites.
Stake Sports
is one of the in play sportbooks based in the UK and one of the best soccer live betting sites. It focuses mostly on local customers, while being a staunch promoter of live wagering. The welcome package is a standard 
€25
 which can be used on games that have already started and the odds are comparable with the ones offered prior to kickoff. They move much faster based on the manner in which the games evolve, but players can keep up with all these changes thanks to the live streaming feature.
Those who are new to online gambling and in play betting sites will be happy to discover that Stake Sports has an informative tutorial. This explains what is live betting and how to bet in real-time in such a way that the outcome will meet your expectations. Players can shift from live streaming to a sheet of facts that includes all the important aspects and a dozen of additional features. Some of them are relevant for the broad audience, while certain data can be used by those who bet on exotic markets.
22Bet doesn't allow customers from United States, but it is one of the best international gambling companies for those who want to wager in real time on American sports. MLB, NHL, NBA and NFL leagues are all covered and even though a live streaming feature is not available, players can bet on hundreds of markets. This is one of the few gambling operators where punters actually have the chance of choosing between more markets once the game has started.
Horse racing competitions are also available for live betting and with the emphasis being on US races, most of them are broadcasted by national televisions. There are no special promotions dedicated to those who bet exclusively in real-time, but the ZigZag Sports Freebet of €10 can be used for this type of wagering. This is the standard welcome package and everyone is eligible for the bonus, as long as they make a qualifying deposit of €10 and use a suitable payment method.
Most popular sports at live bet sites
In general, we can say that the following sports are the most popular/common options at the best live betting sites and bookmakers:
Types of bets available at top betting sites
There are dozens of bet types at the best bookies and betting sites but it is possible to divide them into three basic categories:  
Single Bet: A bet on a single event/match/tournament. 
Multiple Bet: A bet about the outcomes of multiple and unrelated events.
System Bet:  A multiple bet about different outcomes of a related event. 
While there are lots of betting options you can try your luck, all of them will fall into one of these categories.
Placing a bet at top online betting sites
Step 1
Log in to your favorite sportsbook: Check our list of the best live betting sites and bookmakers to play it safe.
Step 2
Make sure you have an active balance. If not, make a deposit first. (You can check our lists of the best PayPal bookmakers and betting sites and credit card bookmakers to find an option that suits you.)
Step 3
Open the main page: You will see a list of all supported sports. Choose one.
Step 4
You will see another list that shows all the matches/events for that sport. Once again, choose one.
Step 5
In the middle of the screen, you will see all available odds and betting options for that match/event. Choose one.
Step 6
Enter the bet amount and finish the process: good luck!
Pros and Cons about live betting sites
PROS
Dynamic and better odds
Unrivalled excitement
The chance to minimize your losses
CONS
Requires experience & knowledge
May be hard to use on mobile
FAQ about best live betting sites and bookmakers
There is no single best mobile app that offers everything. Check our list of the best live betting sites and bookmakers: They all have mobile betting options and one of them will suit you the most.
Of course. Just like regular betting, you can win and make money with live betting too, as long as you make accurate predictions and use the right strategies.
You get higher and dynamic odds. You can analyse the developments in a match in real time and take measures to limit your losses.
Live betting is a fun, enjoyable, and profitable experience: It is as good as regular betting, if not more. Naturally, it is quite popular all around the world.
The odds are created dynamically by the software of the bookmaker. They constantly change and update, according to the developments in the match.
As long as you prefer licensed and legal live betting sites, sure. If you are not sure where to start, check our list of the best live betting sites and bookmakers.
Use the best live betting strategy & win big
There are lots of European betting sites that offer live betting even for CSGO live betting touraments, but we picked the best of them: You can start your adventure right now. Take another look at our list of the best live betting sites and bookmakers, pick one, and join today. We are sure that you will start winning by using the right strategy in no time: good luck out there!
Other For sports