Ante post and future betting guide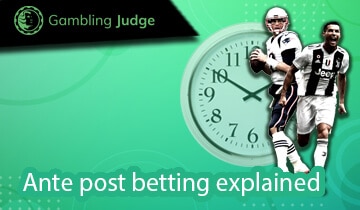 Those who take online gaming seriously will agree that betting over the Internet is more similar to investing in underlying assets than gambling. A lot of research is required and to some extent punters have their very own day jobs that they happen to enjoy and have the potential of being very profitable. Just like conventional investments, betting on sports can be done in two distinct ways, by placing long-term bets or trying to indicate the winners of imminent events.
Ante-post betting is not the most popular type of wagering (not even for dog betting), as most punters prefer to search for daily betting offers and hopefully cash out their profits just as often. They enjoy the system a lot because it presents the opportunity of immediate gratification, while also mitigating the risks of variance. Having said this, placing a future bet has its own advantages and virtually all bookmakers are currently offering this alternative to those who want to play the long game.
Top Bookmakers with Ante Post Betting Offer
in 27 September 2023 – Updated List
Rank
Bookmaker
Bonus
Safe & Trusted
Rating
Get Started
Ante post betting rules are straightforward and those who are familiar with the online gambling process will have no problem in placing such wagers. You don't need any previous experience and as long as the bookies have the match of choice in their offer, a couple of clicks will see you through. Ante post football betting has most of the fans, due to the fact that this sport also happens to be the most popular worldwide.
If you contemplate the possibility of wagering in this manner, you should get familiar with the basic ante post rules that many of the biggest betting companies use. Players are expected to predict the winners of major or less popular tournaments, before these competitions actually start. This type of bet has a two-pronged effect, on one hand locking in on initial odds and on the other they allow no modifications as the competition unfolds. To some extent, it is a bit too rigid but it has the advantage of maximizing the return on investment if the prediction is correct.
How to place an ante post bet
Once you understand what is an ante post bet, the next obstacle down the road is to actually place the first wager of this type. The process is straightforward and punters are supposed to find a competition where the bookmaker allows them to bet on the outright winner. To narrow down the search, it is recommended to focus on the major leagues and prominent tournaments, as these are more likely to present the sought-after opportunity.
Getting familiar with the ante post betting rules shouldn't take more than a couple of minutes and it pays off to try to identify available offers. In order to make ante post bets more exciting, bookies sometimes offer financial incentives, boosted odds and even free bets. In conjunction, they enable customers to maximize the return on investments, while decreasing the risks of losing. If they are awarded a free bet, this is subject wagering requirements and in most cases the stakes are subtracted, with players being left with the profits they make.
Among the things to consider is the ante post prices offered by various bookies on the same event, as sometimes there can be serious discrepancies. When it comes to prominent competitions, these are covered in great detail by several gambling operators. There are even dedicated odds comparison tools out there that can help players identify the best odds margins and simplify matters for those who try to come up with an ante post football betting system.
In the long run, it is essential to trying to bet on the highest possible odds every time when placing a future bet. Opening an account with multiple bookmakers is the first step and also the most time-consuming, because the actual bet is performed in the same manner. Players can also wager on the runner-up or how deep the run of their favorite team or tennis player, with the odds varying depending on how likely the outcome.
Pros and cons of ante-post betting
Those who contemplate the possibility of shifting from regular gambling to ante post bets should know that there are arguments both in favor and against this system. One of the major shortcomings is that not even the best bookmakers offer ante-post betting on all their tournaments and tend to focus on major leagues. If you happen to be interested in lower divisions or more obscure sports, there is a good chance not to be able to bet on the outright winner in advance. Some times the favourites will be listed but the underdogs will be grouped under a term bar. What does bar mean in betting though? The bar price refers to the odds of contestants which were not quoted individually. 70.00 bar, for example, means that the contestants that are not listed will have odds of 70.00 or higher.
In fact, the vast majority of these bets are placed prior to flagship competitions, such as the football World Cup, grand slam tennis competitions and similar events. On the other hand, those who are hooked on horse racing events will be thrilled to discover that Cheltenham ante post betting is offered by most bookies. This is just one of the highly anticipated competitions for the fans of the genre but there are other horse racing ante post betting opportunities.
Another disadvantage is that when you bet on the winner of the tournament in advance, you don't get to take advantage of the changes occurring throughout the event. When it comes to football, hockey and other sports where teams go against each other, the chances for something radical to happen are remote. On the other hand, betting on the winner of tennis grand slam events puts you at risk if your chosen athlete suffers an injury. There are other ways you can bet on tennis and we have prepared for you a guide on the best way to bet on tennis.
It is customary for bookmakers to return the stakes of the games the void, including those in which a tennis player retires during the match. When it comes to ante post betting, punters forsake this safety net and if their player forfeits the game for any reason, the wagers will still stand. Obviously, this could play to your advantage if opponents allow your designated athlete to walk over them, so at the end of the day it all evens out.
Variance can also be a problem with all types of ante post betting, as the odds of correctly picking winners are usually stacked against you. One would need to have a healthy budget and an excellent bankroll management to stay afloat over a longer period of time if they get unlucky. The high ante post prices offset this shortcoming, because when you finally hit a winner, there is a good chance to recuperate all the previous losses and some.
In addition to the fact that players take advantage of excellent odds when they place an ante post bet, this type of wagering also reduces the punters involvement greatly. You no longer have to spend a lot of time watching the games as they unfold and try to come up with useful conclusions. The winners are already set in motion and if you did your due diligence and undertook the necessary research prior to betting, you can simply sit back and wait for the final result.
Horse racing ante post betting is even more arbitrary, because the very nature of these competitions complicates matters for punters. That's why when they lose, some punters accuse that horse racing is fixed. There are plenty of things that can go wrong and it is not for risk-averse players or those who struggle with a puny bankroll. Last but definitely not least, if you have a smart ante post football betting system you can resort to complex strategies that allow you to hedge against the risks.
For instance, when the chosen team or athlete advances to the final stages of the tournament, punters can bet on their opponents. One would require the ability to place sensible bets, so they don't wipe out potential profits while still mitigating the losses that might occur. Once again this is a matter of preference, because those who seek to maximize the return on investment will care less about these ante post tips and would rather wait for the final whistle, even if this means to go down with the ship.
Top bookmakers with ante post betting
Today ante post betting is widespread and football fans are some of the main beneficiaries, but these wagers used to revolve mostly around horse and Greyhound races events. Cheltenham ante post betting still has tens of thousands of fans worldwide and not surprisingly, UK-based bookies are the ones that have the best promos. They also cover other competitions but the emphasis remains on these events.
Paddy Power is an excellent place to be if you are seeking horse racing ante post betting opportunities, for more than major yearly competitions. It goes without saying that these are the ones that are the cornerstone of the most generous promotions, with money back deals and boosted odds. The bookie will refund all the money lost if the chosen horse is defeated by a neck or less and players will be provided with a free bet that can be used on future races.
The system is simple and the rules easy to pick up, as players are reimbursed up to a maximum level which the first depending on the competition. Ante post racing free bets need to be redeemed in their entirety, but once the outcome is decided, the stakes are removed. This is the ultimate incentive for players to bet at high odds, since they only get to keep the profits they make.
Ladbrokes is yet another UK bookmaker that excels at ante post horse racing betting and covers both the Cheltenham Festival and Grand National. Meanwhile, players can bet on a daily basis on events of a different magnitude, including racing competition scheduled on a monthly basis. The manner in which the bets are placed is identical and the best part is that the rewards are also similar. Depending on the location of the horse racing event, the bookie will offer better odds on selected horses, quite often local favorites.
In addition to enjoying the sheer thrills of these events, players will cash in on top odds as a result of placing ante post racing bets. Those who want to hedge against the risks and bet more money can reverse their choice and wager on another competitor and do a kind of arbitrage betting this way. Assuming the initial bet fails, they could benefit from the money back betting offers and be reimbursed with a money back bonus and also cash in on the profits made on the successful selection. This is a win-win situation that also solves the predicament of high variance.
Betfred has emerged as one of the most popular bookmakers worldwide, mostly due to the fact that they've got the ultimate coverage for those who bet in real-time. Ante post football betting is gaining a lot of traction here, as a result of more competitions being available for this type of wagering. The bookmaker already has one of the most comprehensive betting offers, so it was only a natural step forward to make these bets available.
While the ante post rules suggest the fact that players need to make up their mind before the first whistle and wait for the inevitable conclusion, there are some lucrative exceptions to consider. Betfred for example will allow players to lock in on existing profits by cashing out on their active bets during the tournament. The bookmaker will make an offer based on the score and the chances of a certain team or asset to prevail, based on the current situation. If the player has already clawed his or her way to the final stages of the tournament, the odds will be high enough to generate significant profits.
Betfair is a betting exchange with spectacular odds, which makes it an obvious choice for those who want to bet on the outright winners. While it doesn't abound in welcome bonuses and sign up free bets, it occasionally offers loyalty bonuses to those who fancy ante post greyhound betting. Even when there are no such competitions scheduled in the immediate future, punters have the possibility of betting on next year's races. This bookmaker is among the first to reveal the odds on distant competitions, the natural consequence of having
Frequently asked questions about ante post betting
You need to place the bet before the match has started and you can do it weeks or just seconds in advance.
When betting on favorites, the ante-post odds are usually higher, and the opposite applies to underdogs.
Bets placed before the match has started do not qualify for the Rule 4 deduction which is only valid live.
Some bookmakers have promotions that refund losses if players bet ante-post on selected matches.
At any bookmaker offering this function you can cash out the ante-post wagers before the game or live.
These bets are settled after the match has ended and profits are usually credited in a matter of minutes.
Other For sports