Betting Advice – Top Tips & Strategies for Beginners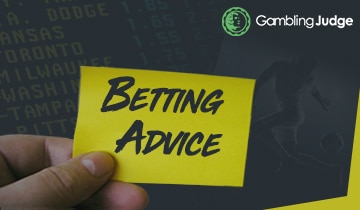 There is nothing so easy to earn his experience and nothing so hard to apply.
When it comes to sports betting guides, the learning curve is not too steep, but there's a long and twisted road from amateur to savvy punters.
Most people employ a trial and error process, which sometimes leads to the desired result, but with terrible costs.
The shortcut to success comes in the form of betting advice and with a little bit of help, many of the common obstacles can be dealt with easily.
Best Online Bookmakers in 01 November 2023 – Updated List
Rank
Bookmaker
Bonus
Safe & Trusted
Rating
Get Started
Start your gambling voyage with free betting advice
Casual and recreational punters are the most vulnerable, because they have tiny bankrolls and very little experience. These are two ingredients in the recipe for disaster, as only a fraction of new players are able to stay profitable long enough for experience to kick in.
Such players desperately need gambling advice, but they can't afford to divert any of their resources to pay professional tipsters. Tapping into the experience of the best sports gamblers can make the difference, but this perk is only unlocked later on.
Initially, players should rely almost exclusively on free betting advice and the real challenge is to find sources that can be trusted. It is in fact, quite dangerous to rely on the suggestions made by people who know very little about the gambling industry.
Finding the best betting advice sites that offer assistance for free should be the top priority for casual players with little or no experience.
Where to find sports picks and predictions?
The Internet is like an ocean of information and players can tap into it freely, if you know what to look for. There are plenty of bookmakers with sports betting statistics and information that savvy punters can use when wagering on sports.
The problem for new players is that even if they have access to such data, their lack of experience makes it difficult to interpret it incorrectly. A more effective solution is to search specifically for sports betting advice websites that wrap up the info in the form of betting picks.
Some bookmakers have dedicated sections and blogs where their experts and punters can give their insights and provide free betting advice. Given the obvious conflict of interest, some punters might be reluctant to trust this type of gambling advice and look elsewhere for aid.
Many websites supplying professional sports betting tips for money have three sections that visitors can access for free. They provide the incentive to sign up for an account, but meanwhile, the free tips come in handy.
The difference between sports betting picks and strategies
New punters who are browsing the Internet for free betting advice are likely to stumble upon two types of sites offering seemingly identical services. Some offer sports betting picks, while others invite readers to learn and apply complex sports betting strategies.
The latter are more difficult to grasp because they require experience and a thorough understanding of the online gambling industry. In the long run, sports betting strategies pay dividends and help players offset the proverbial house edge.
Sports gambling tips on the other hand are simple and straightforward, while being much easier to use. They focus on particular games and punters can use them right away to place intelligent bets, without knowing anything about the teams or athletes involved.
They have the merit of immediate gratification, but punters using them should also try to understand the reasons behind such sports betting predictions. This is the most effective way of learning while they earn and it will help them grow as punters.
Top 10 Betting advice for Beginners:
1. Setting up a budget and bankroll betting
2. Claiming and redeeming bonuses
3. Maximizing value when betting
4. Singles vs accumulator bets
5. How to master prop bets
6. Live betting tips and tricks
7. Betting against the spread
8. How to use the cash out feature
9. Hedging against the risk
10. Future betting strategies
1. Setting up a budget and bankroll betting
Any successful online gambling activity begins with the establishment of a healthy bankroll. This can be smaller or larger, based on resources and expectations but in its absence, it is not possible to win in the long run. If you wonder how to beat the bookies, you should try to find a way to mitigate and ideally offset the house edge. There's no room for errors and no place for emotions in this line of work, so the best gambling advice is to commit yourself to a rigorous plan.
Beginners and risk-averse punters should bet no more than 1% per match, no matter how confident they are in the outcome. Even if you feel that you have found the best sports bets, you should always play in bankroll and only increase the stakes when the bankroll grows. More aggressive betting strategies imply a maximum bet of 2% or even 3% of the bankroll; what matters the most is that once you decide for one percentage or the other, you stick to it and never modify the ratio.
2. Claiming and redeeming bonuses
One of the easiest ways to offset the house edge is by taking advantage of the freebies offered by sports books. They provide new players with welcome bonuses and run many promotions for existing members, to keep them happy. The intense competition that exists between bookmakers compels them to give away stuff for free. At the same time, they require players to meet strict wagering requirements before they are allowed to cash out the profits.
When choosing a bookmaker, in addition to looking at it sports betting and odds, reputation and payment methods, punters should also analyze bonuses and promotions. The size of these freebies obviously matters, but the wagering requirements are just as important. You need to make sure that you have a real chance at clearing the bonuses and cashing out their winnings. Speaking of which, give preference to cashable bonuses, rather than free bets, because the latter have the stakes subtracted and players only get to keep the profits.
3. Maximizing value when betting
When punters try to beat the odds, they assume that they should channel all their resources towards finding safe bets. Unfortunately, not even the best sports betting blogs can provide such matches on a constant basis, so players need to get value somewhere else. To achieve this, it is imperative to take a close look at the sports bets and odds and try to find those where the rewards exceed the risks. For more information about how odds work, read our article on tennis odds explained.
For example, if you get even odds on a team that has an 80% chance to win, you should always take that bet, regardless of the risks. Conversely, even if you get smaller odds of 1/4 on a coin flip event, you should steer clear from these wagers as they are undervalued. In the long run, sports bettors thrive if they are able to constantly find the odds where the value exceeds the risks.
4. Singles vs accumulator bets
High street bookmakers used to thrive because punters were adding multiple events on the same betting slips. Accumulators are still very popular at online sports books, but professional sports betting tips almost always focus on single bets. The reason for why these wagers are preferred is that you only need one correct prediction to make a profit. Single bets have an indissoluble link between the investment and the potential profits, but punters are paid for every single correct choice.
Accumulators, also called parlays, have the advantage of delivering significantly bigger odds by compiling the odds of multiple matches. Many bookmakers offer incentives to those who have multiple events on the same betting slip, by boosting the potential profits. The more matches are added, the bigger the bonuses, but this also increases the odds of losing. A single incorrect prediction will lead to the ruling of the entire betting slip and all the hard work put into the other matches will go to drain. A good low odds betting strategy would be to bet on accumulators containing selections with low odds and high probability of winning. Find other strategies in our "how to win sports betting parlays" guide.
5. How to master prop bets?
Betting advice websites sometimes provide their visitors with the opportunity of betting on special events. Football is the main source of prop bets, as punters can bet on the name of the player to score first or the correct score for the next important action and many other original events. The problem with these wagers is that sportsbook statistics are difficult to find and luck plays a big role in determining the outcome. A commonsense betting advice for beginners is to avoid prop bets, as they require the kind of experience they lack.
More experienced punters can actually make nice profits by mastering prop bets, yet this requires a lot of time spent researching. In order to make the right decision, one has to look at the tendencies of individual players, as well as the entire team. Knowing the starting formation, the objectives of each team and even the predispositions of the referees matters greatly. The best sports betting advice sites occasionally post such prop bets, but in most cases, they focus on the mainstream markets.
6. Live betting tips and tricks
Every respectable bookmaker nowadays has a vibrant live betting section where players can bet on matches in real-time. The problem is that not even the best sports betting advice websites can help players with live betting. Things can change so much during a match that it is almost impossible to foresee every outcome and prepare a betting strategy in advance. To make the most of live betting, punters need to correlate their pregame strategy with the events that happen after the match has started.
For example, if the soccer betting advice you got before the match suggested a high number of goals being scored, you should back the Overs if the match is scoreless at half time. Conversely, if the teams score early in the match, players should take advantage of the immediate movement of the under/over betting lines and bet on fewer goals to be scored. Sometimes, it is worth waiting a few minutes into the game to back the favorite team, as the odds almost always increase after the match starts. We suggest trying the "accept all odds movement" feature, especially when live betting, although you must be very careful at the dropping odds. If you don't want to risk too much, then it's fine to stick with the closing odds. If you still don't like the odds, then it's safe to say that you still got an alternative: the "request a bet" feature. Another helpful feature is "edit my acca", useful in case that you changed your mind after placing your bets. For the experienced ones, hedge betting is a great strategy.
7. Betting against the spread
Predicting winners and betting on the under/over markets is the standard approach for most punters, but not necessarily the best one. There's no need to settle for the lines set by default by the bookmakers, when you can take advantage of flexible spreads. Once you analyze the sports bets odds to identify value, you can bet on or against the spread to maximize the return on investment. Backing the favorites to cover the spread or trusting the underdog not to lose by a significant margin can produce bigger odds.
There are many instances where betting on the best team holds no value, simply because the odds are too low. Professional websites offering online sports betting tips often resort to spreads to help their readers make a decent profit. The top sports betting sites dedicate ample coverage to spread betting and most of them even have variable lines. Punters can use the gambling advice they got from specialized websites to tinker with these spreads and bet accordingly.
8. How to use the cash-out feature
Sports betting in 2023 is far more competitive than it was a decade ago and punters rely often on sports gambling advice. Unfortunately, in many cases even the best tips for sports betting result in losing wagers because of unexpected things that happen during the game. The good news is that modern punters can use the popular cash-out feature to take their profits early on. When your team is ahead but encounters a lot of adversity, closing the best prematurely is a far better solution than waiting for an implacable end.
Useful as the cash out feature might be, our betting advice is not to use it excessively. There are many instances when the value proposed by bookmakers to terminate a bet early is not worth it. In these cases it is better to go down with the ship than sell a bet at insignificant value, as this would diminish your profits in the long run. Even if you get the best betting tips, you won't maximize your profits if you are too scared by the prospect of losing and activate the cash out feature when it is not necessary.
9. Hedging against the risk
This is the ultimate gambling advice that sports handicapping sites offer, as the arbitrage strategy renders the house edge irrelevant. In theory, there are situations when you can place opposite bets on odds that exceed even value, so you end up making money regardless of outcome. The problem is that such chances are extremely rare and you need access to the best sports betting information services. In a nutshell, you hedge against the risk when you get to bet on either teams or athletes to win at odds about 1/1.
Having accounts at multiple bookmakers can provide this opportunity, but only on games that are extremely close. To find the ones that offer the most competitive sports betting odds explained, players should read plenty of sportsbook reviews. One of the most effective ways of hedging against the risk is by placing early bets on the narrow favorites. What usually happens is that amateur punters tend to bet on the better team, which causes the odds to slowly drop. Conversely, the odds on the underdog go up, so punters can cash in on the trend and place the bet on the lesser team to cover the spread, before the game starts.
10. Future betting strategies
Some of the best investments are those that come to fruition weeks, months and even years after the bet is placed. Professional sports gambler advice rarely focus on future markets, simply because it takes a long time for the results to show. Betting on the outright winner of major tournaments in football allows players to take advantage of bigger odds. Websites providing tennis betting strategies can help punters identify the players that are more likely to win the next grand slam tournaments. Read our best way to bet on tennis guide to help you place profitable bets on tennis.
Future betting strategies give players a lot of flexibility, as they can adjust their betting patterns throughout the season.
For example, if you bet on the next World Series winner, you can use baseball betting advice throughout the MLB season to hedge against the risk, and also some other types of bets like first half Baseball betting. You can bet on your team in key matches against its rivals, to mitigate the potential loss or to maximize the possible profit. The only downside of betting on futures markets is that you have your money blocked for weeks or months in a row. Before you start betting you can also read the article is baseball rigged?
Quality sports handicapping websites
No matter how good punters get, it is downright impossible to master a sport to such a degree that you can't use any betting advice. Amateurs and recreational punters benefit even more from the assistance provided by the best sports betting tips. The real challenge is to distinguish between those employing professional handicappers and bogus websites who lure unsuspecting visitors and thrive on advertising.
In order to make the right choice, it is recommended to follow the tips in advance for a few weeks and even months, without actually betting. This empirical approach has the merit of revealing the quality of the punters employed without taking any chances.
You can double down with research to determine what is the best sports betting advice site and who are the best people to follow for betting advice. Trust their counsel, but don't rely blindly on predictions and do your own research each time you place a bet.
Don't listen too much to the media
Recreational players are tempted to believe everything they hear on TV or sports betting radio and other media channels. The problem with this type of information is that it isn't truly reliable and even when it is, everybody knows these facts.
TV stations and sports shows are not the kind of sources of information that punters should rely on for betting advice. It makes no sense to base your sports betting strategy on generic information that is spread by the media for the general audience.
How profitable are sports betting advice websites?
Punters who rely heavily on the gambling advice provided by specialized websites and win, invariably end up asking themselves the same question. How much do sports handicappers make and how to start a sports betting advice business?
In most cases, the profits depend mostly on the traffic generated by the visitors, as such websites rely on advertising. Others offer paid services in the form of monthly or weekly subscriptions that punters pay in exchange of betting advice. Setting up a business of this type can be burdensome, as you not only need the money and time, but also a professional team of tipsters.
Stay flexible with sports books with high limits
Even though it might not look like the top priority, finding a bookmaker that has high betting limits is very important. Recreational punters are more than happy to bet tiny amounts and they don't care much about high limits for betting or financial betting transactions.
In the long run, however, when your bankroll grows enough to allow larger bets, you need to be able to place them on any sports you like. Equally important is to be able to deposit and cash out bigger sums, without being subject to commission or hidden fees. That's why it's important to open an account with a bookmaker that has high limits all-around.
Frequently Asked Questions
That depends on the game you are playing. Games of chance such as slots, roulette, lotteries, bingo, and craps are entirely games of skill. However, there is a greater element of skill to blackjack and poker, even if you do need a bit of luck to boot.
You can't. It is impossible to win a bet every time. However, there are betting strategies you can deploy to learn what the best moves are, and how to lower the house edge. This will put you in the running, but still won't guarantee a win every time you play.
In our opinion, the Reverse Martingale is arguably more profitable than other strategies. Unlike the Martingale, it won't bankrupt you if you go on lengthy losing streaks. Moreover, it can help you balance your budget when betting. Just don't expect to win every time with it, or any other strategy.
Yes and no. Ultimately, becoming rich when gambling is down to three things – skill, luck, and your stakes. If you want to get rich quick, you will need skill, luck and to wager vast sums on games where you're almost certain to win. It is no easy feat.
Heed our betting advice and boost your winnings
Beating the house has always been the dream of punters and gambling aficionados. The fact that bookies are still around and the sports betting industry is thriving, indicates the fact that the house ends up winning no matter what. The good news is that bookmakers can stay profitable even if a small minority of punters win constantly. As a matter of fact, you should go check out our guide about betting scams and how to avoid them, just to be able to recognize potential threats before registering at a new bookie. But this is not all, you can use our betting advice even if you are not decided which one is the best for you, Online VS. Offline betting.
Those who know how to avoid the most common betting mistakes in sports, while using professional gambling advice have a decent chance to offset the house edge. Succeeding when so many others fail isn't easy, but with the right guidance and a coherent strategy you can make it!
Other related articles you might like: