Shaving points explained – What does shaving points mean in football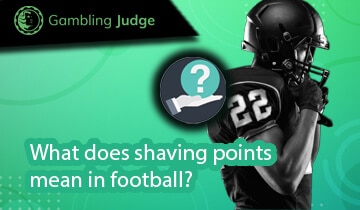 Beating the bookmaker has always been a challenge for punters.
Unfortunately, the house edge proves to be insurmountable and long-term winnings are difficult to attain.
Shaving points was the solution found by corrupt gamblers to obtain illegal winnings.
In this guide, we explain what does it mean to shave points and look at some of the most infamous cases.
We review the case of Jameis Winston, a very popular American football player, who found himself dragged into a damaging scandal and how popular athletes got a lifetime ban for fixing the spread.
Best Online Bookmakers
in 01 November 2023 – Updated List
Rank
Bookmaker
Bonus
Safe & Trusted
Rating
Get Started
The definitive shaving points guide for 2023
American football is the most popular sport in the US and NFL football betting is a big thing in this country. When a lot of money is on the table, punters would do anything to find the best odds margins and some would even consider betting scams.
The type of match-fixing known as shaving points has frequently surfaced and athletes were accused of it over the years. Illegal and potentially carrying a jail sentence, shaving points in American football is still a thing. Although rarely, it is also found in horse racing. But we have a different guide for that (Is horse racing fixed?). In our betting guide, we'll look at how this type of cheating is used in point spread betting and how perpetrators use it to make a profit.
What does point shaving mean?
Shaving points – Three steps you shouldn't take
American football is the easiest sport to bet on for US residents and the most tempting for shaving points. NFL betting sites offer punters the possibility of betting on a team to win by a certain margin, which is commonly referred to as covering the spread. To properly have the shaving points explained, we look at the three steps that those who want to obtain illicit profits will resort to.
Find players willing to commit the crime
Place the bet at safe betting sites
Cash in the profits and don't get caught
Jameis Winston's point shaving story
Now that you understand the shaving points meaning we can take a look at one of the best-known cases.
Those who understand what is shaving points in a football game know that the outcome of the match is less important. Florida State University ended up winning the match, so those who did moneyline betting on them were not affected.
There were plenty of people who wagered on that game who won, including some who chose the win reverse bet. Since FSU won, they ended up claiming big payouts, and the same happened for those who chose parlay betting and backed Florida State University.
Point shaving in professional and college sports
Shaving points in football isn't a new thing and it happens at all levels. Those who use a college football betting strategy know that it happens the most when universities play against each other. Not surprisingly, the most respectable bookmakers with statistics offer few betting markets on these games. That's because these matches are subject to less scrutiny, so it is more difficult to monitor their fairness.
Veteran punters who know precisely how to bet on football and how to bet on basketball are also wary of this reality. It's more likely to be affected by the shaving points issue in games of lower magnitude than when you bet on the major competitions. College sports are more exciting and unpredictable, hence preferred by those who use a teaser betting strategy or fancy the prospect of placing a pleaser bet.
American football and basketball favor shaving points
Understanding what does shaving points mean will lead us to another question. Why is shaving points in football more common in the American version than the European version? The reason is that American football teams score more points in a game, therefore the spread wider. It is much easier for crooked athletes to meddle with the spread and more difficult for bookmakers and the authorities to detect the fraud.
The same applies to basketball matches, where 200 or more points are being scored on a match basis. The bottom line is that shaving points in American football and basketball is easier to pull off.
Shaving points FAQ:
Shaving points in football and basketball is a reality, but not a widespread phenomenon.
Shaving points is a crime regardless of sports and it is punishable by up to five years in prison.
This illegal activity hasn't stopped today and there are still cases of points shaving in 2022.
Understanding what shaving points means in football highlights the fact that it also works on soccer. Because there are fewer goals scored, it is more difficult to exploit the spread, but still possible.
The risky and profitable business of shaving points
When there is money to be won, there will always be people motivated to break the rules. Shaving points is a crime that can be punishable with jail time, so it is a serious offense. Even so, there is no shortage of people willing to take their chances for the sake of winning easy money. American football and basketball are more suitable for this activity because of the high number of points scored every match. No sport is truly sheltered from this danger, as dishonest punters can be very creative.