Teaser Betting Strategy: How to Bet and Win!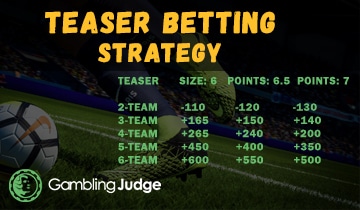 The roads less traveled are usually less traveled for a reason and those who bet on sports should be wary of exotic bets or markets.
This is where American football betting sites get the greatest house edge and not surprisingly, they encourage punters to dwell heavily on them.
Teaser bets are borderline dangerous, as just as the name suggests, they lure players into the temptation of tinkering with spreads they don't fully understand.
The good news is that with the right teaser betting strategy, you can make the most of these special bets.
What is a Teaser Bet?
Well before you get to reap the benefits of a coherent teaser betting strategy, you need to understand what is a teaser bet. The teaser is a sports bet that bears many similarities with parlays, which are essentially accumulators.
By adding several events of the same betting slip, players reap the benefits of multiplied odds, therefore the chance of bigger winnings. The downside is that they need to win all the bets to make a profit, and the more events they add, the greater the chances to lose. Start low, with a double bet, which has two events on the same betting slip. To increase your winning chances choose the low odds betting strategy which consists of placing accumulator bets with low odds selections. The profit won't be that big but it's still a profit.
The teaser bet has the particularity that it allows players to alter the point spreads, as well as the over and under totals between four and 10 points. These of course, differ based on sport, as do key numbers in sports betting, but the system is the same and once players master it, they can successfully deploy it on several sports.
The standard 6 and 7 point teaser is offered on American football, that some consider to be the easiest sport to bet on, but the spreads can oscillate greatly for basketball, baseball and other sports. The art consists in deciding how much the line can be pushed in either direction.
Best Bookmakers for Placing Teaser Bets
in 01 November 2023 – Updated List
Rank
Bookmaker
Bonus
Safe & Trusted
Rating
Get Started
How to place a winning teaser bet?
If you decide to experiment with teaser bets, you need to make sure that you have a solid understanding of the sport at hand. That's because the NFL teaser betting strategy for example differs greatly from the standard NBA teaser betting strategy and this applies to other sports. Players usually choose two or three teaser bets and then tinker with the point spreads, based on their appetite for risk. Just remember that regardless of your approach, you still need to win all the matches chosen to be paid.
The 6 point teaser is preferred because it slightly increases the chance of winning, without hurting the odds too much. Punters can choose to select more matches from the existing offer and then decrease the spread that the favorite must cover. Conversely, they can increase the advantage given to the underdog, so either team has a better chance of finishing in the money. Once the bets are added on the betting slip, the teaser bet is placed and punters only need to patiently wait for the teams to conclude.
Why do teaser bets pay less than parlays?
Sports betting and mathematics go hand-in-hand and punters should be fully aware of the link that exists between odds and reward. The greater the payout, the bigger the odds, so the sports betting teaser strategy is deployed to cut down on the risks, while keeping the payouts reasonable. By adding both matches on the same betting slip, the odds are multiplied, so players end up winning more than if they were to bet normally for example with a over 0.5 goals or just more, like under 3.5 goals. On the other hand, the 6 point teaser vs moneyline parlay difference consists in the fact that the latter uses the standard spreads and the greater odds. Occasionally, players can do the exact opposite and bet on the favorites to cover greater spreads, effectively assuming greater risk for bigger potential rewards
How Profitable are Teaser Bets?
Bookmakers would like you to believe that the 6 point teaser odds they offer are exceptional and you should take them without question. Truth be told, even though these are the most popular teasers, in the long run, players end up losing money. The standard house edge revolves around 10%, but it can be decreased if players bet at top sports books or betting exchanges. By comparison, the regular teaser categories for all sports have an edge that goes well beyond 10% and inches closer to 20%.
Each time you bet at undervalued odds, you take more chances than you should. The "odds before teaser" theory makes perfect sense and players should always compare the available odds carefully. If you want to know how to maximize basic teaser strategy in NFL betting you should never bet more than two or three teams on a teaser bet. These types of special bets should be reserved to special occasions and when you feel comfortable adding several events on the betting slip, it is better to stick to the standard parlays. Learn more on how to win sports betting parlays or more about tennis betting strategies, in our betting guide.
Standard and Advanced Teaser Odds
Weaving a coherent teaser betting strategy means that you need to set clear goals and seek the odds that will meet your expectations. Risk-averse punters will prefer the 6 point teaser payout of lower magnitude to the 10 point teaser payout associated to higher risk bets. In the beginning, the betting options on a standard teaser game were not that numerous, but intense competition presented bookies with the motivation to diversify their portfolio.
The standard six point teaser bet is still the bread and butter of casual and recreational punters, but these lines are now far more flexible. It is possible to bet on separate teasers and combine different sports and even include bets on favorites and underdogs. In anticipation of a big match, the number of points teaser bet options increases radically. Less experienced punters are likely to be overwhelmed by all this freedom of choice, but we urge them to stick to the standard bets.
How are teasers settled in case of a push?
Bookmakers advertise teaser betting as an excellent solution for winning large amounts of money with limited risks. What is the point of a teaser if it benefits players and how can the sports book profit from such a wager. The explanation is simple and it has to do with the fact that all teams wagered on the teaser have to win. There is also the possibility of a selection in the teaser to be push, which will cause the entire teaser to talk to the next lower level. If players bet on three or four team monster teasers, they will lose the wager if a betting push occurs and different sports book can have different rules. That's why, even if you have the ultimate teaser betting strategy, make sure to always read the fine print from the bookmaker.
Professional and College Football Teasers
The team teaser bet works in the same manner if you bet on professional leagues or college football. You can place your teasers strategically on both competitions, if you remember to follow a couple of basic rules. Betting on more than three teams is just as risky on college football and the NFL, as it greatly decreases the odds of winning.
The most popular teaser on the NFL matches might not be available on college sports, such as college baseball betting, still bookies will offer substitutes. These should always be taken with a pinch of salt, as college football matches are more volatile and you need to make sure you have the correct information.
How about Basketball Teasers?
The 6 point football teaser leg is the most popular bet of this time, but basketball fans have the possibility of using different ones on their favorite sport. They enjoy greater freedom in choosing the spreads, as with more points being scored in a basketball game, the winning margins are wider. The less profitable basketball teasers are those where punters sell points, by decreasing the winning margins of the favorite teams. When you have doubts regarding which teaser bets are profitable in basketball, remember that it is always better to buy points. In the long run, the slightly greater odds will offset the risks you take.
Are Teaser Bets Sucker Bet?
The last thing that punters want to happen is to be tricked by bookmakers into believing that a bet is worth making. Teaser bets have long been rumored to be sucker bets and in most cases this holds true. Regular punters who simply take the odds given by the sports book on the 3+ teaser bets and hope to offset the house edge are sadly, but truly suckers. On the other hand, if you choose the right teaser odds and know how to tweak the lines based on your sport of choice, you can at least level the playing field.First of all you need to have a solid bankroll to wager on the teaser, because frequently, you will be hedging against the risks. In NFL matches, you should try to land on a +3.5 rather than a lower 0.5 or 1.5, because of the manner in which points are scored and calculated in this sport. 10, 7 and 6 are important thresholds, even though they hold no special significance in basketball or other sports. When adding multiple events, pay attention to the matches that end sooner and the status of the active games. Quite often, it is a wise choice to cut your losses and use the cash out feature, to take the diminished profits.
Frequently Asked Questions
All gambling options have the potential to be profitable. Teasers used to have a bad reputation, but as bookmakers now take less juice and offer more lines than ever before, we'd say that teasers can just as profitable as other bets if you know what you're doing.
Teaser odds are usually shown in the American odds format. The odds shown can often be moved to increase your chance of success. The increase in points isn't usually shown until you put the bet on your betting slip, though.
Ten-point teasers have the potential to pay out vast winnings. However, you're going to need everything to go in your favour to land a win. A typical ten out of ten teaser could end up paying as much as +800.
Teaser bets have a built-in push feature. In the event of a tie, the teaser reduces the number of bets in a teaser of three or more. For instance, a four-team teaser which has two ties will reduce itself to a two-team teaser with recalculated payouts.
Don't get teased into bankroll ruin
Bookmakers have been offering teaser bets for decades and they are likely to continue tempting casual and veteran punters. These are risky bets, just like all the parlays, because you need to make several correct predictions to cash in.
We advise you to use these bets moderately and when you do, make sure you exercise flawless bankroll management and have a teaser betting strategy in place. Focus on the sports that offer better odds, go with NFL and NBA betting sites, and don't hesitate to use the cash-out function and also take all the sports betting benefits.
Other related articles you might like: