What is an If Bet | If Bet Explained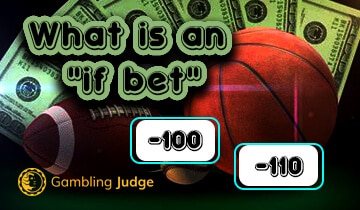 There are different types of sports betting and some are more "exotic" than others: An If bet is the best example of this. We can define it as a double bet with some specific conditions and when used correctly, an if bet can be a very effective sports betting money management method.
Unfortunately, there are not many guides about them so lots of bettors are not aware of their existence. Well, no more: Below, we will explain what is an if bet and the if bet meaning, give actual examples, and list the best bookmakers you can use to place this bet right now.
What is an if bet?
The total number of selections you can make in an if bet is different for each bookmaker. However, sports betting sites owned by the biggest betting companies generally allow you to make between 2 and 6 selections. Choosing too many increases the amount of payout you earn, but also increases the risk you take, exception being the super yankee bets. We recommend a maximum of 3 choices as the ideal if bets strategy. 
Let's continue with a list of the best bookmakers to play if win bet. We tried all of these sportsbooks and evaluated their risk free bet offers. They offer classic options such as point spread betting and money line betting as well as exotic options such as if bet, an action reverse bet or a win reverse bet.
No matter what type of bet you want to place, you can find a suitable option and take advantage of competitive odds and advantageous bonuses. Choose one, sign up, and start playing if bets after game starts right now!
Top bookmakers with the best welcome bonuses in 29 September 2023 – Updated List
Rank
Bookmaker
Bonus
Safe & Trusted
Rating
Get Started
If bets explained with examples
Let's give an if bet example so you can understand exactly what is an if bet. This is not a how to place a bet online guide so we will skip the basics. In this example, we will use two teams, Team A and Team B. The odds are 1.10 for both. Your if bet basically says this: "If Team A wins the match, Team B will win the match too". You are wagering 11 EUR in this bet. There are three possible outcomes:
1️⃣ If Team A loses, your if bet is over – you lose it and that's the end. 
2️⃣ If Team A wins, you win 10 EUR. Your original wager (11 EUR) will be carried to Team B and you automatically place another bet for this team too. Note that you are not depositing another 11 EUR: You are using your original wager. If Team B also wins, you will win another 10 EUR. Your total payout will be 20 EUR and you will get your initial wager (11 EUR) back. 
3️⃣ If Team B loses, you will keep the first payout (10 EUR) but lose your second wager (11 EUR). Basically, you will only lose 1 EUR.
There are two different if win bet types you should know about:
If bet or separate straight bets: Which one is better?
Straight bet and if bet are completely different concepts and it would be wrong to make a direct comparison. These are options that appeal to different types of bettors.
Straight bets have one coupon and one result: For example, if you bet that Team A will win the match, you don't have to follow any other outcome. As long as Team A wins the match, you win – it is that simple. It is a type of bet that appeals to beginners or those who don't like complex betting.
In if bets, you bet on at least two different matches, and they all depend on each other: All your choices must win in order to win the bet. However, the payout will also be higher as you take more risk. If bets are aimed at experienced players and are a technique used by bettors specializing in profitable football betting strategies.
If you don't like taking too much risk, try straight bets. If you enjoy complex outcomes and a higher earning potential, try
if bets
. 
If bet vs parlay bet
Parlay bets, also known as accumulator bets, are quite similar to if win bets.
👉 In parlay bets, you bet on multiple matches and outcomes. In order to win, all your choices must win. If you lose even one of your choices, you are considered to have lost the whole bet.
👉 On if bets, as we explained above, as long as your first selection wins, you get to keep its payout even if your second choice loses. So you still receive a certain amount of payment.
👉 In this regard, if bets are more advantageous. However, parlay insurance bets offer higher odds and have more earning potential.
Should you try if bets?
PROS
Higher payouts than straight bets
You can use a single wager to bet on multiple matches
You still get to keep a part of the payout even if your other choices lose
CONS
Becomes too risky after three selections
May be too complex for beginners
Your FAQ about if bets answered
No. The idea behind the if bet is betting on two individual matches and using the result of the first one to activate/fund the other. If you bet on the same game, this won't be possible and against the logic of if bets.
This depends on the bookmaker. We can say that this number changes between 2 and 6. We have seen bookmakers that allow 7 selections too. However, as explained above, we don't recommend choosing more than 3.
Suppose you place a bet consisting of three selections and using the following order: Team A, Team C, Team B. If Team B's match is to be played before Team C's match, you have to put it in the second place, not the last place.
See the answer above: You have to make the ranking in the order the matches will be played. In this regard, you should pay attention to the order of the matches for timing as well. If a second placed match ends before a first placed match, your bet will be void.
This really depends on your budget and expectations. Parlay bets pay more but they are riskier too. Id bets allow you to keep your original payout even if your second selection loses. In general, we can say that if bets are a less risky version of parlay bets.
Check out our if bets tips and place your wager today
Well, now you know what is an if bet and how to use an if bet effectively: It is time to start making practice. Pick one of our recommended bookmakers from the list above, become a member, and place your if win bet right now. Don't forget to claim your bonus too: The right bonus can give you a big bankroll for free. Good luck out there!
Other articles you might enjoy: