Asian Corners Explained: Asian Total Corners, Asian Handicap Corners & 1st Half Asian Corners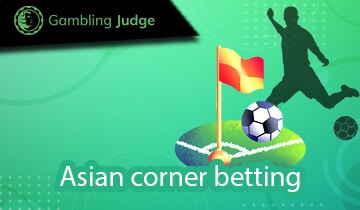 There are lots of ways to win big on football bets and "Asian corners" is one of them. As you can guess by the name, this is a bet about corner kicks in a football match, but there are lots of ways to place it: Asian corners betting is not simply about guessing the total corner count in a match.
It is remarkably similar to over/under betting and you can even get a refund on your bet in some scenarios.  And with the right sports betting strategies, you can win really big payouts.
In this guide, we will talk about this exotic bet type and let you learn how do Asian corners work. We will start with the obvious question: what are Asian corners?
What does Asian corners mean in betting?
We can keep going, but you get the idea: There are lots of ways to place a bet on corners, like Canadian betting. Asian corners betting is about all these outcomes and possibilities. Usually, it has three types (which we will talk about below) but no matter what type it is, you will always be placing a bet on corner kicks, which covers all possibilities related to it.
But wait, we know what you are thinking: Why is it called "Asian"? What is the difference between "normal" corner betting and Asian corners? Before we go further let's have a look at our recommended bookmakers where you can bet on Asian corners.
Best Bookmakers for Asian Corner Betting
in 01 November 2023 – Updated List
Rank
Bookmaker
Bonus
Safe & Trusted
Rating
Get Started
Asian corners football vs regular corners football
If a betting term includes "Asian", you can be sure of two things: One, you won't be able to bet on a "draw" result. Second, you will be able to get a refund in some scenarios if the result is a draw. The same features apply to Asian corners betting too. At first glance, these two types of sports betting are the same: They both offer the chance to place a bet on corner kicks. However, there are two main differences:
Types of Asian corners bet
We will explain the rules in detail when explaining the types of Asian corners and everything will become clearer when you read them, no worries. As we mentioned earlier, there are three basic types of Asian corners: You can find them in almost all major bookmakers. We list them below and explain how you can win them.
Asian total corners
This is the most common type, so this section will be like a mini Asian total corners explained guide. In this bet, you are trying to estimate the total number of corners in a match. In this regard, you are offered two options:
Whole-corner: A whole number. For example, Asian corners 9, which can be used as "Over 9/Under 9 corners".

Half-corner

: A half number with a dot. For example,

Asian corners 9.5

. It can be used as "Over 9.5" and/or "Under 9.5".

Quarter-corner

: Both full and half numbers are used together. For example, "Over 9, 9.5" and/or "Under 9, 9.5".

Asian handicap corners
In this bet, there are also half corner and quarter corner options, but you mainly bet on which team will use more corners. So, your goal is not to estimate the total number of corners, but to try to predict which team will use more of them.
In the half corner option, handicap points are given to the teams beforehand, and these points are added to the total number of corners at the end of the match to determine which team won. If both teams have the same number of corners, bets will be voided and refunded. This is remarkably similar to handicap betting, with the "refund" option added.
We can explain the quarter corner option with an example:
1st half Asian corners
This is offered by default as an Asian total corners bet, so it is subject to the rules we explained above. However, it is settled at the end of the first half, not at the end of the match.

Asian corners betting strategy for beginners
👉 Remember that you can use all of these options live. In other words, live Asian corners betting is possible, and it would be a good idea to take a look at our guide about
live betting systems
. Likewise, make sure to read our
Asian handicap in-play
guide.
👉 Asian corners are remarkably similar to Asian handicap betting, so be sure to read our guide on Asian handicap strategies too.
👉 Weather conditions can increase or decrease the number of corners: In snowy and wet weather, the likelihood of the ball going out-of-bounds is higher. Therefore, be informed about the weather.
👉 Review the shots per game statistics of both teams. You can find these figures online in many different resources. Generally, teams with higher shots per game ratio use more corner shots. Likewise, crosses per game statistics are also important.
👉 Oftentimes, first-half Asian corners bets offer higher odds. This is because bookmakers mostly focus on the whole game. So, you can get higher odds by choosing only first-half bets.
What to expect from Asian corners betting?
PROS
You can get a refund in some outcomes
Available almost everywhere: All bookies offer this option
You can use bonuses with it
CONS
Regular corner betting offers higher odds
Some types can be confusing
FAQ: Your questions on Asian corners answered
In a nutshell, you are trying to guess whether the total number of corners will be below or above a certain number. If the result is exactly that number, you get a refund in some outcomes.
This is an option in Asian total corner betting. It means you are betting on there will be at least 11 corners in a match.
Regular corner betting offers higher odds but no refunds. Asian corners betting offers lower odds but refunds: The choice is yours.
Asian corner in betting markets are some interesting types of bets because is different. For example, with an asian corners each team is given a handicap. Short, is like this, the home team starts the game with 5 corners in their account.
We picked the best Asian corners bookies for you
We answered the "what are Asian corners" question for you in detail and we believe you are now ready for placing your first bet. You can do this in a maximum of 5 minutes. Go to our compare bookmakers page and simply pick one of our recommended bookmakers, register for an account, and place your first Asian corners bet. Don't forget to claim your bonus too! Asian corners betting is fun and quite profitable if you make the right choices: As always, we wish you good luck!
Other articles you might enjoy: