Asian Handicap 0.5 | What Does +0.5 Asian Handicap Mean & How to Use It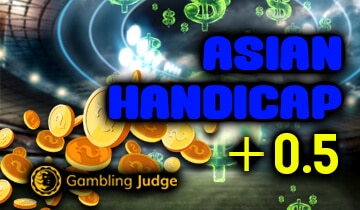 Handicap betting is a common practice among both savvy punters and beginners trying to maximize the return on investment. Among them, the Asian handicap 0.5 is perhaps the most popular of them all, second only to its exact opposite, the classic Asian handicap -0.5.
They represent the two faces of the same coin and in this guide we'll thoroughly explain how they work for favorite and underdog betting. We also highlight the best Asian handicap bookmakers offering the best odds to their members.
Best Bookmakers with Asian Handicap Markets in 18 September 2023 – Updated List
Rank
Bookmaker
Bonus
Safe & Trusted
Rating
Get Started
Everything you must know about Asian handicap betting
How does Asian handicap 0.5 work in reality?
What does Asian handicap 0.5 mean?
Understanding the alternative Asian handicap is rather simple and luckily the +0.5 Asian handicap is the easiest to understand for football fans. Some players even make the mistake of assuming that this special bet is nothing more than a glorified double chance wager, and some confuse it with sweetheart teaser. As you can see from the example below, they are not too far from the truth, but the Asian handicap + 0.5 works differently for other sports.
Other types of Asian handicaps
The Asian handicap 0.5 is the most basic type of single Asian handicap betting, but there are plenty of other handicaps. The -1 Asian handicap and the Asian handicap 1 are preferred by risk-averse punters, as they trigger refunds in case of odd goal victories. The Asian handicap 0.25 and Asian handicap 0.75 work in a similar manner, but they only award a quarter goal to the chosen team. As a result, the refund is also partial in case of narrow victories or draws, but in exchange punters enjoy bigger odds.
The table below shows several 0.5 Asian handicap options and outcomes for each: You can use it as a reference.

0.0 & +0.5 (+0.25)
Team Result
Win by 1 or more
Draw
Lose

Bet Result
Win
Win Half
Lose

+0.5 & +1.00 (+0.75)
Team Result
Win
Draw
Lose by 1
Lose by 2 or more+
Bet Result
Win
Win
Lose Half
Lose
Meet the alternative Asian handicap 0.5
Which sports are best to wager Asian handicap 0.5 with?
Tips on betting with 0.5 Asian Handicap
Understanding what does Asian handicap 0.5 mean and how to use the half Asian bet will open new opportunities for punters. You can rely on it whenever betting on highly contested matches between teams of similar caliber. Even though the 0.0 0.5 Asian handicap is essentially a double chance for football games, it sometimes offers better odds.
👉 While this doesn't make a lot of sense, it is a very real fact and one of the basic tips is to simply check compared the +0.5 Asian handicap and double chance betting.
👉 The split Asian handicap can also be used in conjunction with its more complex fractional betting forms. For instance, you can hedge against the risks by placing a 0.5 1 Asian handicap on the underdogs if you fear a narrow margin defeat.
👉 The alternative Asian handicap 0.5 just like the 0.5 1.0 Asian handicap is also ideal for effective Asian handicap arbitrage.
👉 Bonus recipients can use them to place opposing bets at different bookmakers and craft an Asian handicap betting strategy that leads to guaranteed profits.
Advantages and disadvantages of Asian handicap 0.5 betting
PROS
Asian handicap 0.5 betting is perfect for balanced matches
Occasionally can produce better odds than double chance bets
Can be used in conjunction with other bets on accumulators
CONS
A tiny fraction of online bookmakers don't offer Asian handicaps
FAQ about 0.5 asian handicap
You can use the Asian handicap in play on most sports, but this type of spread betting is particularly popular with football.
Understanding 0.5 Asian handicap betting is the first step to expanding your betting options. By using Asian handicap 0.5 you can win even if the match ends undecided, in addition to an underdog victory.
Beginners can easily understand what is Asian handicap +0.5 and use it just as successfully as veterans. Savvy punters and recreational punters can tap into its potential just as easily and win big.
Part of having Asian handicap betting explained requires you to learn where the name comes from. It was coined in 1998 by Joe Saumarez Smith, a journalist who was asked by an Indonesian bookie (Joe Phan) to translate "Hang Cheng" betting. Unable to do it accurately, the phrase was born.
We wouldn't say that you get "better odds" with either an Asian handicap 0.25 or an Asian handicap 0.75 over the +.0.5 option. Each brings something different to the table, and like straight betting, the odds in front of you really depend on the type of teams or players involved in a match.
No. For instance, it is possible to wager a first half Asian handicap 0.5 bet and then consider a second half Asian handicap 0.5 bet. You can also engage in handicap betting on the same game at multiple bookies, so there is room to wiggle here.
Take betting to the next level with Asian handicap 0.5
By now you have a firm understanding of the +0.5 Asian handicap meaning and are well capable of using it to bet on sports. Whether you decide to stick to the 1st half Asian handicap for football games or try it to reduce the house edge on other sports, you will surely enjoy its benefits. 
Having the Asian handicap 0.5 explained is the first and most important step, but true knowledge comes through practice. We have also prepared a dedicated guide for Betfair Asian handicap betting. Place your first Asian handicap 0.5 bet and take your online gambling to the next level!