Asian Handicap 0.5 | What Does +0.5 Asian Handicap Mean & How to Use It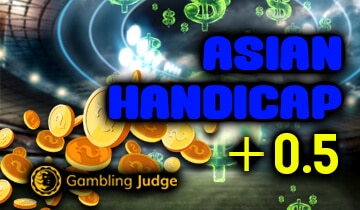 Everything you must know about Asian handicap betting
🥇 Best bookies for Asian handicap betting [2021]
What does Asian handicap 0.5 mean?
Other types of Asian handicaps

0.0 & +0.5 (+0.25)
Team Result
Win by 1 or more
Draw
Lose

Bet Result
Win
Win Half
Lose

+0.5 & +1.00 (+0.75)
Team Result
Win
Draw
Lose by 1
Lose by 2 or more+
Bet Result
Win
Win
Lose Half
Lose
Tips on betting with 0.5 Asian Handicap
Understanding what does Asian handicap 0.5 mean and how to use the half Asian bet will open new opportunities for punters. You can rely on it whenever betting on highly contested matches between teams of similar caliber. Even though the 0.0 0.5 Asian handicap is essentially a double chance for football games, it sometimes offers better odds.
👉 While this doesn't make a lot of sense, it is a very real fact and one of the basic tips is to simply check compared the +0.5 Asian handicap and double chance odds.
👉 The split Asian handicap can also be used in conjunction with its more complex fractional betting forms. For instance, you can hedge against the risks by placing a 0.5 1 Asian handicap on the underdogs if you fear a narrow margin defeat.
👉 The alternative Asian handicap 0.5 just like the 0.5 1.0 Asian handicap is also ideal for effective Asian handicap arbitrage.
👉 Bonus recipients can use them to place opposing bets at different bookmakers and craft an Asian handicap betting strategy that leads to guaranteed profits.
Advantages and disadvantages of Asian handicap 0.5 betting
PROS
Asian handicap 0.5 betting is perfect for balanced matches
Occasionally can produce better odds than double chance bets
Can be used in conjunction with other bets on accumulators
CONS
A tiny fraction of online bookmakers don't offer Asian handicaps
Your FAQs on Asian handicap 0.5 answered
You can use the Asian handicap in play on most sports, but this type of spread betting is particularly popular with football.
Understanding 0.5 Asian handicap betting is the first step to expanding your betting options. By using Asian handicap 0.5 you can win even if the match ends undecided, in addition to an underdog victory.
Beginners can easily understand what is Asian handicap +0.5 and use it just as successfully as veterans. Savvy punters and recreational punters can tap into its potential just as easily and win big.
Take betting to the next level with Asian handicap 0.5
By now you have a firm understanding of the +0.5 Asian handicap meaning and are well capable of using it to bet on sports. Whether you decide to stick to the 1st half Asian handicap for football games or try it to reduce the house edge on other sports, you will surely enjoy its benefits. 
Having the Asian handicap 0.5 explained is the first and most important step, but true knowledge comes through practice. We have also prepared a dedicated guide for Betfair Asian handicap betting. Place your first Asian handicap 0.5 bet and take your online gambling to the next level!