Asian Handicap Bookmakers – Best online Asian handicap bookies in 2023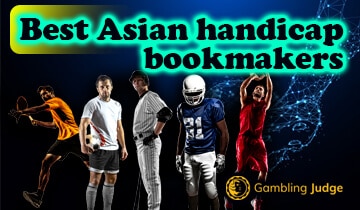 Savvy punters have long discovered Asian handicap bookmakers and know how to tap into the immense potential of spread betting.
Casual players can also take advantage of Asian handicap betting to mitigate the risks and reduce the house edge even further.
In this guide, we review all the popular types of bets that are compatible with spread wagering and highlight the top Asian handicap bookies offering them.
You will learn how Asian bookies work and how you can make underdog betting or over 0.5 goals work in your favor.
Best Bookmakers with Asian Handicap Markets in 19 September 2023 – Updated List
Rank
Bookmaker
Bonus
Safe & Trusted
Rating
Get Started
The definitive 2023 Asian handicap bookmakers guide
What makes spread betting so popular at Asian handicap bookmakers?
Asian handicaps are highly useful instruments when betting on any type of market, both highly contested matches and lopsided affairs. If the outcome is difficult to predict, you can use the handicap to give a slight advantage to the weaker side and reduce the risks of a draw.
When there's a huge difference between the competing teams, bookmakers with Asian handicap give you the chance to use range betting in your favor. Punters are given a lot of freedom in adjusting the odds based on their bankroll and expectations while crafting their own Asian handicap betting strategy that best serves their purpose.
Step-by-step Asian handicap betting
If you are new to alternative Asian handicap betting and ready to place the first bets, these are the steps to follow. Whether you bet at classic bookmakers or choose a betting exchange such as the Betfair Asian handicap, these 6 easy steps will help you succeed.
Step 1
Browse an extensive list of Asian handicap bookies
Step 2
Identify the best Asian handicap bookmakers offering top odds
Step 3
Access the Asian handicap betting page on your sport of choice
Step 4
Decide whether you'll bet on the favorite or underdog and set your winning goal
Step 6
Place your bet and wait for the favorite or underdog to cover the spread
How do Asian handicap bookmakers differ from classic ones?
What's the betting offer at Asian handicap bookmakers?
The new Asian handicap bookmakers have diversified their portfolio to include both standard and original types of spread betting. Any sports book should provide its players with the basic Asian bookies handicap betting options such as full and half line bets on favorites and underdogs. The Asian handicap -1 and Asian handicap 1 markets are to be expected by default and the same goes for the Asian handicap 0.5.
Quarter line bets are also a common occurrence at Asian handicap football betting sites, as they give players finer betting margins. Recently, the number of Asian handicap bookmakers offering live wagering options has increased and Asian handicap in play is also a mainstay feature. The 1st half Asian handicap is also rather common and it covers both outright winners and the total number of goals scored.
The difference between Asian and European handicaps
Tips and strategies to use at Asian handicap bookmakers
When placing your wagers at Asian handicap betting sites you can use this type of spread betting to craft intelligent strategies. Because this type of spread betting gives you the chance of having some or the entire stakes refunded, it is perfect for
Asian handicap arbitrage
.
The finer margins enable punters to find bookmakers that offer odds that barely cross even value on opposing teams. This means that once you identify which bookies do Asian handicap you can bet at several ones to make a guaranteed profit.
On a daily basis, Asian handicaps can be used to bet on defensive-minded underdogs to cover the spread against better teams that suffer from fatigue or have busy schedules. They are also ideal for basketball, rugby, cricket, and other sports where plenty of points are scored by both sides. The newest Asian handicap betting sites cover these sports as well, in addition to the popular football markets.
Pros and cons of Asian handicap bookmakers
PROS
You can have the stakes refunded in case of a draw
More flexibility when betting on lopsided matches
Competitive odds and lower house margins
Ideal for extracting value from high scoring games
CONS
Emphasis is mostly on football with fewer options on niche sports
Frequently Asked Questions about Asian handicap bookmakers:
The security of Asian handicap bookies depends on their licensing, track record and overall reputation over the years. The fact they offer spread betting doesn't impact security or make them less trustworthy.
The vast majority of sports books are in fact Asian handicap betting sites, as they have added spread betting to their portfolio. More than 90% of top bookies have this sports betting offer available.
Established brands that have been around for decades have greatly expanded their betting portfolio. However, you can find exceptional betting offers and markets and the newest Asian handicap bookies.
Betting exchanges traditionally offer the best odds on all the sports and betting markets available. Not surprisingly, these are also some of the best paying Asian handicap betting sites.
The odds of finding bonuses awarded exclusively to those who bet on the Asian handicaps are slim even at the best Asian handicap bookmakers. There are, however, exceptions to the rule, so keep searching.
Maximize your profits at Asian handicap bookmakers
Regardless of your sport of choice, Asian handicap betting sites can provide you with unique chances to maximize your winnings. Reduce the house edge and give yourself a second chance to have the stakes reimbursed if the match ends in a draw.
Extract the most from lopsided victories and make a profit if the underdog loses but covers the spread. All these perks are available exclusively at Asian handicap bookies and are guaranteed to make your online sports betting experience more exciting and profitable.
Other related articles you might like: