Asian Handicap 1 | What Does 1 Asian Handicap Mean & How to Use It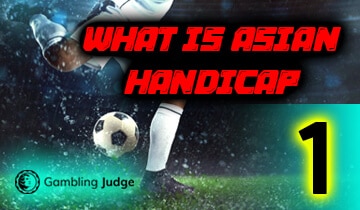 About Asian handicap betting
🥇 Best bookies where you can place Asian handicap bets [2021]
What is an Asian handicap 1?
Variants of Asian handicap 1 betting

0.5 & 1 (+0.75)
Team Result
Win
Draw
Lose by 1
Lose by 2+
Bet Result
Win
Win
Lose Half
Lose

+1
Team Result
Win
Draw
Lose by 1
Lose by 2+
Bet Result
Win
Win
Stake refunded
Lose

1 & 1.5 (+1.25)
Team Result
Win
Draw
Lose by 1
Lose by 2+
Bet Result
Win
Win
Win Half
Lose
Using Asian handicap 1 during the game
Asian handicap in play bets are possible and many bookmakers offer this option. In some cases, Asian handicap 1 in-play may be more advantageous, as an unexpected development in the match (e.g. injury of a star player) causes odds changes for the underdog team.
We recommend that you try regular Asian handicap 1 bets first and then try in play bets after gaining enough experience. Note, however, that goals scored before placing your live bet are not counted.
Tips for Asian handicap +1 betting
There is no single
Asian handicap betting strategy
valid for every scenario.
👉 However, since you support the underdog team in 1 Asian handicap bets, general underdog betting tactics can also be used here. So do your research and place a +1 Asian handicap bet only if you believe the underdog has a real chance to win.
👉 Don't make a decision just by looking at the odds. Even a simple pre-match change (e.g. player changes) can dramatically affect the result.
👉 You can also get higher odds by trying exotic options such as 1st half Asian handicap.
👉 Also, don't forget to take a look at hedge betting strategies: With Asian handicap arbitrage bets, you can guarantee a payout regardless of the outcome.
Should you try +1 Asian handicap betting?
PROS
Some outcomes refund your bet (you don't lose it)
The simplest form of Asian handicap betting
Higher odds than 1x2 betting
CONS
Can still be complex for beginners
There is no chance of half win
FAQ about 1 Asian handicap
While Asian handicap +1 can be used on any sport that calculates the score with goals/points, we can say that +1 handicap football is the most suited (and popular) option for this type of betting.
The void is another term for the "stake refund". If your team loses the match but the score difference is only 1 point, the bet is void: You get it back.
With 1x2 bets, you can also place a bet for the draw outcome. Asian handicap 1 betting does not have this option, you only bet on a win or a lose. Both options have their advantages and disadvantages: 1x2 betting is more suited for beginners but 1 Asian handicap bets pay more due to their higher odds.
Place your Asian handicap +1 bet today
This is the end of our guide to Asian handicap 1: We believe that you are now ready to place your first Asian handicap 1 bet. (Speaking of which, make sure to check our -1 Asian handicap guide too, in order to fully understand the topic.) Without wasting any more time, pick one of our recommended bookmakers and check out their 1 Asian handicap offers: We are sure that you will start winning in no time. We have also prepared a dedicated guide for Betfair Asian handicap betting. Good luck with your Asian handicap +1 bets!