Asian Handicap -0.5 | What Does -0.5 Asian Handicap Mean & How to Use It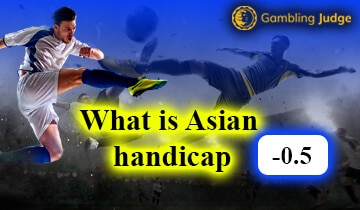 Asian handicaps were intended to give players more flexibility, by providing the means to partially or entirely reimburse losses. Today, some were used as a hedge against risk but there are some such as the -0.5 Asian handicap that are meant for decisive players.
Such bets are similar to the European handicap but operate with finer margins, so they keep players in full control of their betting routine.
In this guide, will tell you what does -0.5 Asian handicap mean and which are the best Asian handicap bookmakers.
Quick glance at Asian handicap betting
Best Bookmakers with Asian Handicap Markets in 28 September 2023 – Updated List
Rank
Bookmaker
Bonus
Safe & Trusted
Rating
Get Started
What does -0.5 Asian handicap mean?
Other types of Asian handicaps
As mentioned above, the Asian handicap comes in many flavors and the other types can even be expressed in different ways. Take the Asian handicap 0.0, -0.5 handicap for example where punters lose half the stakes if the match ends in a draw. Conversely, with the Asian handicap -0.5 -1 punters will win if favorites win by two goals or more and win half the stakes if they prevailed by one goal, but if you want to learn more, read our article about over 2.5 goals.
These alternative Asian handicap bets are better for contested games between evenly matched teams. Just like the quarter goal handicap is used for closer games, you can push the envelope and aim for bigger winnings with wider Asian spreads such as -1.5 o -2.5 handicap betting lines.
The table below shows several -0.5 Asian handicap options and outcomes for each:

0.0 & -0.5 (-0.25)
Team Result
Win by 1 or more
Draw
Lose

Bet Result
Win
Lose Half
Lose

-0.5 & -1.00 (-0.75)
Team Result
Win by 2 or more
Win by 1
Draw
Lose
Bet Result
Win
Win Half
Lose
Lose
Tips on betting with -0.5 Asian Handicap
Pros and Cons of -0.5 Asian handicap betting
Your FAQs on Asian handicap -0.5 answered