To Win Either Half Betting Explained | Tips & Strategies (2023)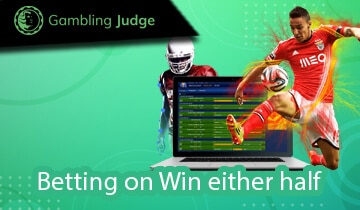 What does it mean to Win Either Half? There are all types of sports betting options out there for you to go with – why would you choose this one? If you want to have To Win Either Half explained to you, you have come to the right page.
In our guide, we will look at To Win Either Half betting and explain how to bet on a win in either half from a football perspective.
After all, football is where this bet is most used. If you are ready to begin, dive straight into the topic as we explore the definition behind the bet and how it works. Let us get started.
Best bookies for to win either half betting
in 27 September 2023 – Updated List
Rank
Bookmaker
Bonus
Safe & Trusted
Rating
Get Started
What is a to Win Either Half bet?
The nature of this bet means that it does not matter what happens in the "other half".
The score (whatever it happens to be) will effectively be reset to 0-0 at half-time.

To Win Either Half bets are essentially

double chance bet

s.

I

f your team is losing the first half (or drawing 0-0), you will get another chance (the second half) to try and win. All your team must do is score more goals than the opposition in either half to win, is almost the same situation like in the first half Baseball betting.

In many ways, this type of stake is preferable than

win to nil

or

over 1.5 goals system

bets you might usually see, as you get two bites at the cherry.

If the match ends 0-0 and no team outscores the other in either half, you will lose. With a draw no bet on the other hand, in this case, you would have your stake returned, meaning you neither win or lose. 
Perhaps a better way to explain the bet is to see it in action. Let us do that in the next section. Below you can see how this type of bet looks online.

How do Win Either Half bets work?
The best way to see the bet in action is to use a Win Either Half example. Here is how it could work.
Let us say that you have wagered money on Manchester United and Leicester City in a typical Premier League game.
When placing your to win either half bet, you can select:
Home to Win Either Half: either yes or no

Away to Win Either Half: no or yes options will be available too

Just select the footy team you think will win at least one half, and your bet will be placed.
To win either half vs to win both halves
Betting on a footy team to win either half is more straightforward than betting on a side to win both halves or staking money on the correct score with a half-time full-time bet. While you will get better odds with the latter options, they are trickier to pull off.
If you place a Win Both Halves bet, your team needs to outscore the opposition in BOTH halves. The full-time score is not taken into consideration, as once more, the score resets to 0-0 at half-time. This is only advantageous if a giant is taking on an underdog, where they could reasonably be expected to defeat their fledgeling opponent in both halves.
Top Win Either Half betting tips
There is not really a reliable To Win Either Half strategy that you can use. Football is sometimes down to the will of the gods, so football betting strategy systems seldom work out as you might expect. However, there are a few top Win Either Half tips we can discuss. You will find them below. They include:
👉 Check the Stats:
Always do your homework before the big game. Look up to Win Either Half statistics at bookmakers with statistics, and check tipster's To Win Either Half predictions to get some advice and top tips.
👉 Look for Favourites: If a favourite is taking on an underdog, then you could get better odds with a Win Both Halves bet. In this case you should back the favourite. A weak defence against a strong opposition could be a shoo-in for that type of bet instead.
👉 Similar Bets Can Guide You: If teams have decent odds in other areas, too, such as No Clean Sheet betting odds, then this could be an indication that they could be worth a punt. A footy team that fails to keep clean sheets is likely to lose at least one half. We explain more in our "what is a clean sheet in soccer" article.
👉 Take Advantage of Promos: If two evenly matched teams are going head-to-head (check here our head-to-head sports betting guide), it could be worth looking at bore draw promotions, also known as no score money back betting offers. This way, if the game ends 0-0, and no team wins a half, you will get your stake returned to you. You would lose it otherwise.
The pros and cons of Win Either Half betting
There are pros and cons to betting on Win Either Half odds, and they include:
PROS
These types of bets are easier than correct score betting
Bore Draw promos can see you avoid losing in a tie
Your chances of success in most games are decent
CONS
If a match ends 0-0, you'll lose your bet
Sometimes Win Both Halves is the better bet to go with
FAQs: Your questions about Win Either Half bets answered
If you still have questions about Win Either Half bets, we'll try to answer them in this brief FAQ.
You are typically wagering on whether the home side will outscore the away team in at least one of the halves. Similarly, an Away to Win bet means the reverse.
No. While football bets are the most common, in theory, there are Win Either Half markets available for any sport with two halves, such as rugby.
If the half ends 0-0, your bet will move onto the second half. However, if the full-time score is 0-0, you will lose your bet unless you took advantage of bore score draw promos.
These types of stakes are based on the 90 minutes rule. This means that injury (or added) time is included, but extra-time (two extra halves) is not.
You should have a decent understanding of how the bet works in our To Win Either Half betting guide by now. The next step is to find a bookmaker to play with if you want to make money betting on football. Plenty of the biggest betting companies in the world offer you the chance to place Win Either Half bets.
You can place To Win Either Half stakes at Bet365 or enjoy To Win Either Half bets at William Hill. You can compare bookmakers like these at our website and find many other top leading sportsbooks that accept Win Either Half bets right here.
Other articles you might enjoy: