What is Clean Sheet in Soccer Terms?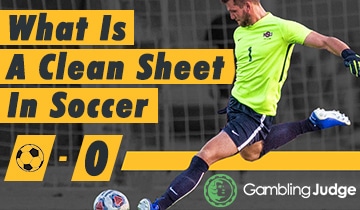 It is common for soccer to have terms and jargons that are unique to the sport, and a clean sheet is one such term. The phrase is ubiquitous, especially on betting platforms and sports analysts.
So, what does a clean sheet mean in soccer? A clean sheet, which is popularly known as shutout in the United States, is a term used to describe a team that has not conceded any goal in a match.
What Does Clean Sheet Mean in Soccer?
A clean sheet/shutout in soccer is a popular concept that is even used as a basis to gauge top-class defenders and goalkeepers. Sportsbooks are nowadays providing a 'keep a clean sheet soccer betting option' to its customers. You can also find a no clean sheet bet on these websites. You can now bet on a team you believe will shutout the opponent to collect big winnings with bookies.
Best Sports Welcome Bonuses
in 01 November 2023 – Updated List
Rank
Bookmaker
Bonus
Safe & Trusted
Rating
Get Started
Case Example of a Clean Sheet
If a match ends 1-0, the team that wins the game has managed a shutout. Also, a team keeps a clean sheet if it manages a goalless draw in a match. In other words, both sides would have kept a clean sheet if the game finishes 0-0.
Soccer Clean Sheet FAQs:
The clean sheet will be determined based on the outcome within minutes played by each goalkeeper. If the first goalkeeper does not concede any goal before the substitution, he will be awarded a shutout even if the substitute goalkeeper concedes goals. According to soccer clean sheet definition or clean sheet meaning in any relevant sport.
To some extent, Yes! If you select the "To Win to Nil" market, your preferred team must win the game while ensuring that it does not concede any goal for you to receive any bet win.
No. In most betting platforms, the clean sheet soccer rules dictate that a shutout bet result will be determined within the 90 minutes plus any added injury time. The outcome of extra time does not affect the result of a clean sheet bet. However, this might not be the case in other betting websites.
The primary determiners of whether a team will keep a shutout are the strength of the defense and the quality of the opposition attack. Other factors such as the performance of players, the soccer-style employed, the defensive tactic, and the quality of goalkeepers and defenders.
Clean Sheet Stats
Today, there are dedicated online sites that can help you analyze the current form of goalkeepers through their clean sheet soccer stats. On these platforms, you will be provided with in-depth clean sheet statistics that can help guide you through placing a shutout bet. The number of clean sheets soccer managed by each goalkeeper across the major soccer leagues around the world, as well as, the number of goals conceded is presented in a tabular form. That way, you can quickly analyze the probability of a given player to manage to shutout the opponents.
Clean Sheet Standing Records
Leading Clean Sheet Stats
Over the years, teams have managed to make soccer shutout records that are yet to be broken. In the 2018/2019 Premier League season, Liverpool maintained the highest clean sheet with a total of 21. In the current season, Leicester City has the highest number of clean sheets in the Premier League. Bettors can always look into the best clean sheet stats for other leagues online.
Goalkeepers with the Highest Number of Clean Sheets
In the premier league, Petr Cech holds the clean sheet soccer record. However, in the recent 2018/2019 season, Allison Becker, the Liverpool shot-stopper, had the highest number of clean sheets. In the current EPL season, Kasper Schmeichel is leading the way with seven clean sheets.
Sports Where the Clean Sheet Concept Applies
Apart from soccer, bookies are also providing the shutout bet options for other sports. Some of the games where the shutout concept can be applied include:
• Ice Hockey
• American Football
• Baseball
• Rugby
Meaning of No Clean Sheet
No clean sheet is a phrase used to describe an incident where a team's goalkeeper or the defense, has failed to shutout the opponent team from scoring. Punters have an option to wager on No Clean Sheet if they feel like the selected team will not keep a shutout.
Clean Sheets in the English Premier League
Below is a list with top five Premier League goalkeepers based on the number of clean sheets made.
Effective Clean Sheet Strategy
The favorite home team is the best choice when it comes to clean sheet bets. When a home team has a high chance of winning, between 1.01 and 1.70, the away team tends to go with a defensive mindset. In this case, they will fall short in the number of attacks going forward. Thus, the most probable result will be a clean sheet. Or a to win either half bet goes well too, in this case.
Under 3.5 Goals & Clean Sheet Strategy
Although a team will keep a clean sheet, it must not score more than three goals for you to win from this betting market. So, how do you analyze such a sports event? The first step will be to look at the form of both teams. Although a team is better on paper compared to its opponent, if its top strikers are not on form, and they are at home, the outcome is more likely to be a clean sheet win with a few goals.
Both Teams to Score (BTTS meaning)- No Clean Sheet Strategy
This market is most effective for teams that are even in strength and depth. The best strategy is to analyze the head-to-head stats (check here our head-to-head sports betting guide), as well as, the current form. If these teams have had a history of high-scoring matches, and both their forward lines are prolific, there are high chances for each team to score.
Is Clean Sheet a Recommendable Betting Option?
A clean sheet is a concept that you can find across multiple sports, including Ice Hockey, Soccer, Football, Baseball, and Rugby. Virtual football betting is a great alternative to real-life football, although you can't bet on clean sheets there. You should check our virtual football betting strategies, too. Bookmakers provide players with an opportunity to bet on the clean sheet market; soccer is the most common when it comes to shutout betting options.
If you go through the betting strategies provided above, you have a high probability of making a good profit from your bet. Hence, this is a recommendable betting option. Besides, you can combine a clean sheet bet with other betting options such as the correct score betting.
Other interesting articles you might enjoy: