Open Betting Account | How to Open a Betting Account & Problems You May Encounter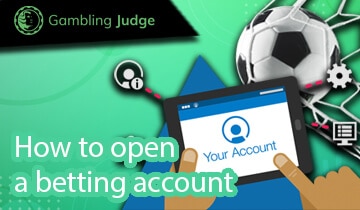 We are living in the digital age and to open a betting account, all you need is a phone or a computer. No longer are you forced to dash off down the street in the pouring rain because you forgot to slap down a bet on your favourite nag or footy team.
Nowadays, you can create sportsbook account and bet from the comfort of your own home, or on your way home from work via your mobile phone. Online sportsbooks provide us with that medium, and if you aren't yet signed up at one, you're missing out on saving yourself some time, effort and in many cases, money when it comes to betting on sports.
Now that we've got your attention, the question is: how do you get involved if you aren't already? In this guide, we'll take a look at joining an online sportsbook for the very first time, including how to create betting accounts. We'll explain everything to you so that your transition from legging it down to the high-street bookie, to playing at your favourite online bookie is as easy as pie. Let's get started then.
As we mentioned before, there are lots of open betting account offers out there: All of the top 100 bookmakers (and new independent bookmakers) offer a bonus to new members. If you are a beginner, it may be difficult to analyze these open account betting offers: How can you know which one is the best? Well, you don't need to worry about that anymore: We checked all of the sign up betting bonuses out there and picked the best ones for you. Check the list below and pick one today!
Best Online Bookmakers
in 19 September 2023 – Updated List
Rank
Bookmaker
Bonus
Safe & Trusted
Rating
Get Started
Things to consider before you open a betting account
So, how to find out the best betting account to open? Before picking a bookie, there are lots of things you need to consider and we are listing all of them below.
1. Check the license first
In order to get a safe, secure, and more importantly, legal online betting experience, you must only prefer licensed bookmakers. There are a couple of agencies out there that give a license to bookies, and this license is what makes them legal. For example, if you open betting account UK, make sure that the bookie is licensed by the United Kingdom Gambling Commission. To save time, you can check our list of the legal betting sites.
2. Do not choose the first bookmaker you see
Compare bookmakers to see all of the offers you can get. Do not make a decision before checking at least a dozen bookies. Think of it like shopping and do not "buy" the first thing you see. Check the payment methods, sign up bonuses, available sports, bet types, payment limits, user interface, and anything that will affect your experience.
 Some bookies are able to offer you markets which others don't cover, obscure sports for example. Some sportsbooks don't offer casino games and others do, whilst some have far better promos and bonuses, as well as odds than their counterparts. Having multiple accounts at different sportsbooks gives you the best of both worlds. 
3. The rule is simple: One account per bookie
Is it legal to play at multiple domains, and have numerous accounts at several UK licensed bookmakers? Yes, absolutely, if you don't have multiple accounts at the same one. You can readily set up a betting account at several sportsbooks, and in fact, we'd advise it.
As we said the first thing you need to know is that you can open only one account at the same bookmaker. You can create an account at different bookmakers, there is no rule against that, but there can be only one account per bookmaker. If you have more than one account, both will be banned. There may be some bookies that don't limit the number of accounts but they are very rare: Read the terms and conditions to see the multiple account rules.
4. Make sure you are of legal age
So, how old do you have to be to bet online? Usually, you need to be at least 18 years or old to gamble and this includes online sports betting too. In some countries, this age limit may be 21, depends on your local laws. Whether it is 18 or 21, make sure you are of legal age. Otherwise, you won't be able to withdraw any winnings.
In theory, it is possible for a minor to open a betting account by lying about their age, but they won't get very far. Most online bookies will check that you are who you say you are, and they will demand proof of your identity, as well as proof of your banking details if necessary. This is usually done by scanning your documents and sending them via e-mail, although some bookies will call you over the phone for more information if it is required. You will almost certainly have to prove your identity before you withdraw any winnings (rather conveniently, that isn't always the case when you deposit money into your account).
If you are caught as a minor or using someone else's name, you will certainly have your account closed, and bookies may confiscate your winnings. In extreme cases, you may be banned for life, or have your information passed on to casino monitoring and anti-fraud groups. Just do everybody a favour, and wait until you're the legal age to gamble.
5. If you are banned, do not return back
If you have a banned or suspended account at one bookmaker, move away: Do not try to open a new account with different credentials. Even if you change your IP address, you won't be able to change the information required for withdrawals. There are lots of bookmakers on the internet, so if one of them banned you, there are still hundreds of options.
There are occasions where you may find access to your sportsbook account restricted. A few betting sites (and we're talking about a very small number here) may restrict access to your account if you haven't bet in a while. This practice has all but died out over the last few years, though. However, there are other ways in which you may be locked out of your account.
If you have broken the sportsbook's terms of service or terms and conditions, you could have your account suspended. Terms and conditions can be lengthy and tedious but are worth noting. As we said completing the betting registration process as a minor is one way to see your account closed, or if you decide to open a betting account at the same sportsbook twice, you may also see your account restricted.
imilarly, if you live in a country where the sportsbook doesn't operate or set up a betting account in someone else's name, you may find your account deactivated. Simply don't register betting accounts at the same sportsbook, and abide by their terms and conditions and this shouldn't happen to you.
How to open an online betting account at any bookmaker?
We briefly explained how to open a sports betting account above, but let's take a closer look at the process and give some details. After all, you may need more than one account (which is a thing we recommend in our betting guide) so you also need to know how to open a second betting account, right? Maybe you want to open a spread betting account, who knows?
The sportsbook create account process is actually quite simple but slightly different at each bookmaker. However, we can still create a list of steps to open a betting account that will work at all of the biggest betting companies and new bookmakers out there. Here is what you need to know:
Step 1: Choose a bookmaker
First, choose a bookmaker that suits your needs. We explained what you need to consider before selecting a new bookie above: Do your research according to those criteria or simply check our list of the
trusted sports betting sites
.
Visit the website of that bookmaker and look for a button that says "join", "register", "create an account", etc. Usually, this button is located at the top right corner.
Step 2: Fill out the registration form
Click that button and a registration form will open. You need to fill out this form: It asks for your name, address, email, phone number, etc. Make sure to give actual information during this process, because you will be asked to verify it later, when you want to make a withdrawal.

You can give false info and still complete the registration but if you cannot verify it, you cannot withdraw your winnings, so what's the point? Once again, make sure the information you give is true and verifiable.
Step 3: Activate your account
The bookmaker will send you an email with a link. Click that link to verify your account and finalize the create sportsbook account process. Now, you can log in with your username and password.
Before making your first deposit, however, check the current promotions page of the bookmaker to see if you get something in return for your deposit (i.e.
Bitcoin sports welcome bonus
).
Using your betting account to get around
After you have decided to create a sportsbook account, you need to sign-in using the password and username you created. The login page is usually the first page you encounter at an online sportsbook, so pop in your username and login password and then click the login button to enter what is known as the lobby.
From the lobby, you will be able to access plenty of different betting markets and sections of the sportsbook. There will be options which take you to customer support, links to various sports betting markets (the most popular ones will be displayed in the lobby, or on the homepage), and buttons which take you to promotions and the bookmaker's payment methods. 
Some of the larger bookies will also run online casinos, bingo sites, poker sites and other forms of gambling games. Generally speaking, your sportsbook account is also linked to those sections, so you don't need to create a new account. Any money you have on there will be valid at a sportsbook's casino site, and anything you win there can be transferred back to your sportsbook, for example. This makes for exciting gameplay since you can place sports bets and then spin a few slot reels with the same account. Not all bookies offer this option, but most of the big ones do.
Not all sportsbooks are mobile betting sites too. Mobile betting offers a more streamlined approach for players, with software which caters to players on the go, and is specialised for their phones and tablets. Just like an online bookie offers you a different experience from a high-street one, you may even be able to pocket a few perks and privileges, such as special mobile betting bonuses, which you wouldn't ordinarily be able to enjoy at an online sportsbook.
Fund your betting account and start betting
Now, back to the basics of when you join a betting site for the very first time. Once you have your new betting account, you're going to want to fund it. You'll need to do that if you want to start wagering on sports.
By going to banking page, you can deposit into your betting account. The most common deposit options include VISA and MasterCard. However, that involves entering your card details into the site. There's nothing wrong with that if you're playing at safe betting sites, but if you don't want to risk it, we advise you to choose e-wallet betting sites. Most popular e-wallets include Skrill, Neteller or you could open betting account with PayPal. E-wallets don't require you to share your bank details, offer faster withdrawals times, and often come with no transaction fees, the latter being something you're going to want to avoid if you can.
Once you've got your dosh all squared away, it is just a small matter of going back to the lobby and eye-balling the most recent sporting fixtures and events, or browsing through the long list of betting markets for the sport and thus the bet of your choice. Your betting slip is always available in the lobby, and it will let you place your bet and tell you how much you can win. When you're ready, hit that bet button and you've placed your first bet.
Problems you may experience while you open new betting account
Below, we will explain why your account may get banned or suspended after you create sportsbook account, but you may experience problems during the registration process (and right after) too. So what are these problems and how can you solve them? Let's explain with examples.
👉 Instant Ban After Registration
. This is the most common problem: Right after you log in with your username and password for the first time, you see a warning that says "account is suspended". There may be multiple reasons for this. Most probably, you used fake registration information or a VPN service. Most of the time, you can solve the problem by reaching customer support and verifying your identity.
---
👉 Unable to Submit the Registration Form. If you are unable to submit the registration form, you are probably missing an information, such as your telephone number. Filling out that information will solve the problem. However, some bookies make soft identity checks during the registration too: For example, right after you enter your phone number, you receive an SMS with a code. To continue registration, you need to enter that code – otherwise, you won't be able to submit it. Make sure the info you entered is correct and verified. 
FAQ: Your questions about opening a betting account answered
Not at all – those are completely different things. However, some bookies run soft credit checks while verifying your identity too.
If it is a licensed, safe, and regulated bookmaker, no, your personal information is secure. However, if you open betting account at "rogue" (unlicensed) bookies, you are risking more than your personal info.
You can open a betting account at as many bookmakers as you want – there is no limit. However, using these accounts for abusing bonuses is prohibited.
Not really, but if you plan on using advanced betting strategies like matched betting or arbitrage, using different IP addresses will be a good precaution.
These are very popular sports so all of the bookmakers out there will support them. So the question is which ones are the best bookmakers for these sports: Well, check our list of recommended bookies to find out. However, William Hill and Betfred are all well-known for their love of the nags.
Online sportsbooks offer their own fixed odds whilst the best sports betting exchanges can offer you fairer, more valuable odds. These more competitive odds can be attractive enough that you wish to open a new betting account with a betting exchange like Betfair.
Open a betting account & use a bonus today
We taught you everything you need to know to open a betting account: You even learned how to open a spread betting account. And now, it is time to create sportsbook account: All you need to do is picking one of our recommended bookies above and registering an account by using the steps explained in this guide. Open betting account, pick the right bets, start to win: It is really that easy! As always, we wish you good luck: Don't forget to visit us often to learn more and find more bookmakers!