How Old Do You Have to be to Bet Online?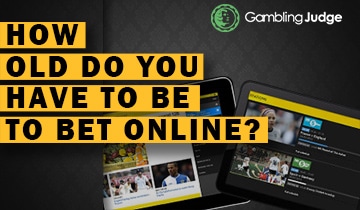 Why Gambling Ages Matter to Everyone: Most adults who work regular jobs and like a flutter at sports betting or online casino games have probably never paid any attention to gambling ages.
After all, when you reach a "specific age", the legal requirements to do certain things, such as gambling online, become irrelevant.
However, this isn't true for the younger crowd of gamblers out there.
Can you open a betting account online at 16? Is it 18? Maybe you have to be 21 to gamble at an online casino or sportsbook? How old do you have to be to bet on sports and casino games?
The rules change significantly depending on where you happen to reside, and where the sportsbook is based and licensed.
For young gamblers, this can be a dilemma. Just what are the rules? Throughout this guide, we'll try to shed a little light on that for them.
Best Online Bookmakers
in 01 November 2023 – Updated List
Rank
Bookmaker
Bonus
Safe & Trusted
Rating
Get Started
The Ins and Outs of Betting Ages and Regulations
Most of our younger readers may be wondering, how old do you have to be to bet? Most land-based legal age requirements are set in stone. However, when it comes to the online gambling sphere, things can get tricky.
For instance, even taking a survey can require people to be a specific age. Do you know how old you have to be to get paid for online surveys? If you don't know that; there is a reasonable chance that you might not know how old you must be to gamble online, either.
Generally speaking, the age you must be to gamble online varies. Each country has its own gambling ages. However, some gambling domains aren't based in those countries and may be licensed and based abroad. If so, they may feature different gambling ages to the ones in your country.
Ideally, and to avoid confusion, you'll want to play at a casino or sportsbook which has the same gambling age restrictions as the country you reside in. Here are a few of the more renowned ones.
– The United Kingdom: Players are required to be 18 years of age to bet online. This age applies to all forms of online gambling, as well as betting shops, bingo halls, racetracks, casinos and gambling halls.
– The United States: In most US states, online gambling is illegal full-stop, so the age restrictions don't really matter. However, in the few states where online gambling is legal, most states stipulate that you must be 21 years of age. However, betting on lotteries in the United States is deemed acceptable at 18. This is a source of continual argument in the country.
– Most of Europe: In most European countries, the legal gambling is 18 years old. However, notable exceptions include Belgium, Germany, and Ireland, which require online gamblers to be aged 21 years old. They are also able to join betting exchange – Belgium based sites. Again, these ages also apply to land-based gambling, too. Like the US, not all European countries permit online gaming, and some only allow a few forms of internet gambling, such as sports betting but not casino games.
– Curacao Licensed Casinos: Online casinos may be licensed out of Curacao, but cater to players based in Europe, the USA, or elsewhere. Generally speaking, all Curacao licensed casinos require their players to be aged 18. However, each casino may increase that to 21, depending on where the player happens to reside. With Curacao licensed casinos, it is often the case that you must be between 18 and 21 years of age, depending on the laws of the country where you reside.
As you can see, the question of "how old do you have to be to bet online" is relatively simple to answer. In most cases, how old you have to be to play bingo will be the same as sports betting, and that will be the same age as for casino gaming. In theory, you can bet on anything provided that it is legal to do so, and you're over the age restriction in your country of residence.
Make Sure You're Over the Age Limit - Things Betting Sites Will Check!
Never assume that if you simply enter a birth date which makes you appear older than the age restriction that this will be the end of it – it won't. Casinos want you to know how old you have to be to bet, and they go to great lengths to advertise that fact. The gambling age for the casino is often displayed at the bottom of the lobby page. You can be sure that they are going to check that you're telling the truth.
A casino will typically check a members age via the KYC or Know Your Customer process. This requires players to submit a valid form of identification. It won't be some far-flung identity card that a young teenager will have copied and made cheaply. Instead, they will want a passport, a driver's license, or some other form of photographic ID. On top of that, they may also require utility bills, the type that only an adult would be able to provide.
This form of age verification is done to protect the casino, but it is also in your interest. After all, it protects against identity fraud. You're going to need to provide banking details if you want to cash out your winnings, too. We assume that you don't need to know how old you have to be to get online banking, so we'll leave this topic as it is and move on. Just make sure you have proper documentation to prove that you're above the legal gambling age before you begin.
Casinos vs. Sports - The Difference Between Betting Ages on Different Games
As we've already touched on, the betting ages between casinos and sportsbooks are generally the same. Most countries deem that if you're old enough to bet on some form of gambling, you're old enough to bet on them all. There are some discrepancies regarding lotteries, such as in the USA. There may also be different rules regarding the legal age to buy scratch cards. However, casino and sportsbook minimum ages remain largely the same across the globe.
We've already discussed how old you have to be to bet online, so provided you're aged somewhere between 18 and 21, you're good to go. The same is also true of betting in gambling halls, brick and mortar casinos and betting shops. Almost all major countries consider the gambling age for online gambling the same as land-based gambling. Whether your betting on football, poker or slot machines doesn't really come into the equation in most cases.
Gambling in the USA - Why Age Isn't the Only Thing That Matters
We'll pay special attention to the USA next, as the country can often be a quagmire of rules and regulations for players who aren't in the know. Even asking how old you have to be to gamble can be a nightmare.
Most of the regulations regarding US gambling laws were laid down in the Unlawful Internet Gambling Enforcement Act of 2006. Also known as the UIGEA, this piece of legislation effectively outlawed online gambling in every US state under federal law. However, it has since been repealed, and that allows each US state to determine its own laws regarding online gambling. Some US states (most famously New Jersey) have legalised online gambling, but most have not.
Despite gambling being legal in some states and not others, the general betting ages tend to be the same across all of the states which have legalised gambling. In short, you need to be 21 years of age to gamble online. Gambling laws change all of the time, though, and new windows of opportunity open up. Players who reside in states where gambling is illegal will often pop along to a casino which is licensed "offshore". One such jurisdiction is Curacao, but another which is much closer to home is Kahnawake.
Kahnawake is located in Quebec, Canada, and is a Mohawk territory. It is one of the top licensing jurisdictions in the world and has a legal gambling age of 18. Naturally, players residing in states which have outlawed online gambling have no "state laws" of which to go off when it comes to gambling ages. Instead, they must rely on the age of the casino they choose to play at.
Most Kahnawake casinos will accept players who are aged 18 or over. As many such sites take offshore players such as those from the USA, US citizens can effectively gamble on sports and casino games at that age. The US doesn't punish its own citizens for gambling illegally at offshore casinos. Instead, they go after the operators. As such, there is no harm and no foul in playing at a Kahnawake casino at 18 years of age. How long this loophole stays open remains anybody's guess. For now, though, it is a window worth exploring.
Find Gambling Ages for Your Favourite Sportsbook
If you've made your mind up that you want to have a crack at online sports betting, you'll need to find a sportsbook. We've got plenty of top sites to recommend. How old you have to be to bet varies depending on which one you select, and where you reside. However, if you want to find out the gambling age of any of our casinos, there is one place you can quickly find that information.
At the bottom of any legal casino, there will be a betting age displayed. This is the age limit of the casino. They will "most likely" accept you if you meet that requirement. It is also worth checking the terms and conditions of a casino, to see if they have specific age requirements for players in your country
5 Things Everyone Should Know About Sports Betting Online
There is more to playing at online sportsbooks than the legal gambling age. Here are a few other things to keep in mind when starting out for the first time at online bookies:
– Legality: Make sure that it is legal to gamble online in your country. If you find that your country's gambling laws prevent that, playing at an offshore bookie is your only option.
– Age Verification: Most casinos will check to ensure that you are above the legal age limit. Find out what age you need to be to gamble at a given site. Is it based on the gambling domain's licensing country or your country of residence?
– Know Your Customer: Ensure that you have documentation ready to prove your identity and age. You can find out what by contacting customer support, checking an FAQ or reading up about that at the sportsbook in question.
– Regulation: Is your online sportsbook legally licensed to offer games? Even if gambling is illegal in your country, you're going to want to make sure that your chosen bookie is licensed out of somewhere. An unlicensed casino is to be avoided at all costs.
– Resources: Make sure that you have avenues to seek support or to complain if need be. You may need to get in touch with customer support to prove your age and identity. You will also want to guarantee that your bank permits gambling-related transactions. They may require you to tell them if your funds are going to be used for gambling. Some US banks (for instance) prohibit transactions sent to casinos. If they don't approve of gambling-related transactions, you'll need to use another option from those listed at the casino or sportsbook you wish to play at.
Frequently Asked Questions Concerning Gambling Ages
Any form of gambling requires real money to be wagered. Youths may not have sufficient means (or a job) to sustain a gambling habit. Only players who are deemed "adults" are permitted to gamble online, hence the age limit.
Yes, and you should want to. Any casino which doesn't ask you to verify your age is not to be trusted. We'd avoid these casinos like the plague, as they tend to be scam sites. Age verification (provided you are old enough to gamble) is a good thing, and in most cases, it will often be done as part of a generic identity verification process,
Yes. There is often no law which prohibits users from visiting a sportsbook when they are underage. You just won't be able to bet. Some sites have a simple counter-based system, whereby you can simply select any age-old enough to access a website. That is relatively harmless and won't see a minor end up doing any damage. However, you cannot bet if you don't go through age verification checks.
Yes. There is often no law which prohibits users from visiting a sportsbook when they are underage. You just won't be able to bet. Some sites have a simple counter-based system, whereby you can simply select any age-old enough to access a website. That is relatively harmless and won't see a minor end up doing any damage. However, you cannot bet if you don't go through age verification checks.
That depends on who catches you. If it is your parents, expect a stern ticking off! If the sportsbook catches you in the act, they will immediately terminate your account and your funds along with it. Sportsbooks can be fined, or even shut down and lose their license if they are found to have hosted minors. They aren't going to tolerate underage gamblers lightly. Similarly, if your bank doesn't permit online gambling transactions and finds out you've made such transactions as a minor, you're in trouble. They may go one step further and notify the police, though this would be an exceptional step to cover themselves, even for banks. Whichever way you might want to look at it, expect to be in some kind of trouble.
Yes. Most European bookmakers will permit wagers on sporting events provided you are aged 18 or over. Likewise, Kahnawake and many Curacao licensed sportsbooks accept bets from any player aged at least 18. However, many of the major European sportsbooks won't accept US players. Kahnawake and Curacao bookies seldom have a problem with that.
Betting on horses should be no different from betting on any old sports. The gambling age may change slightly depending on where you reside. In Europe, the law in most countries says you need to be 18. In the US, more often than not, you need to be 21. As mentioned, though, these change on a region to region basis.
Sure, but not many. Most legal betting operators don't want to be caught harboring underage bettors. They certainly don't want hefty fines or to run the risk of losing the license and being shut down. A reputable sportsbook and betting app won't take the risk, and so will want to verify your age. Those which don't are probably operating illegally, or worse still, could be scam casinos. We stay away from those, and we can't advise you strongly enough to avoid them, too.
Let's Go and Play - Getting Started with Sports Betting Online
Sports betting is often complicated. There are lots of ins and outs regarding gambling options, types of bets, betting markets and promotions. However, the legality of sports betting is generally easy to figure out, as we've explained. Just decipher whether it is legal for you to gamble at a nationally licensed sportsbook. If not, find a top offshore bookie will take your bets, and make sure that you're old enough to bet online.
We have plenty of gambling resources to help get you started, including how to play guides, sporting tips, guides which deal with betting markets, and of course, a wide array of top betting site reviews. Use our resources to start betting online today.